Tendances
Where to find the most original glasses
If you are tired of the classic designs and brands, we've got just the thing for you. With original designs and colors that are a little out of the ordinary, these are the original frames that have really caught our eye.
Gone are the days when glasses were only there to help us see better. What was once a simple medical tool became a real fashion accessory in the 1950s and they've been refreshed and rethought every year since to bring new trends and styles to our faces. For some, the Holy Grail of glasses is finding the perfect pair that look like no other.
Plenty of glasses brands have cottoned on to this and compete to get ever more creative, designing spectacles and sunglasses that are ever more out of the ordinary. With off the wall colors, dizzying details and surprising materials, each of our choices break the style rules to bring a breath of fresh air to the glasses world.
Where can you buy original glasses?
Our favorite hotpots for unearthing original designs for both guys and girls
Designer glasses

This British brand makes glasses in a host of shades and hues. From electric yellow to juicy cherry, translucent aethereal green to candy floss pastels, what better way to see all the colors that life has to offer. The same goes for shapes with round, square, retro butterfly and even octagonal lenses.

Alain Mikli: catch everyone's eye
"Glasses to see as much as be seen" was the designer's slogan in the 1980s. And it's easy to see why as Alain Mikli stands out with unique and daring designs that have already caught the eye of many a celebrity thanks to their colorful and arty combinations.

Caroline Abram: original seduction
Caroline Abram's designs are both elegant and daring at the same time. Full of seductive glamor, these women's glasses give anyone "the possibility to show off and celebrate all aspects of their personality". The butterfly shape is particularly renowned.

This French designer doesn't like to stick to the beaten path, instead infusing her frames with freshness and joy. Her designs take classic shapes (round, square, aviators) and twists them with subtle doses of creativity with options for men, women and children.

Krom Eyewear: carefully crafted details
This brand from Alsace works with stainless steel as if it were lace. Intricate motifs show the originality and finesse of Krom Eyewear who craft their designs in one single piece without welding or a single screw, a design characteristic that gives a beautifully fluid finish.

Parasite Design: futuristic frames
Somewhere between pop-culture and science fiction, the frames by designer Hugo Martin seek to embody the personality of their wearer by mixing savoir-faire and technology.

Gaston: glasses overflowing with imagination
With fun shapes, sparkling colors and strange styles, Gaston's original designs never take themselves too seriously, except when it comes to quality. A playful look that will be loved by all grownups who are still kids at heart.

Kuboraum: designs that are out of the ordinary
The designs by this Berlin-based brand are full of personality that will complement that of their wearer. Maximum creativity is used to blur the lines between art and glasses with each new collection of frames that refuse to conform: perfect for all those who like to express themselves.

This Californian label, founded by two friends, has been shaking up the glasses world since 1979 with their innovative designs and bold colors which are at the heart of each collection.

Anne & Valentin: a love of design
Founded in the 1980s, this brand stands out with its delicately original designs. Anne & Valentin is the child of two opticians who both loved surprising and graphic glasses, and wanted to create their own, taking inspiration from the architecture and the art that surrounded them to create personality-laden models that redefine shape and volume.
We could easily have included plenty of other designers such as Jean-François Rey and Naoned and their surprising, technicolor collections in our far from exhaustive list of labels.
To find more original glasses, check out the Lunettes Originales website whose mission is to unearth the
Big on design, small on prices
Even with a more modest budget, it's possible to find a rare gem to match your personality. Brands Jimmy Fairly and Komono go big on style for accessible prices. With optical lenses and sunglasses, there's something for everyone with designs that are always on trend.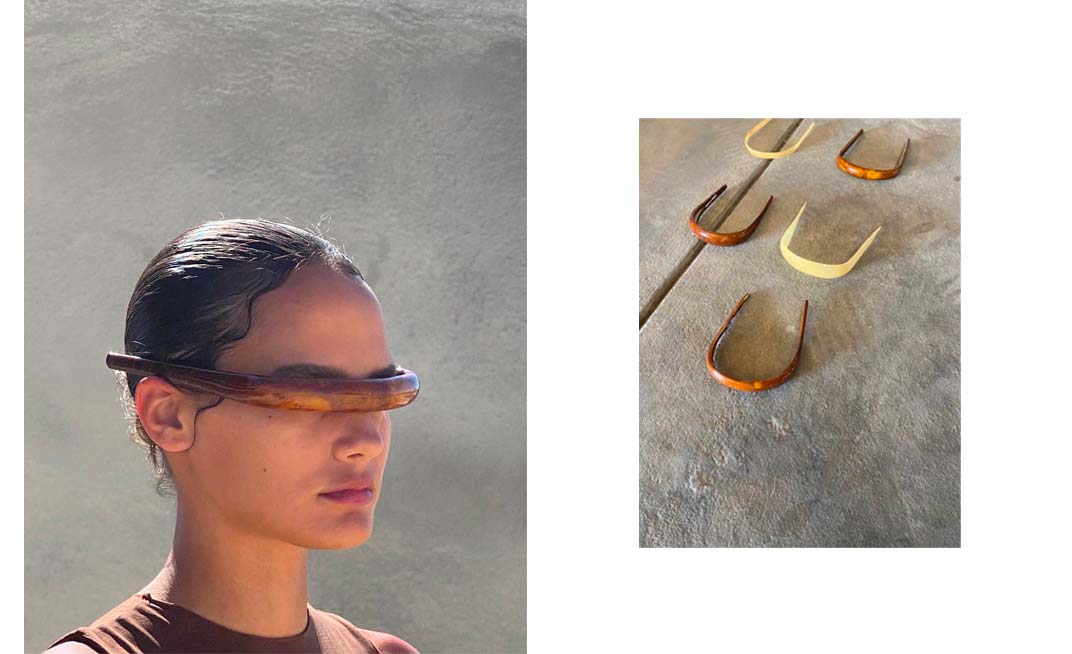 The most extravagant luxury
When it comes to originality, two standout designs rocked the glasses world in 2020. The first was the work of Gucci, a cat-eye design full of vintage charm which caught everyone's attention, making it look like they were on backwards. The frames are actually inverted for the eye-catching back-to-front look.
The Yeezy glasses by Kanye West also caused a stir with their design that looked to some like a wooden headband that had been put on wrong, and to others the accessory worn by Cyclops in X-Men. Whatever your opinion, the inventiveness of these two designs can't be denied.
Here is our selection of Haute Couture sunglasses to stand out with first rays of summer.
How to wear an original pair of glasses
Another way of wearing original glasses without taking too much of a risk is to go for a design with tinted or mirrored lenses. You can even choose a classic design and add a twist to make it stand out, something that the actor Robert Downey Jr excels in and provides plenty of inspiration on his Instagram account and red carpet appearances.
If you want to go for colored lenses in your spectacles, ask your optician first. They'll advise you on tint according to what you plan to use them for, as well as the amount of correction.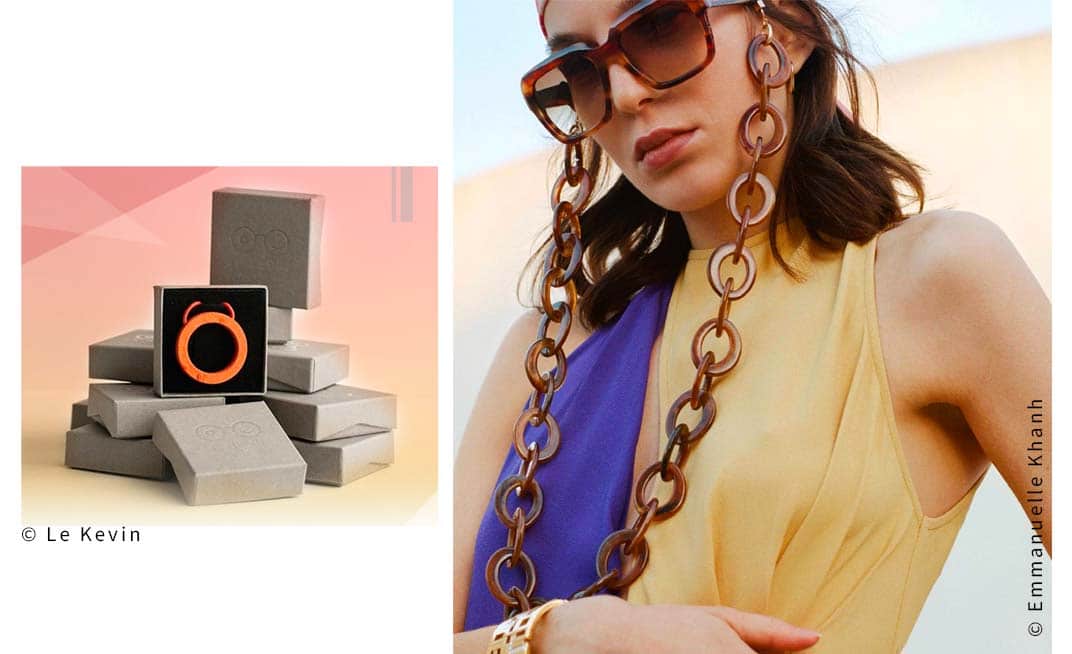 Add a glasses chain
The days when a glasses chain was an old-fashioned accessory are long gone. They are now as trendy as an accessory can get, as well as being practical on any frame and can be taken off and put back on in seconds.
Play with materials
After shapes and colors, materials are a great way to personalize a frame. For several years, brands have been recycling unexpected materials to manufacture more eco-conscious glasses, not to mention more original. To make a change from acetate, why not go for a pair of glasses made from wood or cork (Moken), from recycled skateboards (7 plis), from coffee grounds (Occhis Coffee) or even shells (Friendly Frenchy).
Pair your look with your original glasses 
Before beginning to pair look with glasses, choosing the right pair can be tricky when wanting to wear an original pair. You can either let your heart guide you, or use a safer method and follow the shape of your face.
When it comes to the whole look, the experience can be both exciting and tricky. An original design can give a touch of style to any look but if you're nervous about getting tired of a look, get some contact lenses too so that you have the choice.
Some ideas for matching your daring new glasses design with your look:
Add an unexpected twist to your look pairing a classic style with original glasses:
Voir cette publication sur Instagram
Turn up the color contrast:
Voir cette publication sur Instagram
Soften a serious outfit with some eccentric details:
Voir cette publication sur Instagram
Add a touch of originality with finesse:
Voir cette publication sur Instagram
Dare to wear color to electrify a formal suit:
Voir cette publication sur Instagram
Mix and match styles like outdoor wear, sports specs and a suit:
Voir cette publication sur Instagram
Electrify a look:
Voir cette publication sur Instagram
Draw a line between colors and styles by pairing glasses with an aspect of your outfit:
Voir cette publication sur Instagram
Pair eccentric glasses with the classic combo: tshirt, pants and sneakers:
Voir cette publication sur Instagram
Written by Eleanor Fullalove