Tendances
Trends: the latest frame shapes
Bored of the usual round or square shaped frames? Want to stand out in something more original? Brands and designers have been having fun, bringing out various cool and quirky designs. So, if you want to break away from the norm, these are the new frame shapes to try…

Love at Marc Jacobs
Elevated to cult status by Stanley Kubrick's film, Lolita, heart-shaped glasses are still going strong. Following in the footsteps of Saint Laurent and Moschino, American label Marc Jacobs has now chosen to make this iconic shape its own. Adding the symbol for love to these classic dark tinted glasses in gold-tone studs gives them a rock & roll feel; a great twist on the amorous design.
Available here.
Flower power by Elle Porte
The Australian brand's retro designs appeal to children … as well as their mums! In fact, we have to agree these vanilla-colored daisy glasses – which also come in shades of pastel green, violet and blue, not to mention leopard print and tortoiseshell – would lift any floral look. And fittingly, the range is as varied as the flowers at your favorite florist.
Available here.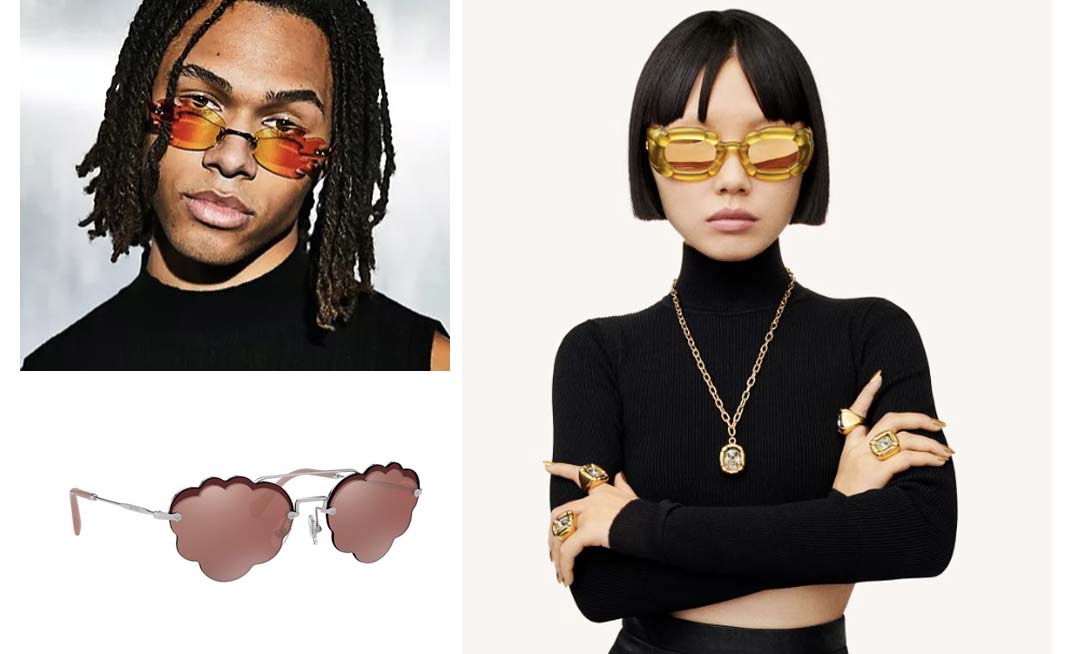 Head in the clouds at Miu Miu
Famous for its vivid colors, dynamism and grand designs, these shades epitomize the Italian brand – and will appeal to dreamers everywhere. Also seen at Chloé, the cloud shape is clearly popular, with this dusky pink version featuring silver details and a double bridge for a super stylish effect, as well as beveled edges. The perfect choice if you want to go all in, while keeping your feet on the ground.
Available here.
Fiery frames at Asos
An innovative design that really got eyewear fans fired up, the popularity of these fun flame-inspired shades is still spreading like, er… wildfire. Popularized by Prada, the shape has become so ubiquitous that many big brands now make their own – Asos among them. This red-hot design was made for the most passionate amongst us.
Available here.
Works of art by Swarovski
The jewelry house famous for its crystals has brought out a very special collection of eyewear, comprised of jeweled frames like this pair, resembling works of art. Their square shape and gold color not only remind us of a picture frame, but also bring balloon sculptures to mind. They may not be the easiest style to pin down, but this playful and unusual design will certainly get people talking.
Available here.

Lessons in geometry at Zeus+Dione
Celebrating its cultural and educational heritage by making glasses in different geometric shapes, the Greek brand counts classic round, rectangular and square styles in its collection, as well as these hexagonal ones. While the striking six-sided and slightly asymmetric design is flattering for all face shapes, the bluish color pays homage to the architecture and nature of Greece.
Available here.
Splash happy at Molo
With kids being followers of fashion too, these frames should help ensure the summer goes smoothly. Not only do they provide protection, they look like something children will actually want to wear. Danish company Molo's cute creations can also withstand almost anything life throws at them, so these shimmering fish shaped frames should make both children and their parents happy.
Available here.
Written by Eleanor Fullalove