Glasses culture
Everything you need to know about politicians and their glasses
From Charles de Gaulle's non-existant glasses, to Mitterand and the specs he was always taking off, via Sergio Berlusconi, François Hollande and his Danish-made frames, and Nicolas Sarkozy and his Aviators, we look back through the iconic glasses choices of high-profile politicians
Did you know, that François Mitterand couldn't stand his big Maison Bonnet frames and was constantly taking them off and putting them back on? He eventually traded up to contact lenses to avoid fidgeting during television appearances. He wasn't the only one. The first president of the Fifth Republic, Charles de Gaulle, was severely long-sighted (good vision for far distances and trouble seeing close-up) but refused to wear his glasses, even though he couldn't see well since a cataract operation damaged his vision.
Another international politician known for his vision problems is also known for his antics further south in Europe. After his presidential election victory, Silvio Berlusconi appeared before the Italian Senate in sunglasses. Cue stifled laughter and smiles from the senators, at Berlusconi's protestations of a case of conjunctivitis that meant he was more comfortable with his glasses on.  Italians blew up the web with many pointing out a lack of respect on his part and attention-seeking tactics… or not. Back in France, advisors to Nicolas Sarkozy recommended putting away the Ray-Ban Aviators that he wore frequently, as they were seen as ostentatious, especially with mirrored lenses, sending out a bling-bling image the ex-President of the Republic could do without.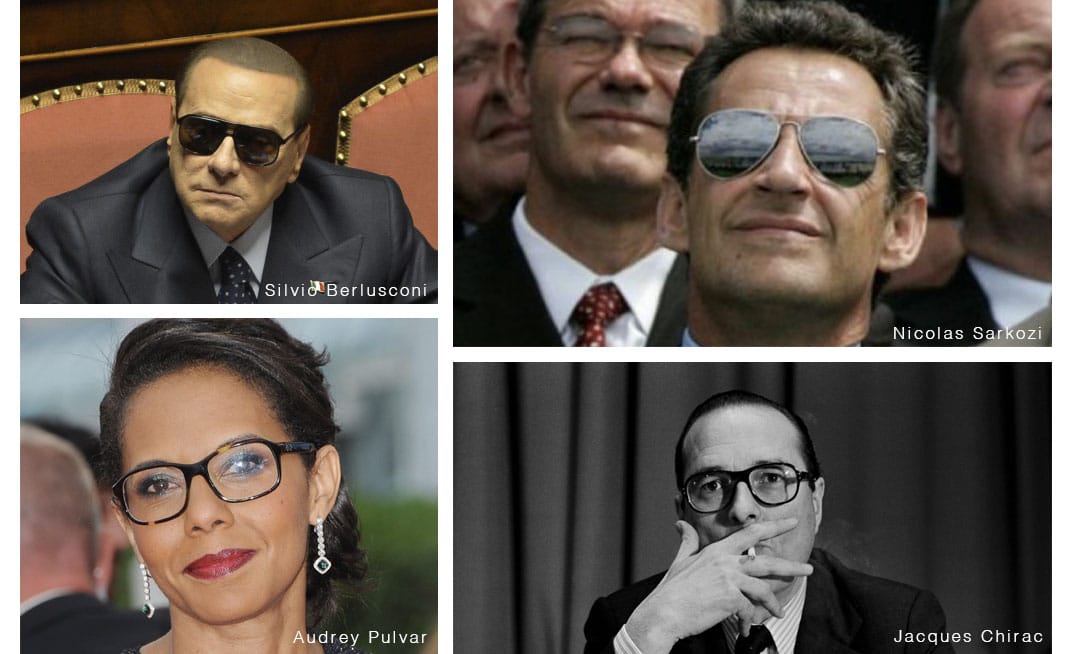 Maison Bonnet and the story of the $13,000 glasses
Who would have thought that the choice of a simple pair of glasses could produce so many column inches? We're thinking of course, of Audrey Pulvar, journalist and ex-partner of the French Minister of Industrial and Digital Renewal, Arnaud Montebourg. Her Maison Bonnet glasses caused public and media outcry after the magazine Technikart 'revealed' that the journalist's tortoiseshell glasses had cost no less than €12,000 ($13,000). The press piled on without even asking her or the label to confirm the cost of the frames. The reality was that they had cost a little over €3,000, as the journalist eventually explained to our colleagues at French magazine Inrocks, noting that she bought them as a "fantastic treat to myself". Maison Bonnet, known around the world as a reference in fine glasses-making, specializes in working with tortoiseshell and is one of the rare manufacturers to work with Anne Dorillat. They may come with a high price tag, but they can be sent back for repairs as many times as needed and each frame is made with an average of 12g of tortoiseshell, as explained by Franck Bonnet, a fourth-generation glasses-maker at the eponymous label. But Audrey Pulvar is not the only public figure to have worn glasses from the celebrated French house. When Jacques Chirac wasn't wearing his big Dior Vintage glasses, he also went for Maison Bonnet specs, even though they soon disappeared from his face. While some with 20-20 vision start wearing glasses as a communications choice, others who don't see so well decide that they can do without them for the same reasons. The former President of the Republic who died in September 2019, stopped wearing his glasses in public for more than 20 years after he lost the presidential election in 1988. But as a mark of seriousness, not to mention a beautiful accessory, his glasses had already become characteristic of his look.
Time for a change?
Another politician who was also President of the Republic and known for his glasses, turned heads when he changed his look. Some media outlets even wrote articles about François Hollande's new glasses, when he traded in the near-invisible and contourless pierced lenses worn during his five-year term as president – maybe to signal transparency? – for rectangular black frames with metal arms. But so what? The media had taken it badly because François Hollande had not chosen French-made glasses but a pair made by the Danish brand Lindberg, the official glasses-maker for the Danish royal family. The change of look caused a lot of comment amongst French manufacturers who were offended by the ex-president's choice and the defined contours of the frames gave Hollande a much more serious air. Lionel Jospin also turned to Denmark for a pair from the same brand, but we've spotted a more recent change of look. Paris mayoral candidate Rachida Dati wore a pair of black, square glasses on her campaign posters and in media appearances, which gave her a stricter look than usual. Maybe she was playing with the clichés around people who wear glasses that seems so firmly embedded in the collective imagination.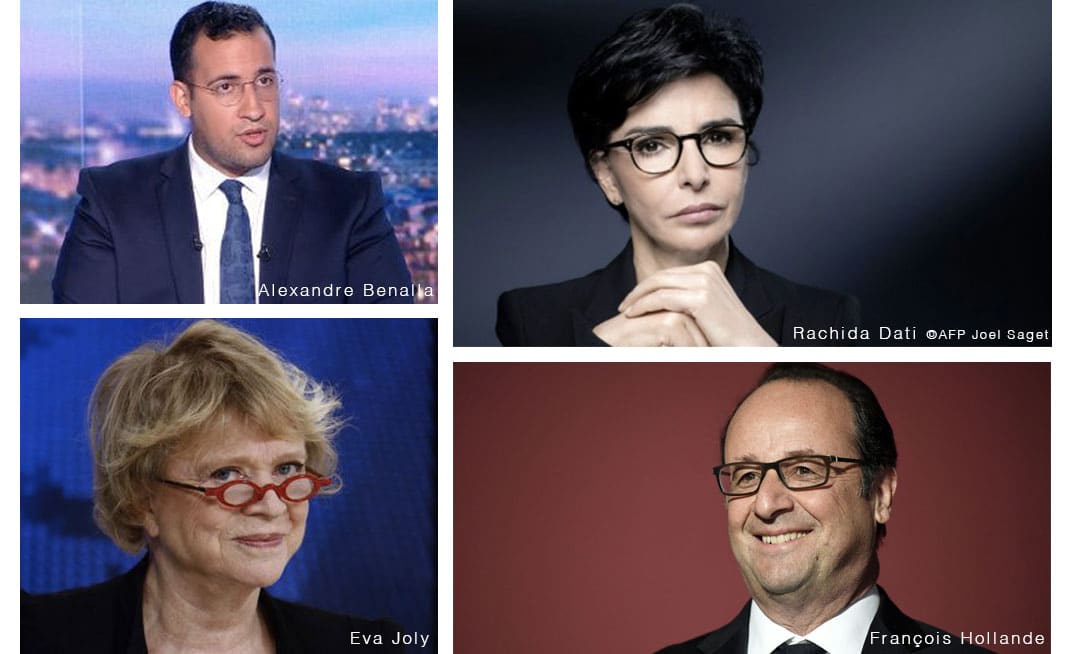 Glasses as a visual communications strategy 
French politician Eva Joly, known for her red frames by Pierre Eyewear, ran on an appropriate campaign slogan in 2011: "Clearer, fairer, further.", maybe a nod to her favorite model, the Emma, that become the Member of the European Parliament's calling card. With different colors available, Eva Joly frequently swapped them, stating that she liked to change her glasses at key moments in her life. In doing so, she had transformed a simple accessory into an effective communications tool, and she's not the only one. A communications strategy that left no-one indifferent, was that around Alexandre Benalla, form deputy chief of staff to French President Emmanuel Macron, who became embroiled in controversy for allegedly beating up a protestor at a demonstration, and having questionable business relationships. A hard nut you might imagine in sweats and a hoodie tried to build a more palatable image for himself, with a made-to-measure look to go with it, when he was seen on the French evening news after the videos and pictures showing his violence went viral. He appeared on screen in a crisp white shirt, dark suit and glasses, presumably because in our subconscious, glasses are associated with seriousness and read as an accessory that projects a positive, groomed image. The former mission lead with the French government had chosen glasses with pierced lenses and slim arms to convey the transparency and finesse that he hoped would counter-balance his negative image at that time. It was part of a polished and considered communications strategy that seemed more worthy of a senior politician than a young security advisor up in court of brutality.