Focus
Pierced-lens glasses trend
Glasses often get bad press for being a style-free medical accessory chosen for being as discreet as possible. Yet there is more than meets the eye to the new pierced lenses. Super light and ultra resistant, they may be low-key but that doesn't mean that they aren't deigned to suit the wearer's face shape. Despite their simple appeal, pierced lens glasses represent fertile new ground for eyewear designers and the aesthetes of the optical world.
What do we mean by pierced-lens glasses?
As the name indicates, making pierced-lens glasses involves piercing the lenses to attach the arms and central bridge that sits on the nose. Pierced-lens glasses are different to what are usually called 'circle' glasses, and can be extremely simple in design to the point of being almost invisible, especially if the wearer chooses anti-reflection lenses. But the apparent simplicity hides great technical and design expertise.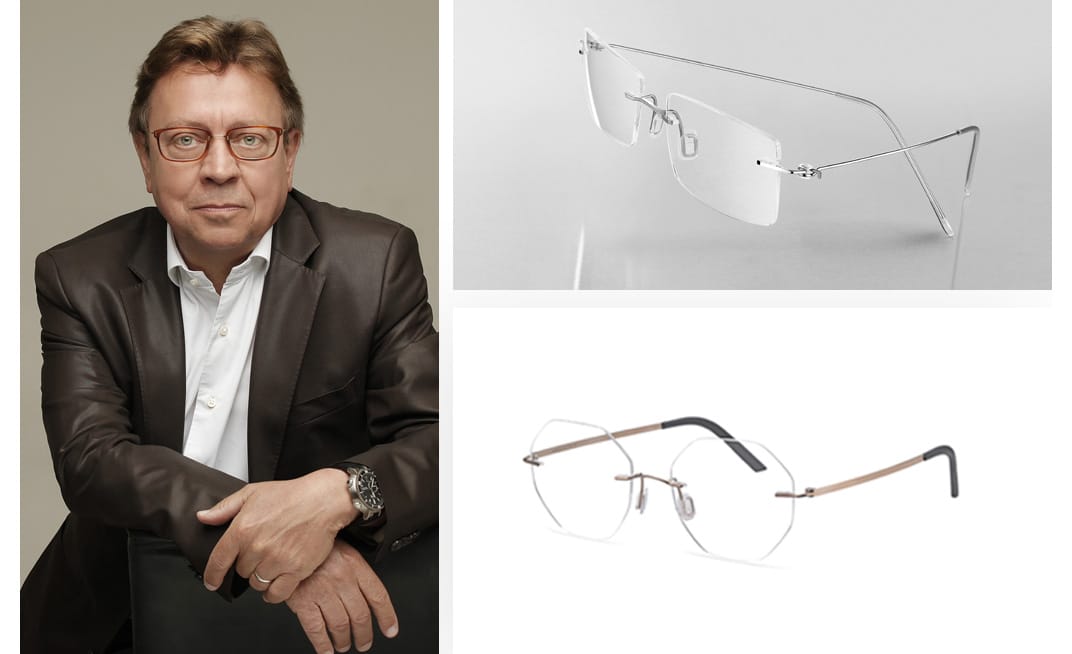 A technique honed over time
Pierced-lens glasses are hardly a new concept. As Maurice Timon, founder of the brand MINIMA reminds us, President Theodore Roosevelt was already wearing them back in the 1930s: "the technique was abandoned at the time, because it was such a delicate operation. The lenses were made of glass back then, which meant that they were very difficult to pierce without breaking. But then plastic lenses became more advanced and we invented machines to pierce them and began working with more resistant and supple materials like titanium and stainless steel. These technical advancements enabled us to re-launch pierced-lens glasses."
Pierced-lens glasses on the French market
It was around 35 years ago that Maurice Timon – then an importer of glasses frames into France – was turned onto a Danish brand, Lindberg, that specialized in pierced-lens glasses. MINIMA became their French distributor, as Maurice Timon remembers: "At the time, pierced-lens glasses were rare. If you were lucky, you could find one pair at one optician in 10."
After a decade, Lindberg took distribution back in-house, but Maurice Timon had such belief in pierced-lens glasses that he launched his own collection, making MINIMA not only a distributor, but also a maker of glasses. Says Maurice Timon: "success came quickly, because some people are just not comfortable with glasses, and if surgery or contact lenses are not an option, pierced-lens glasses that are practically invisible and very light, are an attractive option. The trend is further supported by the fact that manufacturers have been making increasingly light lenses over the past few years. Of course, that doesn't mean there aren't still people looking for lightweight glasses that they can almost forget they're wearing, and that don't alter their faces too much." 
Today, MINMA is known around the world and its motto "the complexity of simplicity" has produced high-tech designs that have seen the label win several industry prizes.
There are of course other manufacturers of pierced glasses such as Silhouette, Opti3,…
Can glasses ever really be invisible?
Danish label Lindberg is one of the biggest players on the market for pierced-lense glasses, and not by chance; the brand's pared-back Scandinavian aesthetic is perfect for discrete eyewear. For Maurice Timon, there is no margin for error when it comes to creating invisible designer glasses.
Pascal Fumoux, an optician at Optique Clairvue in Paris who has specialized in pierced-lens glasses for more than 20 years, believes the style appeals primarily to people looking for discreet design: "plenty of people are reticent about the idea of wearing glasses and even find the whole experience quite difficult. For some, it can be quite a psychological shock, they see it as a sign of aging, a sanction.
Even if you are choosing pierced-lens glasses for their discreet design, it doesn't mean that you shouldn't choose carefully, or personalize your glasses so that they both meet your vision needs and are not out of step with your taste."
Why choose pierced-lense glasses
There are many advantages to pierced-lens glasses.
For some people, the biggest is that they can almost go unnoticed. They are also usually very light-weight, a boon for those who find the weight of glasses uncomfortable by the end of the day, and the titanium arms and bridges are particularly strong and help the wearer avoid allergy problems. Top-quality pierced-lens glasses are also very easy to work back into shape if they are dropped or take a knock.
They are often a very affordable option and can easily be found around the €100 mark and for €150 and upwards from better-known brands, made with high-quality materials like titanium.
Finally, if you're looking to buy French-made and harness the expertise available in a country historically known for making glasses, MINIMA is just one of several very good manufacturers based in France.
Pierced-lens glasses are not always invisible
Discretion is often an entry point for pierced-lens glasses, but they are also an on-trend fashion accessory in their own right – just look to Ray-Ban and their reworked, pierced-lens version of the Pilot.
Pierced-lens glasses can be highly customized, even extravagant. Swapping up the arms for colored versions, even gem-set arms like those produced by Chopard will change their whole look and lenses can even be cut into original shapes, as per the label E dans l'O, that makes bespoke lenses. They have been known to cut cloud, heart, star, angel-wing and even cat-shaped lenses.




Where to buy pierced-lens glasses
Despite the high demand for pierced-lens glasses, it can be difficult to find opticians who sell them. Professionals do not always want to hear that there is a high proportion of the public that doesn't want to wear glasses and are looking for as low-key design as possible. And making pierced-lens glasses involves mastering a difficult technique. As its name indicates, piercing the lens itself isn't easy, so be sure to choose an optician with a wide range of pierced-lens glasses to be sure that you're getting the best advice.