Focus
Four Golden Rules for Choosing Glasses
Much more than a medical accessory, glasses are another way to show your style. A new pair of glasses can change your whole look and simply changing your frames can make you feel more on-trend, younger and even more comfortable in yourself. But whether you're choosing glasses or sunglasses, you need to be sure you're making the right choice and behind the aesthetics, lie technical factors that will determine whether your glasses will be comfortable or not. EYESEEmag shares four golden rules to choosing the right pair.
Know your face shape
The shape of your face will mean that some frames will suit you better than others. It's all down to geometry and proportion; the first step is to know your face shape. Take a good look in the mirror with your hair pulled back. Does your face look round, oval, square, triangular, or heart-shaped? A few general rules will help you find the right frames.
Oval face shapes can get away with almost any style, as long as the frames are no wider than face width so as to respect proportion, and narrow frames that make the face look longer are a no-go. If you have a round face, wide oval-shaped frames work well, especially cat-eye shapes that lift the features, or angular, square and rectangular shapes that will balance out roundness; while triangular faces look great with glasses that accentuate the bottom of the frames, adding width at the slimmest part of the face. If you have a heart-shaped face, go for a slightly rounded oval frame or winged shapes. Finally, square face-shaped look best with light, delicate frames that are rounded or oval to soften the angles of the face.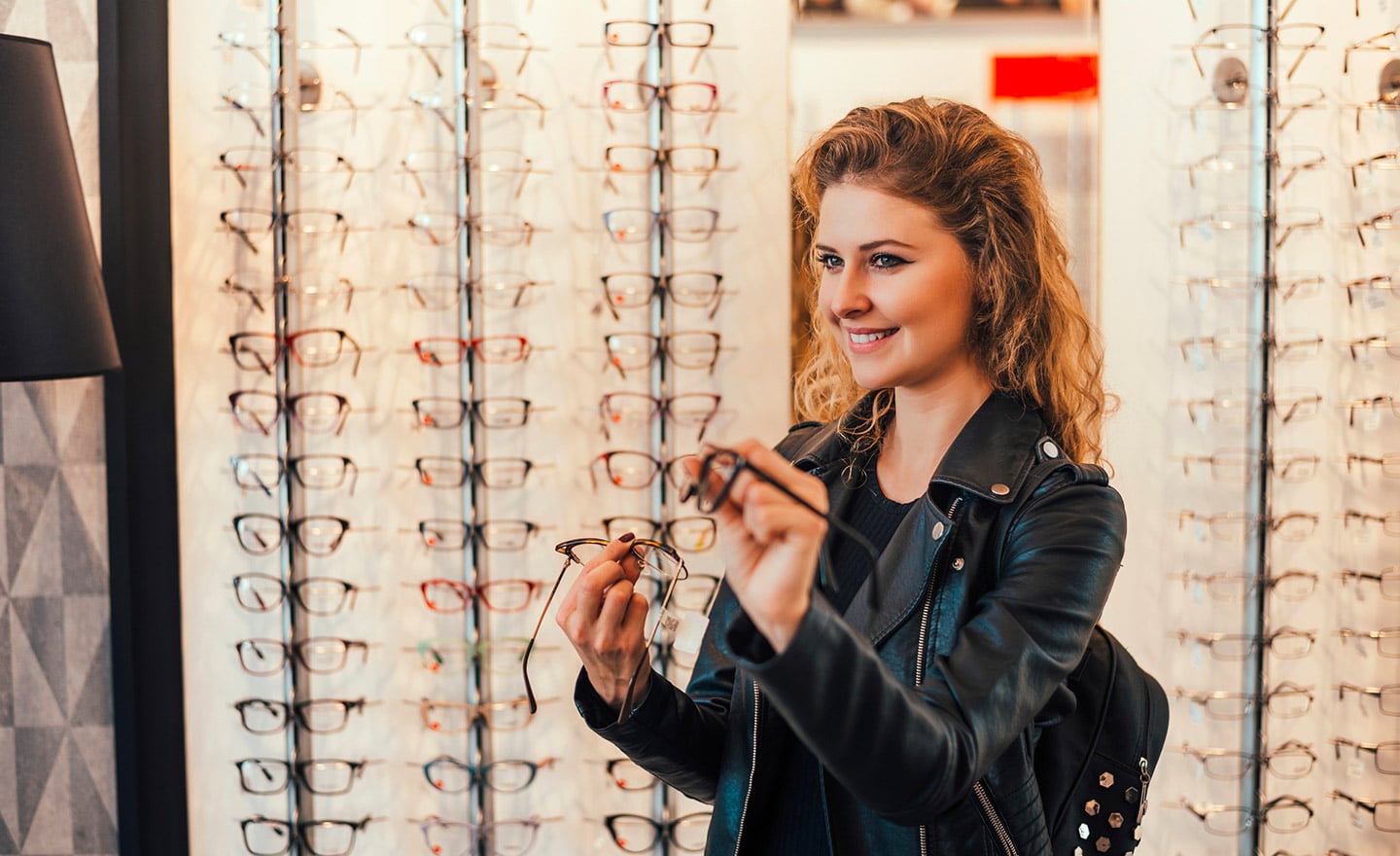 Choose the right frame for your prescription
Do you like bold frames, or more discrete glasses? Whatever your answer, don't forget that you should also be bearing your prescription in mind when choosing your frames. Ideally, the stronger your glasses, the finer the lenses for the best look. If you're only slightly short-sighted for example, you'll have no constraints when it comes to lens thickness, meaning that you can go for whatever frames suit your face the best. If you're heavily short-sighted however, you'll find your choices are a little more limited. Small, circular frames will minimize the thickness of the edges and plastic materials will also help mask thicker lenses. Finally, if you're long-sighted or need progressive lenses, go for wide frames with aspherical lenses to avoid a magnifying effect.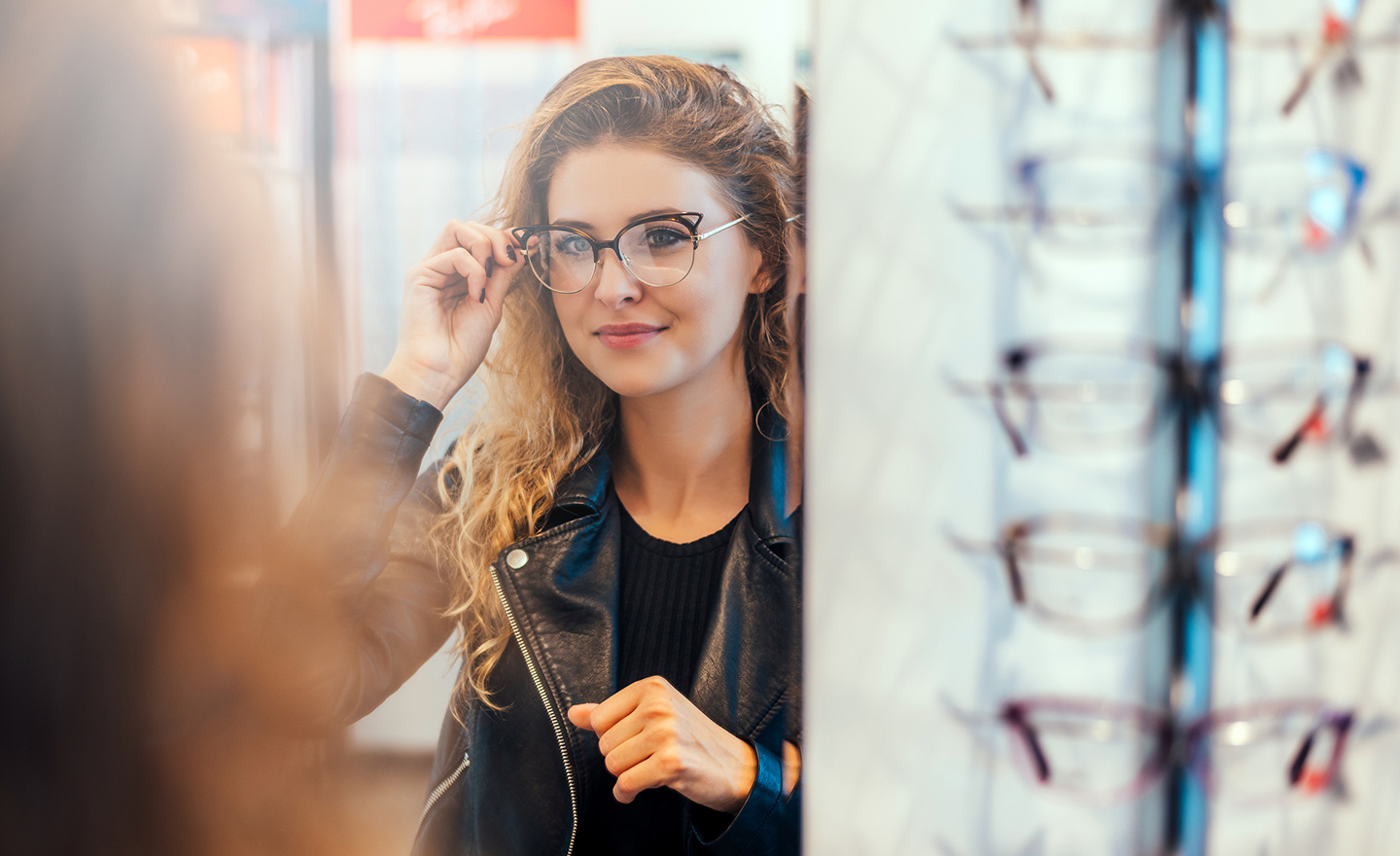 Go for your favorite style
The third rule – and one of the most important – is to choose a style that suits you. Think about your personal style: are you trend-led, chic or classic? Explore the different options available and take the time to try on all the frames you like the look of.
If discrete elegance is your thing, choose a delicate metal frame, unless your prescription is strong and you need thicker lenses.
Acetate frames are very resistant and it's an extremely versatile material that lends itself to finishes ranging from high-shine to matte, wood-effect, tortoiseshell and brushed looks; while titanium is known to be the most comfortable material. Plastic frames are the least expensive and work with almost all types of lenses and prescriptions, which makes for a very wide choice. Whether you go for unique motifs, stand-out colors, degradé or shade changes, don't forget that your glasses are a reflection of your personality and should be every bit as original as you are.
Find the right color



Choosing the right color for your frames can be a real headache. So much so, that it's often easier to go for neutral shades that will go with everything, which is a shame given the wide choice on the market. Color choice is very personal, but there are a few pointers which will help you make the right choice. Above all, choose frames that brighten your face without masking your features and accentuate your coloring. Think about the colors that suit you and those that contrast with your skin tone. If you have pale skin, darker colors like iridescent black, plum, magenta and mauve will work well. If you were thinking of metal frames, tin, enameled metal, brushed or polished silver metals will be your best friends.
Conversely, warmer skin tones look best with yellow, khaki, navy blue, orange-toned red and ivory frames, with gold and copper accents. Finally, dark skin really makes bright colors pop.