Focus
Le Clin d'œil de Max
Forget waiting in line after a long day at the office, how would you fancy picking out your new frames in a private, stylish showroom whilst sipping on freshly brewed coffee? Or what if we told you your optician could meet you directly at your house or during your lunch break at work? Based in the Morhiban area of Brittany (France), Maxime Boutet is an experienced optician who is offering exactly this. With a wide-range of French-designed styles and specialist frames to choose from, he's changing the way we choose glasses for the better.

After 8 years working for some of the biggest eyewear brands, Maxime Boutet was frustrated at the limited amount of attention he was giving to his customers, as a result of high footfall and limited client face-time. So, in 2017 he decided to go it alone, using his experience as an optician to set up his own practise, paying home visits to clients across the region of Auray in Brittany (France).
When he first started, Maxime had expected his client list to consist principally of the elderly and disabled, as tends to be the case with optician home appointments. However, he soon realised that a more general public of those time-pressured by work and life commitments were also increasingly making the most of his service.
Yet it's not only the practicality of his home visits that is so appealing to his clients, as he explains: "Of course, people appreciate that I'm saving them the time it would usually take them to travel to me, but I think it's more the fact I'm meeting them by appointment that has been such a hit. During all the years I worked in-store, I could always sense the irritation of people when they had to wait so long for a consultation. In busy periods, particularly in the evenings after office hours, in order to please the largest amount of clients, as an optician you have no choice but to shorten the length of each consultation, and I never felt like I could spend as much time with each customer as I'd like. My new way of working – exclusively by appointment – is an improvement for me as much as my clients". In the two months since he's been working privately, Maxime has also set up a showroom in Auray. But don't try and just drop-in: "the shop is exclusively by appointment, too, of course!"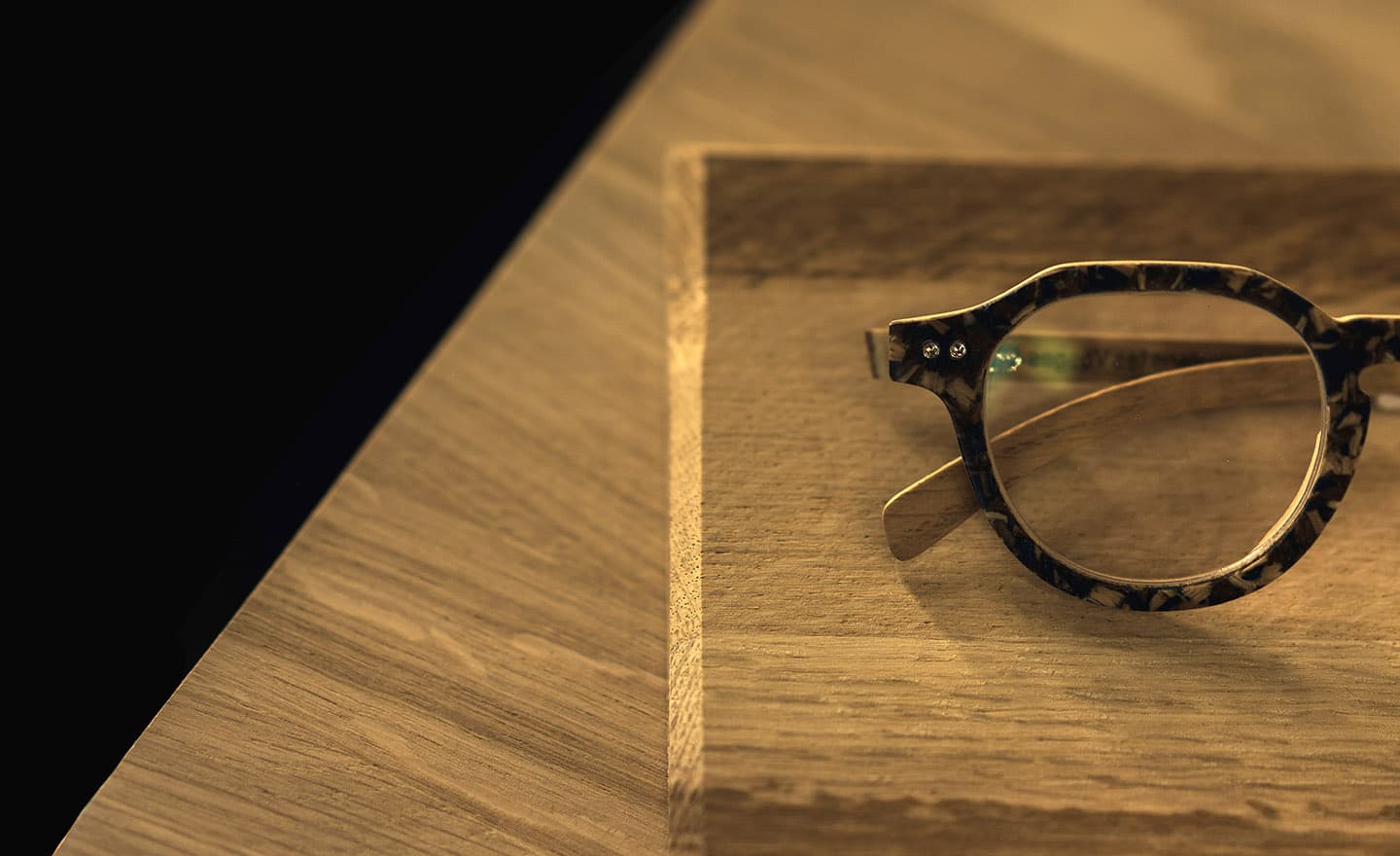 A private Show Room
Maxime's showroom is divided into three separate areas: a waiting room, the showroom itself and then his office and workshop at the back, so that each customer is received in total privacy. Making each consultation more personal still, the optician asks his clients to select a vinyl from his record collection to play while he works, and he serves locally roasted coffee. Beyond just revamping the format of optician consultations, Maxime has also updated the approach generally used by opticians, discussing the choice of frame and lens in great depth with each client.
The range of glasses that Maxime offered was initially limited to a small selection of classic frames that was intended to appeal to an older clientele. Yet as his client-base diversified, he brought in a wider range of brands and styles, inspired by his own eclectic but aesthetic taste. Whilst clients might worry that they wouldn't have as much choice from his start-up practise as they would from a more established one, there are now over 500 styles to choose from, with a frame destined to suit every face.
Beyond home visits, Maxime has also started to meet clients at their workplaces during their lunch breaks. These are often fun occasions for his customers to get their colleagues involved in the process: "Since I've been doing these workplace visits, my appointments have frequently become split into two-phases. People like choosing and trying on frames with the help of their colleagues, but as an optician you do need to keep these consultations at least partly private. When I'm discussing their optical health, this just has to be confidential between me and the client. It's certainly not professional to broadcast this information to the whole office."
Like all good opticians, Maxime consults on a range of eyewear categories: from reading glasses and sunglasses to more specialized sports frames. Located just a few kilometres from the coast, and a fan of snow sports himself, a large proportion of Maxime's clientele also practise outdoor sports such as sailing and surfing. If requested, he can also provide specialized prescription contact lenses.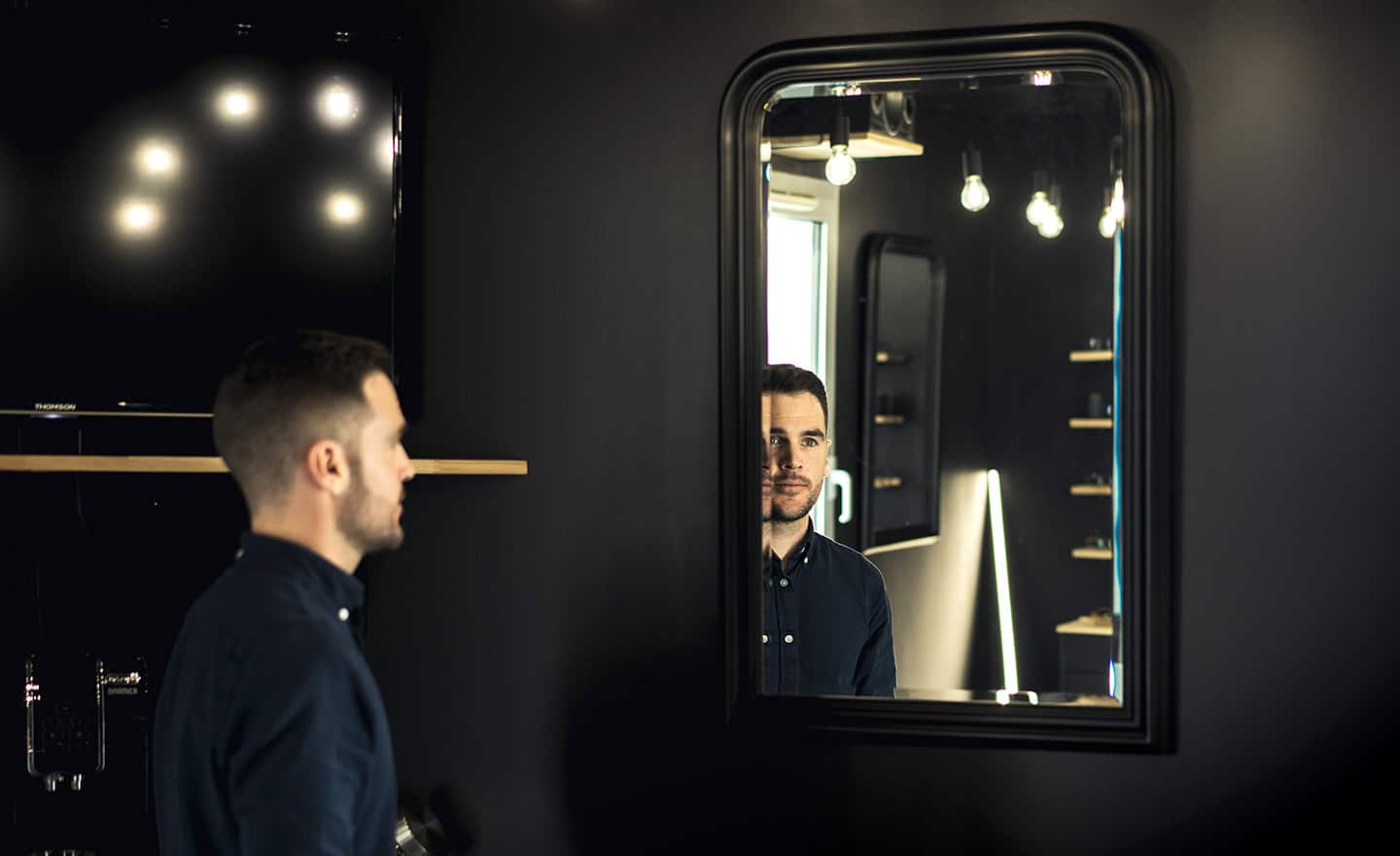 You should expect to wait from 24 to 48 hours for an appointment with Maxime, which can be booked directly via his website. No different from a regular optician, it takes up to four days for single vision glasses orders to be processed and delivered and up to a week for more complex orders. The best part of it all? Despite the VIP service, there's no extra charge for either Maxime's showroom appointments or his home visits (within 30km of Auray in France).
Be careful, it seems that this site has definitively closed on July 06, 2021.www.leclindoeildemax.com