Focus
Bespoke and semi-bespoke eyewear explained
Face 'too round', or nose 'too thin? Perhaps you just want something truly unique in terms of the color or style – finding the right glasses can be hard work for many reasons. In spite of the incredible choice on offer and even scope for personalization, the frames sold in stores are limited to ready-to-wear.
Much like custom-made fashion, custom-made eyewear goes hand in hand with exceptional craftmanship and know-how. Find out more about it with our hand-picked selection of eyewear manufacturers.
Imagine choosing everything from the color to the shape and materials used to make your perfect pair of glasses. While some brands give us seemingly endless options to choose from, nothing beats the ultra-exclusivity of haute-couture eyewear; the care and precision with which craftsmen develop the designs.
However, the distinction between customized frames and those created from scratch can be subtle and the concept not entirely clear-cut…

What are semi-bespoke glasses?
The most accessible and least expensive option, customized – or semi-bespoke – glasses have been popular at SILMO since 2016. You can co-create frames at the opticians or online, making them unique by customizing every aspect of their design; taking your pick from various pre-determined options, from the shape and color, to the materials and finishes.
Better yet is the option to engrave your initials – or another short message – on the temples. Known as 'made to measure' in the fashion world, this is where a standard pattern is tailored to the customer's measurements.
Semi-bespoke, cost-effective and fun
However, you can easily get carried away – the Gouv/Au range by Maison Gouverneur Audigier offers no less than 30,000 different styles. On a more basic level, labels like Nextone and Les Binocles par Emeline can provide sample boxes for inspiration. You could also decide to entrust your decision to Frédéric Beausoleil, artistic director of Acuitis, who will pre-select the perfect frames for you.
At your first appointment, the optician takes all the measurements needed to adapt the frames to your face.
On the tech front, Netlooks Studio has the added benefit of being able to project the selected model onto your face virtually – handy with so many creative possibilities to consider!

Customization, an environmentally-responsible choice
With reasonable lead times, costs kept under control and craftsmanship in no way inferior to bespoke glasses, customization is a model for sustainability, too. Making glasses that are repairable and adjustable, as well as recyclable, Jam'Vision – which also works with McLaren Vision – offers on-demand manufacturing.
When creating its frames, the label from Lyon takes into account the products' entire life cycle, with eyewear made eco-friendly by avoiding overstock and wastage.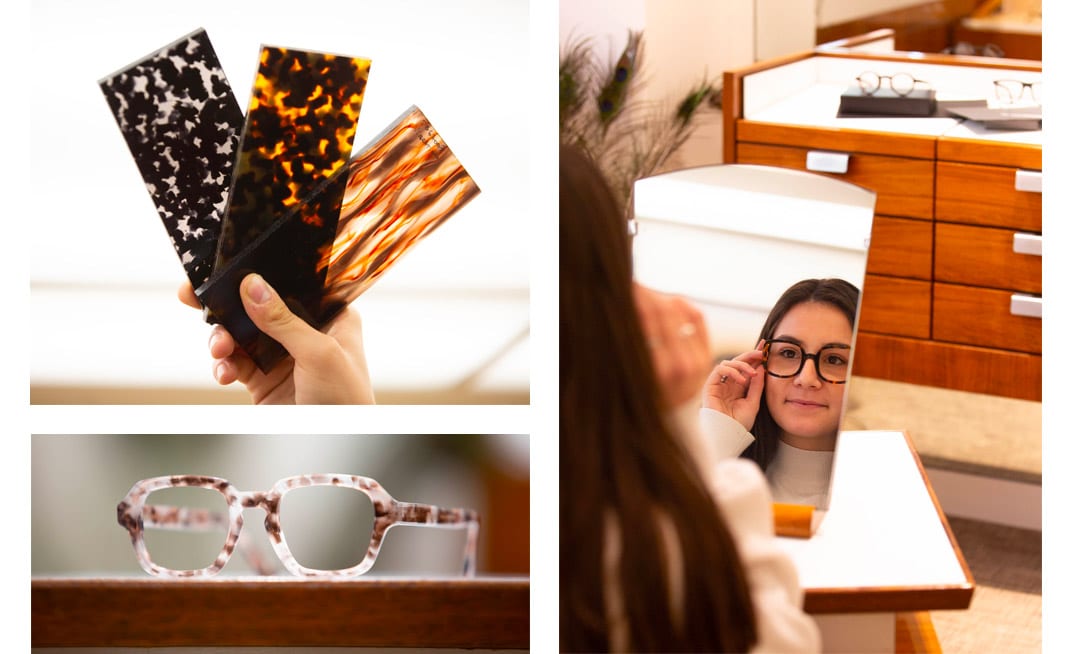 Bespoke glasses, an ultra-exclusive luxury
Like bespoke clothing, creating unique frames from scratch is a luxury that requires both time and money (up to €30,000 for Maison Bonnet tortoiseshell frames). Inevitably, the production time and end cost are nothing like the same as semi-bespoke glasses.
You also have to factor in luxury materials like precious wood, shagreen and buffalo horn at Coffignon 1928 and Acuitis; tortoiseshell at Maison Bonnet and Dorillat – not to mention amber for its lithotherapy benefits at Desondes, fabric at Le Coq et l'Abeille and 24ct gold leaf at BAL Créations.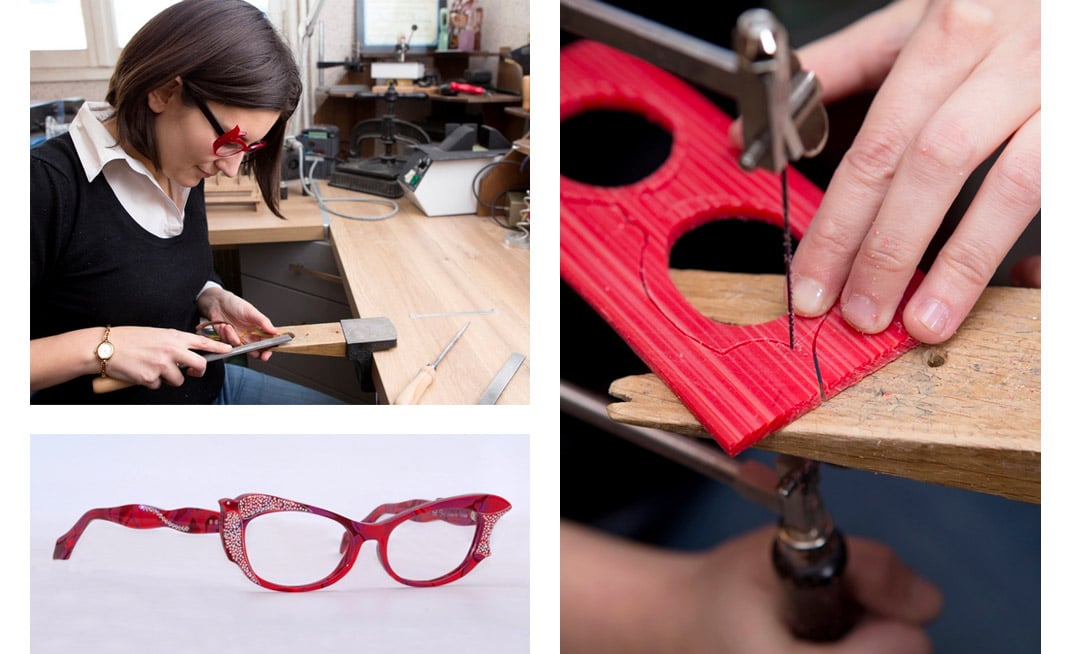 Handcrafted haute-couture eyewear, especially for you
Lines, curves and angles, colors and shapes, your imagination knows no bounds – and neither does the skill of eyewear craftsmen like BAL Créations founder, Anne-Lise Bertrand, whose amazing creations have been several time winners in the Delabre awards.
As for haute-couture, multiple appointments are necessary; from the first appointment, through to pattern visualization, prototype fittings and adjustment, the manufacturing stages can take up to nine months.
Initially, eyewear stylists make recommendations based on your personality and preferences – like at Coffignon 1928, where the emphasis is on color. Next, craftsmen take your measurements for optimal comfort. Designing glasses for politicians and frames like those worn by Vincent Cassel at Cannes Film Festival, Maison Bonnet takes 12 face measurements. Its frames are then made by hand and refined for esthetic and clinical perfection, resulting in haute-couture eyewear, or 'eyewear art'.
Bespoke glasses available to all
Opting for custom-made eyewear, whether from iconic brands or the more daring young labels, is a sophisticated, yet affordable choice.
Take Studio LISSAC for example, established some 100 years ago – its new wooden eyewear collection involves sketching, scanning, 3D printed prototypes, plus technical tests and final manufacturing. With stores all over France and prices starting from just €350, LISSAC is making fashionable and sustainable made-to-measure eyewear accessible in every sense of the word.
Written by Eleanor Fullalove