Focus
The eyewear brands inspired by lithotherapy
From antiquity to the present day, the symbolic power of gemstones has been around for centuries, giving rise to their myths. Believed to promote inner energy, balance and well-being, they continue to fascinate us today… which is why there are eyewear brands out there drawing on the stones' legendary properties to give their glasses soul. When Eyewear brands inspired by Lithotherapy.

Tools of power and seduction, objects of relationship between man and the divine, as well as natural remedies, stones have attracted interest from the powerful, as well as thinkers, since antiquity. The Chinese used the power of jade in medicine, the Brahmins mastered mineral symbolism – and the Native Americans saw turquoise as the 'fallen sky' stone.
In his Natural History books 33 through 37, Pliny the Elder lists the characteristics and supposed curative properties of various minerals and precious stones. In fact, it is in this 1st century work that we find the first mention of emerald in protecting and soothing the eyes. The author tells a famous anecdote in the history of glasses, revealing how Emperor Nero used concave emeralds to watch gladiatorial fights, correcting his nearsightedness, as well as protecting his eyes from scenes of bloodshed.
Mughal Emperors used emerald lenses for their filtering qualities and 'supernatural power' to ward off evil and open the gates to heaven. Back in October 2021, Sotheby's in London auctioned off some rare and unique emerald and diamond glasses from the 17th century Mughal era; extraordinary evidence of the 400-year-old link between glasses and gemstones.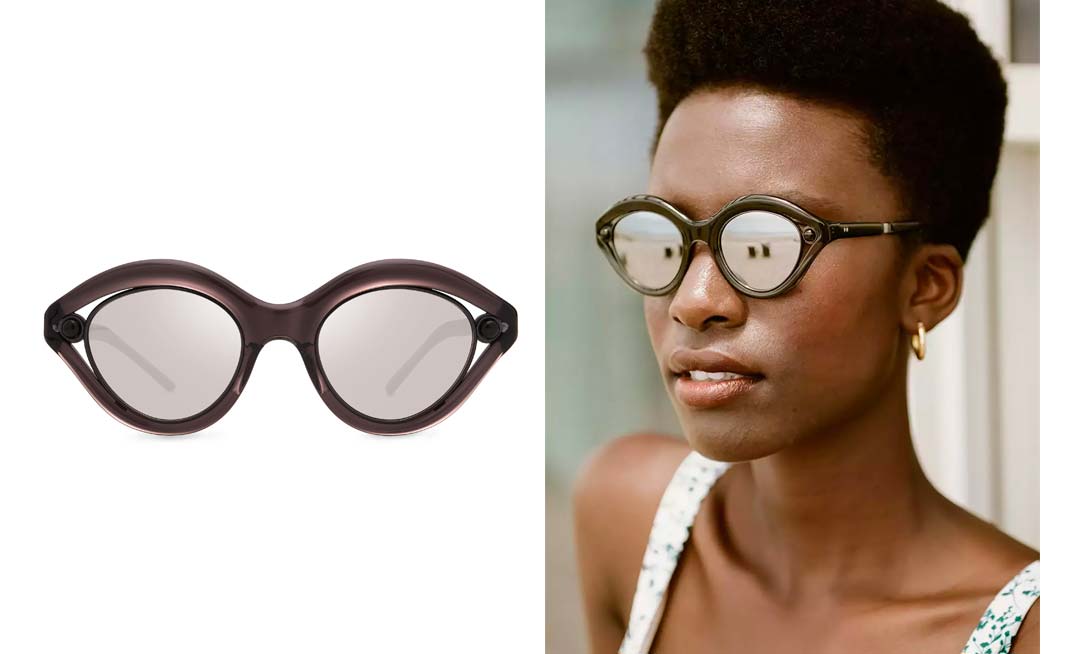 Eyewear and Native American lithotherapy
Closer to home, lenses might not be made from emerald any more, but eyewear manufacturers passionate about the subject are taking an equally holistic approach to their collections. Adorning their frames with semi-precious stones, or charms inspired by them, they are turning the spiritual healing trend from America to their advantage. In Hollywood, celebrities who swear by crystals and their positive energy have been snapped in shades by Garrett Leight. A big name in eyewear in Los Angeles, the American label launched a range of sunglasses by the name of Olinda, featuring crystals with spiritual powers. Recalling her travels between Arizona and New Mexico and the crystal shops lining the road, the brand's Design Director, Elena Doukas, created three models embellished with rose quartz rose, onyx and tiger's eye. Lithotherapy really comes into its own in this collection, combining style and spiritual powers.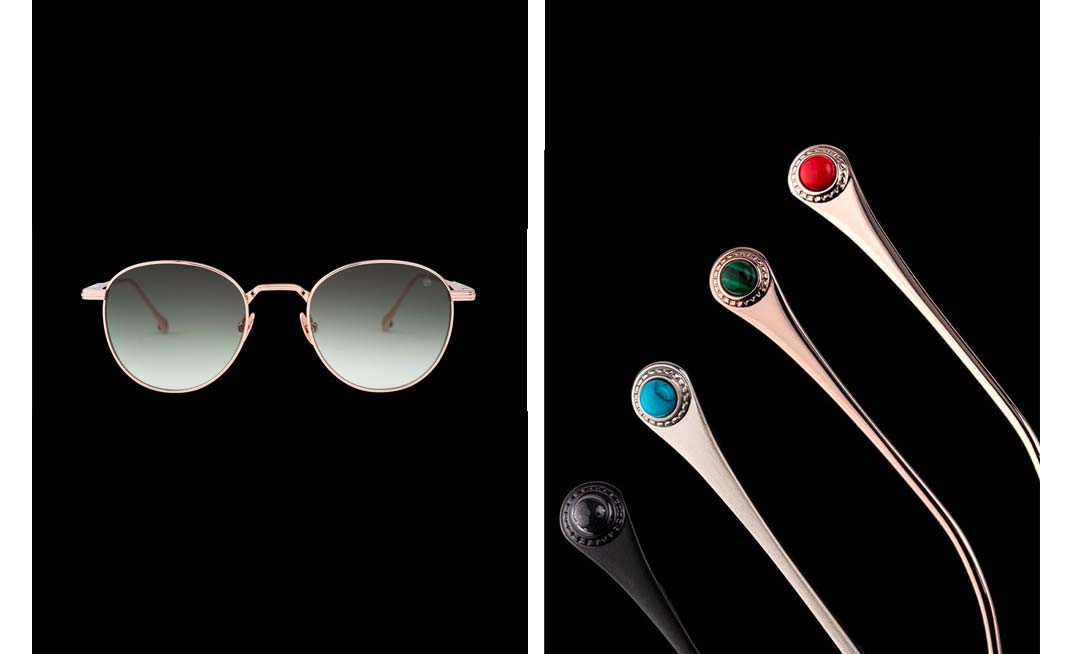 Meanwhile, on this side of the Atlantic, the spiritual power of the invisible is at the heart of the young French brand, Eye Five. Inspired by the language of crystals – more so than their power – each pair of frames with its intricate details evokes powerful symbolism through its name. Special attention has been paid to the designs in the Native American Heritage collection too, their temple tips being inlaid with imitation malachite, coral, turquoise and obsidian. The brand also intends to take the concept further by using real stones in the near future.

Amber, an exceptional stone for exceptional eyewear
A mysterious plant resin, amber has been used since prehistoric times for its many beneficial and protective properties. The ancient Egyptians imported it from the Baltic via the famous Amber Road. And it was on the shores of that same sea that the first glasses in the world made entirely from amber were created. Touting its healing lithotherapy properties and rivaling the world's most expensive glasses, the Desondes brand makes bespoke glasses from the purest and most incredible Baltic amber.
In an entirely different style, Polish brand Re:Sin focuses its attention on giving organic and eco-friendly materials the respect they deserve. Natural amber gems embedded in Mazzucchelli organic acetate help make every style unique and mysterious – and even retro glam. Emphasizing their mysterious side, the various creations have been named after Greek deities and nymphs.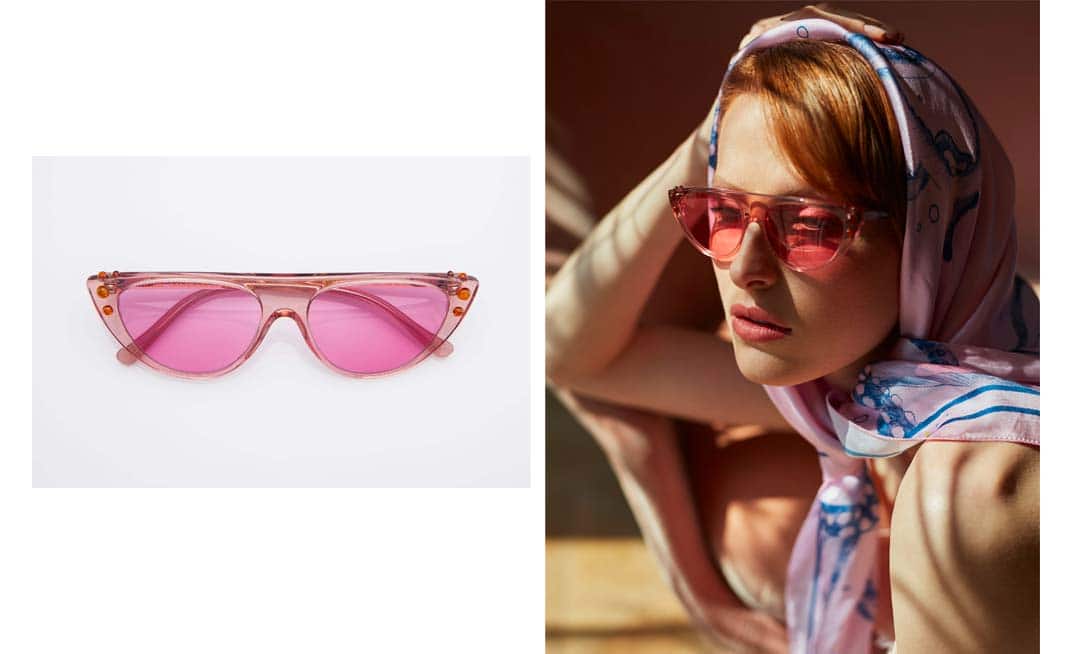 Gemstones may have fascinated people since the dawn of time, thanks to their benefits and spiritual properties, but nothing can supersede the self-confidence that comes from a great pair of glasses – the real power of gemstones lies in making them even more beautiful and desirable.
Written by Eleanor Fullalove