Focus
How to wear make-up with glasses
Working behind the scenes of the biggest catwalks and TV shows, self-confessed beauty lover Tom Sapin is a master with a make-up brush, a M.A.C make-up artist and a RevitaLash® ambassador – who is only too happy to share his insight with others. Just look at his Instagram account @tomsapin, to see the popular online tutorials he has created in partnership with the Caroline Abram eyewear brand, for example. Here we ask him how to wear make-up when you also wear glasses – and his top tips for looking good while doing so.
Interview
Eyeseemag: What inspired your tutorials?
Tom Sapin: When I met artistic director Caroline Abram at the Champs-Elysées Film Festival, I was really taken by her sense of style, her approach, her vision, her kindness… We became friends and started working together and developing the idea of the tutorials. Customers were asking her how to wear make-up when you also wear glasses and this was something that interested me as well.
Eyeseemag: Do you find that issue comes up a lot then?
Tom Sapin: I'd say it comes up often, if not more. It's a really common question. In tackling it, you have to realize there are two kinds of problem. The first is the difficulty of getting to the eyes, for those who need to wear their glasses to apply their make-up. The second involves the lenses, which either enlarge or reduce the eyes. And lessening the intensity of anti-reflective lenses. These are things that come up time and again. As well as people having trouble matching their make-up to their frames.
Tom Sapin: I'll take this into account, I look at them, I'm aware of it, but I don't think they have that much of an impact. Maybe with a few exceptions, like the butterfly shapes I'd complement with eyeliner. More than the shape, it's the style that's key: bookish, or cool, or whatever…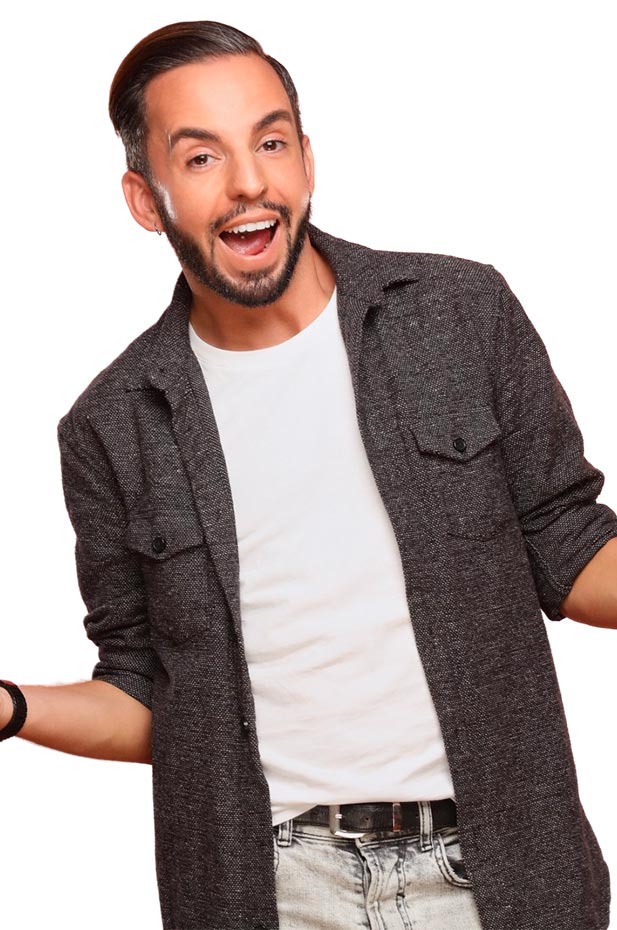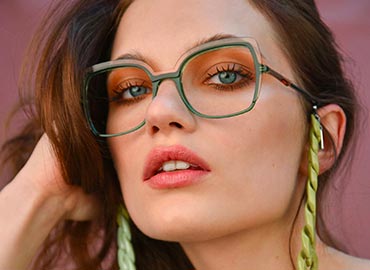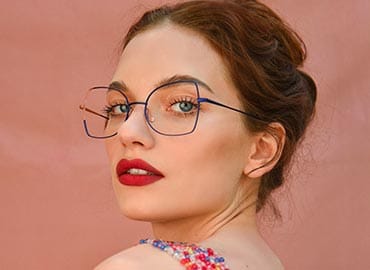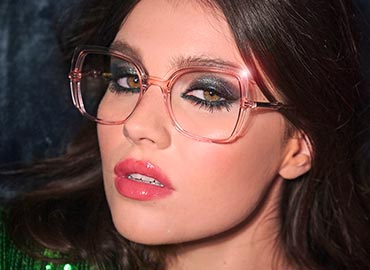 Eyeseemag: Is it true that there are many factors that come into play, including personality, the type of lenses and the style of the frames?
Tom Sapin: Of course, when I give advice, I'll do a fairly broad analysis of the person as a whole. This takes in everything from their job, to the amount of time they spend on their make-up, and even where they apply it. I'll ask them to put their glasses on, then take them off again. Then I can see the difference they make to their eyes and tailor my advice accordingly, either by telling them how to make their eyes look bigger and wider, or opting for make-up to create more depth, for example. Not everyone is aware of what effect their glasses have on their eyes. My job is to work that out and correct it with make-up.
Eyeseemag: What are your tips for making the eyes look bigger and helping them stand out?
Tom Sapin: I'd say don't worry about going overboard with your make-up, I recommend going almost a bit too dramatic, exaggerating it. My first tip is to apply a light kohl, like beige, to the waterline. This is really effective for making the eyes look bigger and wider. We can also increase the contrast by using medium and dark colors at the outer corners of the eyes. Playing on this combination of light and dark works to magnify the eyes. Finally, don't forget these two things that people don't necessarily think of; first of all, the eyebrows, which are part of the eyes and have this ability to enhance the eyes. They need to be taken into account with glasses – except when the frames cover them up completely. Secondly, the complexion. Try lightening the under-eye area with some concealer; don't use too much, just enough. Finish by illuminating the cheekbones, quite high up and close to the eyes to play up the contrast. Used together, these tweaks can have real impact.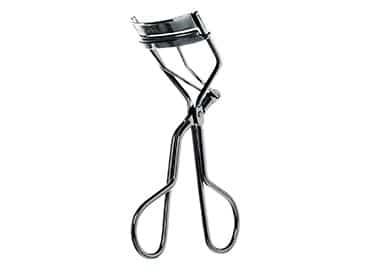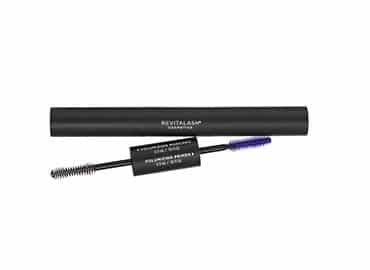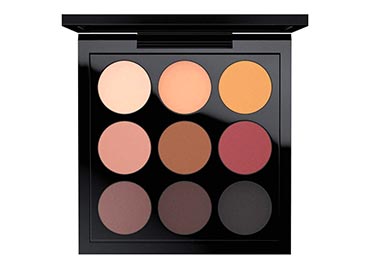 Eyeseemag: So, does the opposite apply if you want to make the eyes look smaller?
Tom Sapin: You should avoid light colors and anything too shiny or luminous and go for something matte, semi-matte, or even slightly iridescent, instead. Unlike the first example, what works in this case are dark and medium colors, just as long as they are always darker than your skin. They don't have to be black or brown necessarily; you can still keep your make-up subtle, while also adding depth. For example, the kohl could be brown, taupe or navy. You can still work with the same palette, but with medium shades to minimize the eyes and reduce the 'fisheye' effect. Then, you can finish with eyeliner – nothing too thick, or too elongated, but thin, neat, simple and quite close to the eye looks really nice.
Eyeseemag: Does the focus tend to fall mainly on the eyes?
Tom Sapin: Yes and no. Generally speaking, most of the time, people ask questions about eye make-up, which is obviously directly related to wearing glasses. My advice is broader than that. For example, I'll steer those with really bad eyesight – who can barely see without their glasses on – towards lip make-up, which they can do without taking their glasses off. Style-wise, I find glasses go really well with a bold lip. I think the interaction between these two graphic elements looks great.
Eyeseemag: What are the essentials we should all have in our make-up bags?
Tom Sapin: To start with, a kohl pencil and a volumizing mascara to thicken your lashes. For the darker shades on the outer edges of your eyes, you can use a pencil, a cream eyeshadow or an eyeshadow palette like Semi-Sweet Times Nine from M.A.C, which is my favorite and really handy for structuring the eyes with an amazing combination of neutral shades, both light and dark. It depends on your individual tastes and lifestyle. Finish things off by using an eyelash curler; an all-important tool for those whose lashes lack curl, they do an amazing job of opening up the eyes.
Technakohl Liner, M.A.C, €20
Eyeshadow x 9: Semi-Sweet Times Nine, M.A.C, €30
Eyelash curler, M.A.C, €21.50
Double-Ended Volume Set – Volumizing Duo, RevitaLash, €29.80
 Written by Eleanor Fullalove