Tendances
Fashion Week trends in eyewear
September's Fashion Weeks may have finished for another year, with the red carpets and runways already dismantled – but the trends they launched are far from over. Find out which pairs of glasses made the biggest impact and which ones we expect to see everyone wearing…
Come September, the fashion world is ablaze, the famous fashion capitals of New York, London, Milan and Paris having hosted the most prestigious runway shows for fashion houses' upcoming collections. Already looking ahead to spring/summer 2023, fashionistas from all over the world enjoyed some particularly memorable moments this year, like the incredible spray-on dress expertly modelled by Bella Hadid at Coperni, the motorcycle led Boss show, Cher's appearance at Balmain, the celebration of leather jackets at Saint-Laurent, the epic amounts of mud at Balenciaga, not to mention an abundance of accessories – glasses among them. But which frames proved most memorable and which will we actually end up wearing?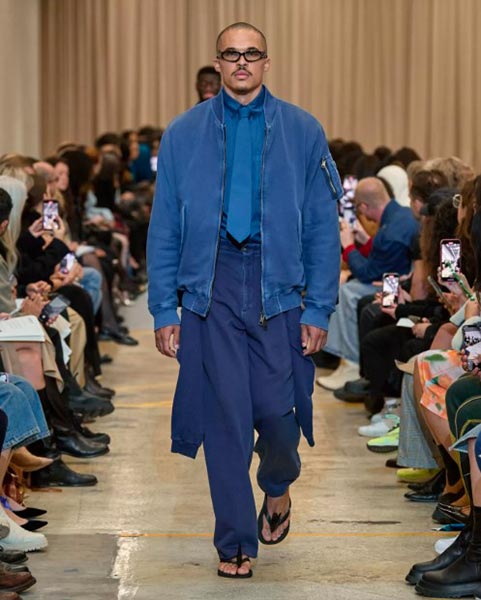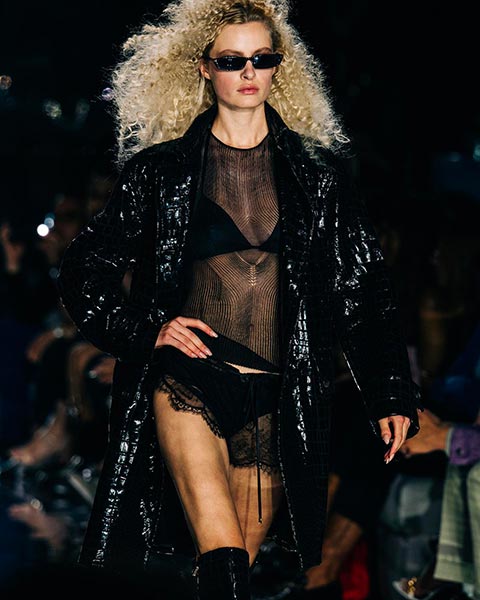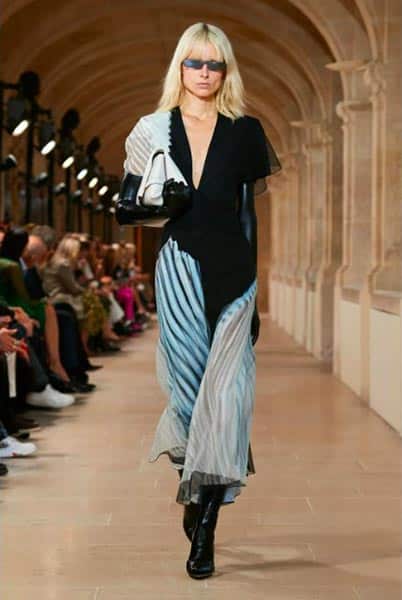 The straight and narrow
Minimalist and understated with a futuristic feel, ultra-slim sunglasses still managed to make their presence felt on the runways. We saw them on models in Victoria Beckham's first show, where they were fitting for the fashion queen; at Burberry, which unveiled designer Riccardo Tisci's latest creations for the British brand; as well as at Tom Ford, where they accessorized outfits designed for the dancefloor. Down for anything, we predict this versatile trend will run and run.
Prickly subjects
Renowned for his memorable and masterful shows, Demna Gvasalia (artistic director of Balenciaga) once again succeeded in making an impression by showing his collection in what can only be described as an apocalyptic mud-filled pit. As well as an incognito Kanye West making his modelling debut, the show featured ever more unusual accessories, such as the glove bag, noodle scarf and oversize horned glasses. Available in various colors, the latter look likely to become next season's must-haves, not least because Kylie Jenner – one of the most influential people on the planet, no less – was spotted wearing them on the FROW.
Voir cette publication sur Instagram
All black everything
It may seem contradictory considering the season, but the most popular color on the catwalk was black. Adorning everything from the arms to the lenses of every pair of frames, we saw it on the runway at Saint-Laurent, where the outfits were designed for going incognito in style. Stars on the front row, such as Laura Harrier and Kitty Chica, also stuck to the all-black dress code. Meanwhile, Valentino continued to celebrate the darkest shade there is by accessorizing monochrome outfits with timeless and shielding sunglasses. Finally, at Off-White, the first show by Ibrahim Kamara – successor of the late Virgil Abloh – models were dressed head to toe in the brand's signature white, blue and black, complete with uber dark glasses.
Voir cette publication sur Instagram
Voir cette publication sur Instagram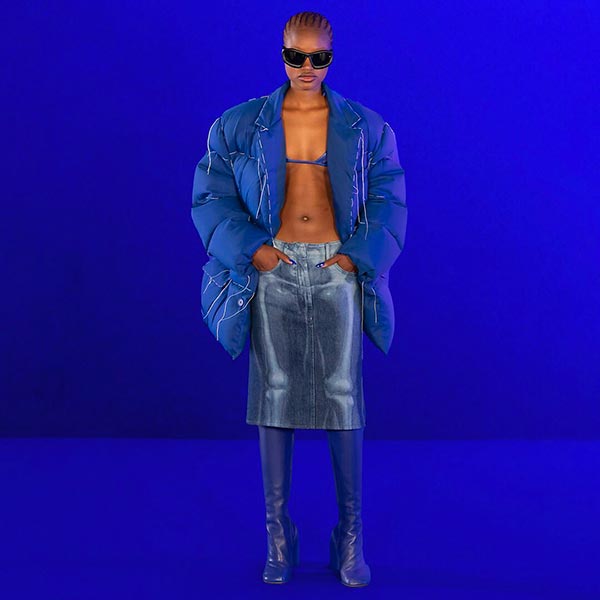 In great shape
Another feature of fashion month were glasses with quirky and exaggerated curves, like Ottolinger's signature design, where the twisted material covers the frames in their entirety. As luck would have it, the Twisted sunglasses are already on sale – perfect for those who really can't wait to get their hands on the very latest trends. Elsewhere, on the red carpet at Loewe, fashionistas including MV Tiangue, Leonie Hanne and Leena Alghouti wore the Spanish brand's new inflatable frames. Spanish It-girl and artist Sita Bellan got in on the action too, showing off some spiky 'rebel Barbie' pink frames by La Maskarade at Valentino.
Ottolinger shades are available here.
Voir cette publication sur Instagram
Voir cette publication sur Instagram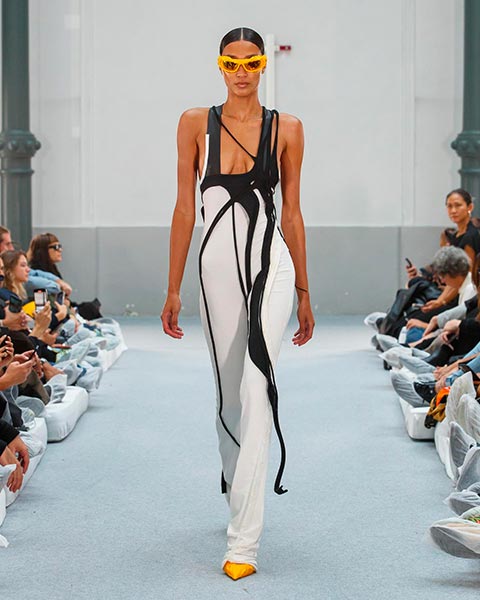 Open season
Where once there were distinct seasons, designers now appear to have chosen the spring/summer collections for reworking winter sports eyewear, showing both oversize and ski goggle style glasses. Versace incorporated clear versions to complement Donatella's Dark Diva looks, while Prabal Gurung, Stella McCartney and Rick Owens opted to go more striking still, showing styles that contrasted with the colorful and sensual looks worn by the models. Among the celebs, it was K-pop icon Dara who truly embraced the trend at Courrèges in her couture style visor by Nicolas Di Felice, the label's artistic director – proving that mask styles can work both on and off the slopes.
Voir cette publication sur Instagram
Voir cette publication sur Instagram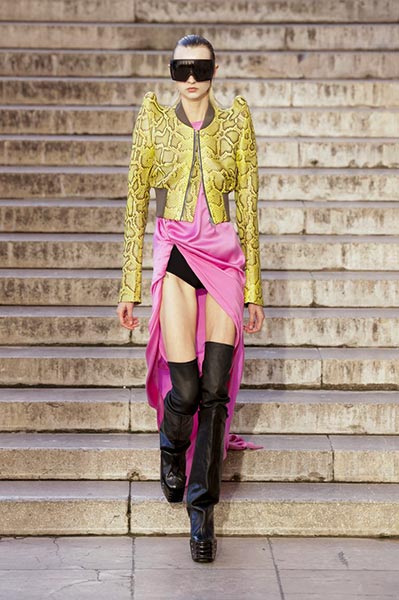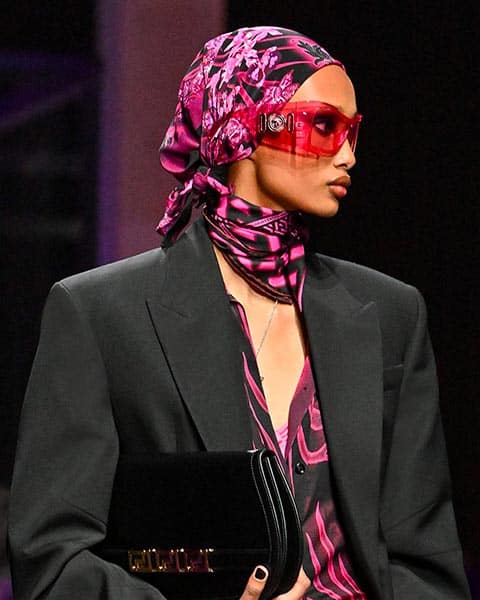 More is more
It-bags have had their day; now designers have turned their attention to eyewear, instead. The latest craze (and star attraction of the Givenchy runway show) are glasses with four lenses. Managing to combine multiple trends for next season, being black, as well as oversize and textured, these incredible creations are not only handy for blind spots – their fashion potential is impressive too.
Voir cette publication sur Instagram
Written by Eleanor Fullalove