Tendances
Eyewear from the fall/winter 2021-22 fashion shows
Fashion Weeks are hotbeds for new trends – and that extends to eyewear. So feast your eyes on our selection of the most stand-out styles to grace the runway for fall-winter 2021-2022. Which of them will you be wearing?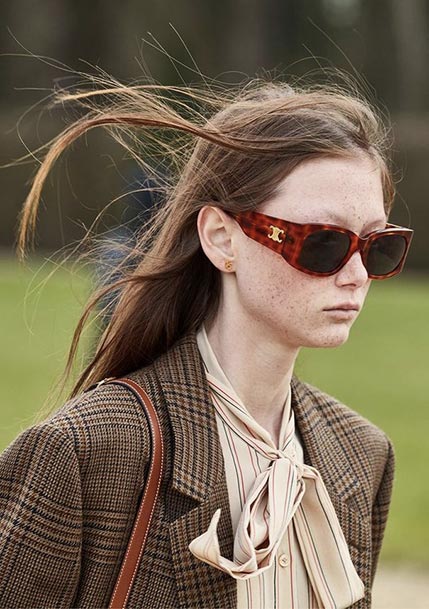 Printed glasses at Celine
The stylish bourgeois outfits from the fall-winter catwalk show by Celine were accessorized with a variety of frames, including these ones with their striking logo and unusual printed design.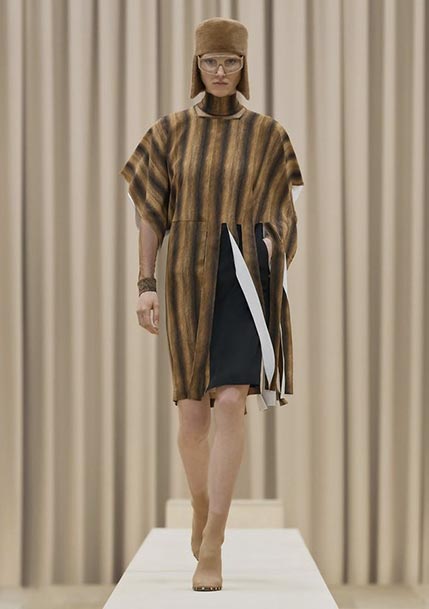 Ski styles at Burberry
We'd wear these frames like a ski mask for mountain holidays in snowy chalets. Beige seems to make these sporty, vintage feel glasses look even chicer still.
Futuristic eyewear at Schiaparelli
Easily the craziest glasses we've seen these past few months. Famously daring when it comes to couture, you won't be surprised to discover Schiaparelli's behind these oversize futuristic frames.
Voir cette publication sur Instagram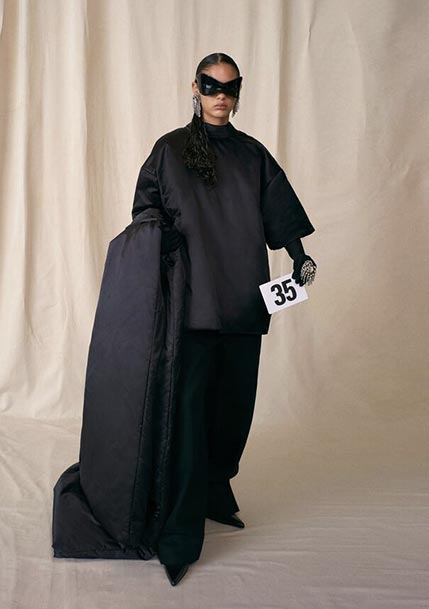 Visor style by Balenciaga
You'd be hard pressed to find anything as gratifying as the visor style from Balenciaga's haute couture show 2021-2022. Covering most of the face, they are sure to have just as much impact outside of any catwalk or red carpet event.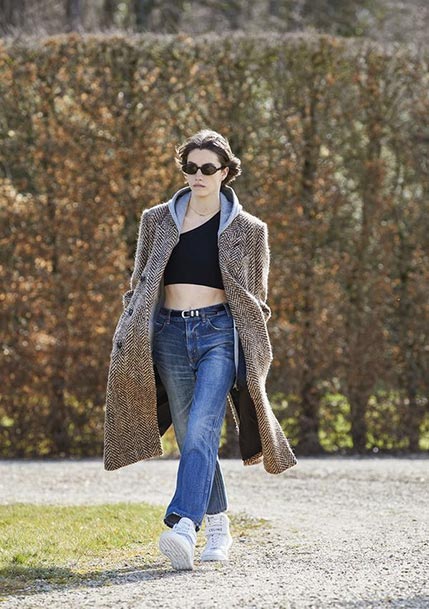 Oval glasses at Celine
Understated, yet no less impressive for their elegance and timeless appeal, these black frames will go with anything, from casual jeans to smart tailoring.
Monogrammed lenses at Fendi
These sleek-looking frames complete with all-over logo lenses are guaranteed to get you noticed. They also look super smart, even when you're dressed down.
Voir cette publication sur Instagram
Thick black frames at Dior
These thick rectangular Dior frames are a classic choice and promise to lift any office look, from the trench coat to the classic white shirt.
Voir cette publication sur Instagram
Almost invisible eyewear at Balenciaga
The fall-winter 2021 fashion show by Balenciaga featured eyewear as out-there as the clothes, including Matrix style-masks and stylish see-through frames.
Bright & colorful lenses at Louis Vuitton
Those who like to stand out from the crowd will love this ultra-modern blinged-out design from the fall-winter 2021 collection by Louis Vuitton. Team with gold or silver for an otherworldly effect.
Voir cette publication sur Instagram
Dramatic glasses at Off-White
Each of the latest Off-White eyewear designs is more impressive than the next. The brand's bold logo complements these Cady frames with their quirky cut-outs perfectly.
Voir cette publication sur Instagram
Seventies-inspired frames at Gucci
The Italian fashion house makes it easy to embrace two major trends at once this season: Seventies style and oversize eyewear. Simply add a glasses chain and flares to complete the vintage look.
Voir cette publication sur Instagram
Written by Eleanor Fullalove