Tendances
All eyes on these glasses in 2022
Goodbye 2021! All eyes are now on 2022, a year that already promises to be filled with pioneering products, collaborations, revivals and more fashion news. If you want to honor the dawning of this new year and celebrate fashion in a pair of super stylish, glamorous or extravagant glasses that really pack a punch, then this guide is for you…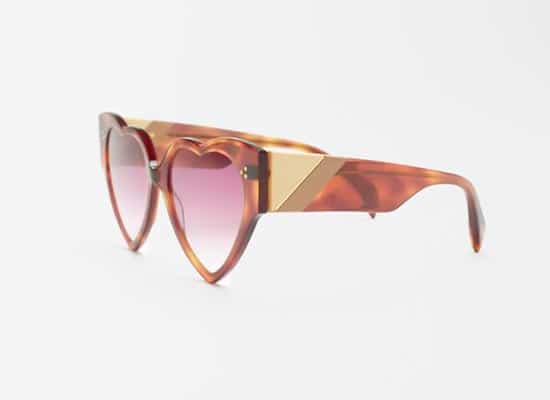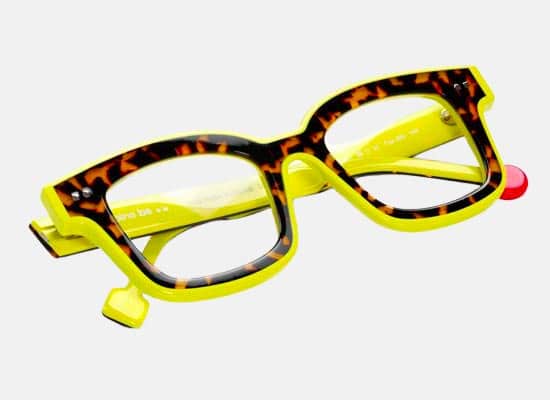 Party girl
After two rather lackluster years, the world of fashion has decided to live life to the full. Expect glitter, feathers, bright colors, plenty of prints and elaborate accessories. As designers are well aware, the perfect party wardrobe would not be complete without glasses. This year, eyewear will be bold, flamboyant and memorable, like at Louis Vuitton, where the glasses looked like rococo masks.
The same is true at Versace, with frames in vibrant Seventies hues; Moschino, which is bringing back heart-shaped shades; not to mention Schiaparelli, with its surrealist gold contributions. The excitement continues off the catwalk, not least at Maje, which is offering heart-shaped shades in retro tortoiseshell with metal detailing.
In a similar mood, Sabine.be has combined leopard print and (near enough fluorescent) yellow. Finally, at Gucci, you can get into the spirit with an ever popular blend of black and gold. Not only did this pair of frames by Alessandro Michele feature in the Italian label's festive campaign, they can also be seen in visuals for the eagerly awaited The North Face X Gucci collaboration.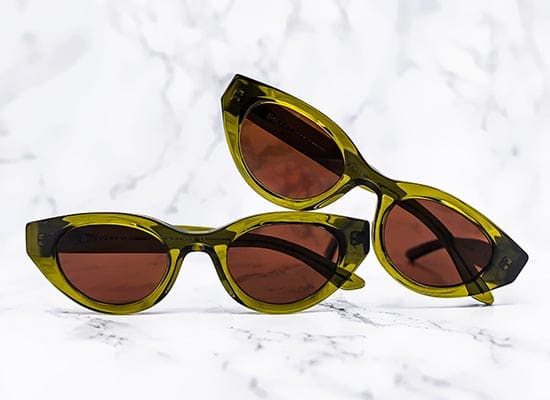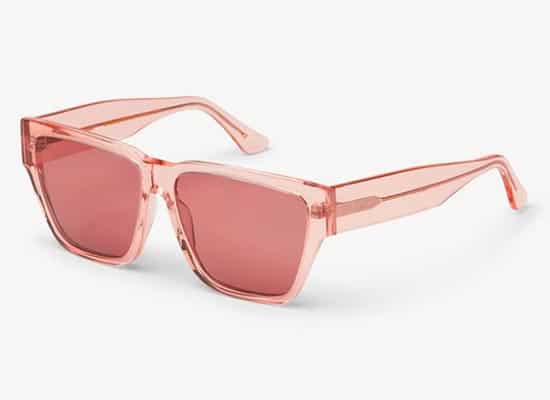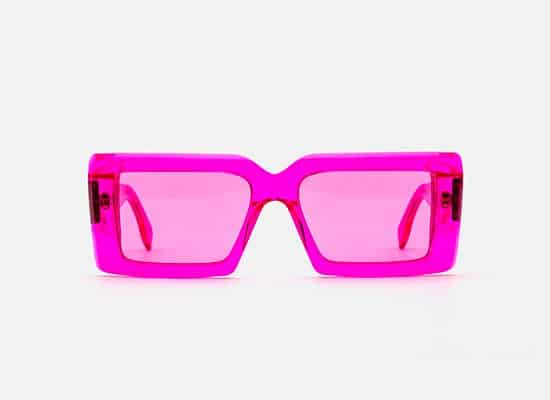 Gourmet choice
Gluttony may be a sin, but when it comes to eyewear, it's also a source of style. This year, you'll find glasses in all kinds of mouthwatering colors.
To start with, there is this sweet as candy design from Colorful Standard, an ethical Portuguese label specializing in quality fashion essentials. These frames come from its first range of biodegradable plant-based sunglasses, produced from cottonseed and wood fibers.
Prefer your sweet treats on the tangy side? The iconic Acidity frames from Thierry Lasry come in new colors this year – sour olive green among them. Lastly, the Retrosuperfuture label offers the best of both worlds with its electric pink Cherubini sunglasses, created in homage to the work of legendary artist, Andy Warhol.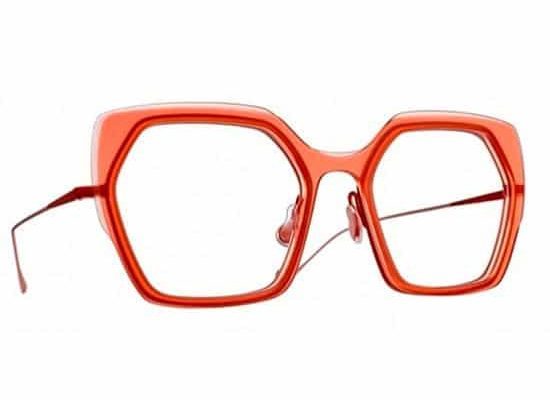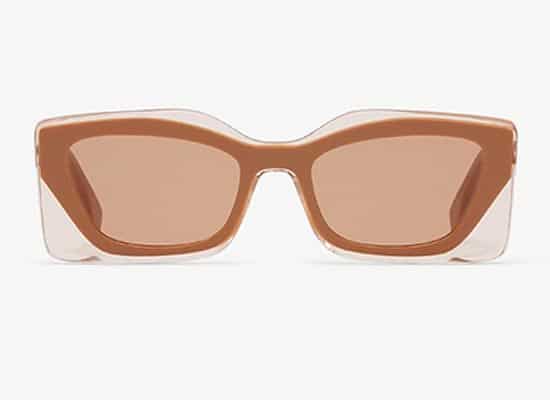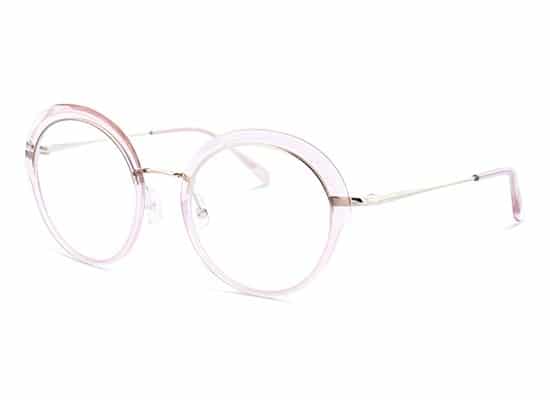 Just an illusion
There's no beating trompe-l'œil glasses for style and originality. Their visual trickery, which makes us question our perception and creates confusion in our minds, is making a place for itself in the fashion world. The trend has also made it into photos for the famous Fendi X Skims collaboration. The Fendi Feel frames were shown off by models embodying the unique partnership between the Italian label and Skims founder, Kim Kardashian. Creating an illusion is an art, one that French fashion house Morel has also perfected, with – among others – the Liliana, a sleek pair of frames that plays with transparency and lightness to the point where it can no longer be defined. This look also works well with the shimmering shades from Caroline Abram and the hexagonal Dolly design in peach.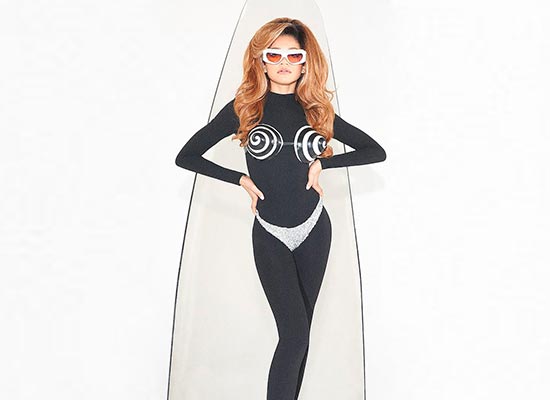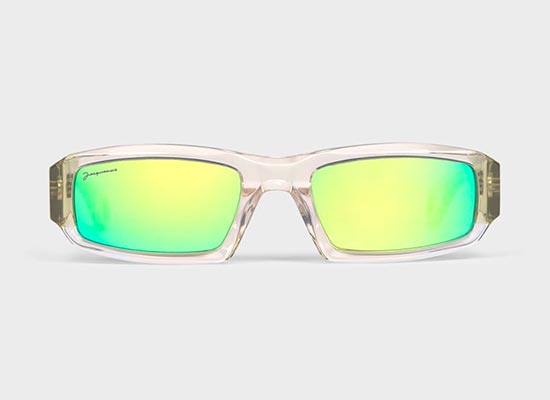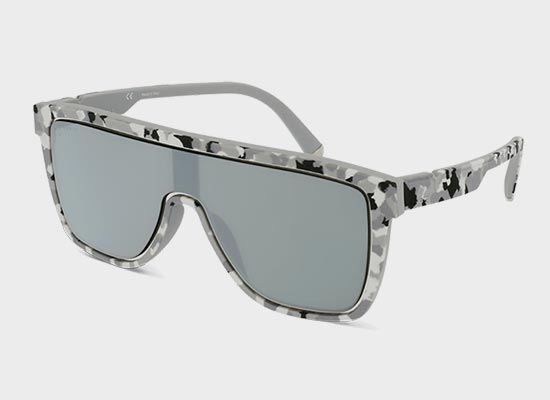 Shaping up
Sport, glasses and fashion actually work well together. Sportswear has been making its presence felt in our wardrobes for years now, not only breaking the rules, but inventing new hybrid looks, combining performance and style to perfection. This year will be no exception and the futuristic white ski-style mask seen on the Coperni catwalk (and on the actress Zendaya, in her shoot for Interview magazine) is a perfect example. The mountains also inspired the latest collection by Jacquemus. The Altù design combines urban frames with neon lenses reminiscent of those usually reserved for winter sports. Finally, the recently knighted racing driver and fashion icon Lewis Hamilton is back with another collection for Police. The range includes both classic designs and trendier ones like the 23 sunglasses. Incorporating the hallmarks of the sport practiced by the champion, they were inspired by the helmet visors worn for racing.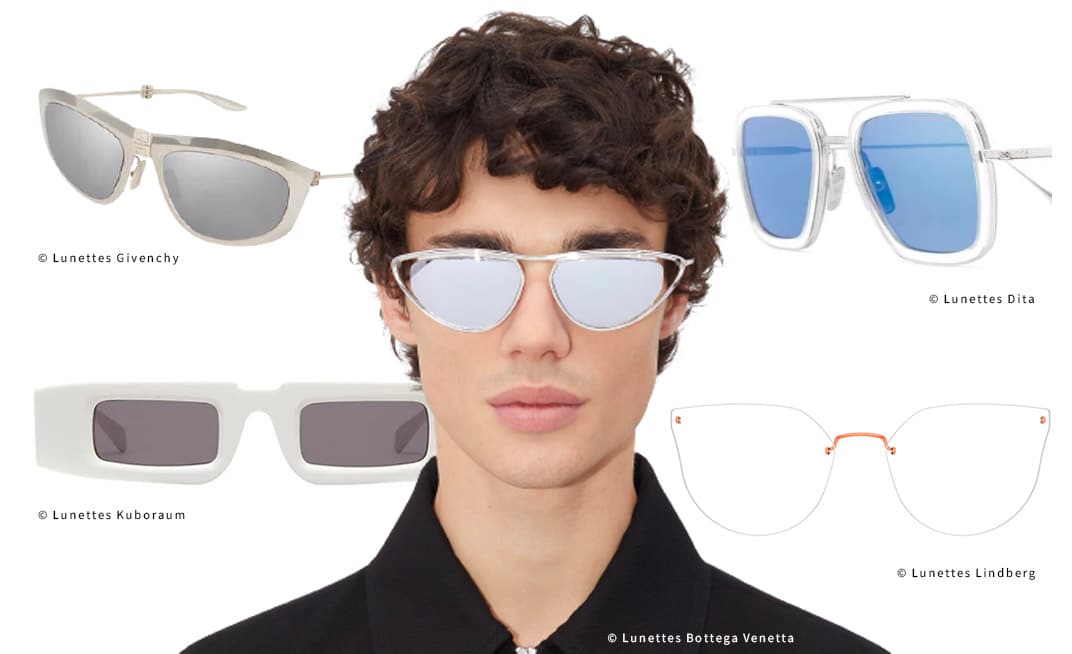 Back to basics
The fashion world enjoys playing with extremes; while some designers develop a taste for ostentation, others prefer to focus on pristine silhouettes with an ultra-slick cut. Focusing on the essential is an ethos is shared by eyewear designers like Lindberg, the iconic pierced lens glasses specialist from the birthplace of minimalism: Scandinavia and more specifically, Denmark. This example by the eyewear manufacturer has suceeded in combining sleekness of style with a hint of color and a curvy cat eye, a trend that will continue into 2022.
Many luxury labels and some of the cooler eyewear brands have also abandoned the hallmarks of opulence in favor of cutting-edge designs with a touch of finesse, like the silver Outline frames by Bottega Veneta, the Flight aviator frames by Dita, the G Tri-Fold by Givenchy and the square X5 shades in purest white, designed by Kuboraum.
Written by Eleanor Fullalove