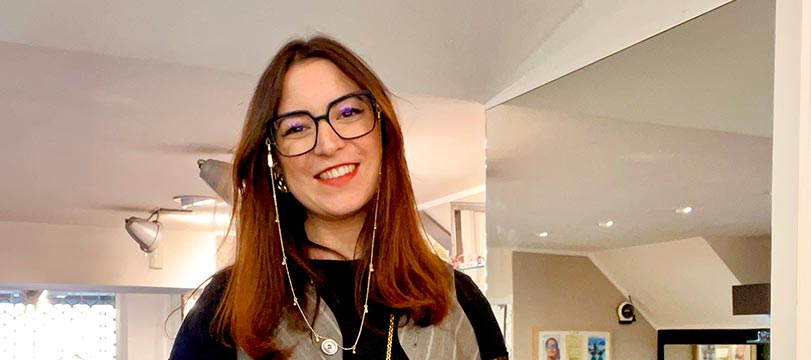 Tendances
Expert insight from Ansostyle, the optician with an impressive social following
Anne-Sophie Lapetitte has been an optician for 10 years. Passionate about her profession, it combines both her interest in fashion and her way with people. She has also been active on social media for seven years, via her Youtube channel and @AnSoStyle Instagram account, dishing out tips and advice with her unique brand of humor. We asked her how we can all make sure we're buying the right glasses…
– Interview made by Charlotte Médot –

How can we ensure we get it right when shopping for spectacles?

If there is one thing to think about before choosing glasses at an optician, it's whether you're in the right frame of mind. If you're not feeling good about yourself, leave the decision-making for another day!
You also need to make sure you look how you do every day – if you tend to dress or do you hair or make-up a certain way and are coming in to buy your new glasses on your way back from the gym, it could throw you off… So stick with your usual look, as your future frames will be part of your everyday life.
Next, give the optician a chance and don't be afraid. We know what we're doing and need to get to know you to recommend the styles that should suit.


My advice is the same for sunglasses, even if they allow us more freedom. There aren't as many rules and people get less stressed out; making that decision has less of an impact on their everyday life.

What influences you when helping customers choose new frames?


I won't ever jump on a customer; I'll consider their personality first, what they're looking for and the shape of their face. I also like to see their old pair of glasses to get a better idea of what look they're going for, find out what isn't working for them anymore and what they want to change. Then I ask them a whole host of questions to see if they have any specific wants, any particular material in mind and whether they are open to wearing different colors. These elements provide a sound basis for the next step. I show them several designs, using details like the shape of their face, the color of their eyes, their skin or their hair, to explain my choices.

Do you like to get customers out of their comfort zone?

When I present the first option, I try not to push them too far, but I don't limit myself either. I'll put forward a pair that I can imagine on that person and that fit with what I know about them. Generally speaking, I'll encourage customers to try on frames they wouldn't normally go for. I'll also take care not to influence them too much; what matters is that they like the frames because they are the ones who'll be wearing them. That's another tip: get out of your comfort zone! People are usually pleasantly surprised.

Does the choice of material depend on the customer as well?

Some like low-key frames, which often means metal. If comfort is important to them and they're looking for ultra-light frames, there's titanium. Others like bold styles, in which case there are options made from thick acetate. It's the same process for shapes and colors.
That's why you need a varied selection to choose from in store, to satisfy as many people as possible.
I also like to talk about the designer, which adds an emotional dimension. It's a real bonus to be able to share some kind of a story and put a face to the brand name, especially if it's not a famous label. I know this works because customers get attached and want to buy frames from the same brand again.

How do you decide which brands to stock in your store?


I really like working with designers who are striving to create meaning, quality and originality, but I also choose brands based on what my customers want and expect. There are lots of them… There's a whole hall of designers at Silmo (the international optics and eyewear trade fair), which fascinates me – I love walking around it.

How should we be looking after our lenses to make them last?

It's especially important to look after the lenses. It's vital to clean them with a spray or wipes bought from an optician. I insist on it, because we'll offer products that are better suited to the lenses and less aggressive over time. You should also wipe them with a cloth, or else a super soft tissue – never with a T-shirt, a sweater, or a napkin! Feel free to visit your optician regularly, as soon as your frames start to feel loose, for example.

What should we avoid when changing our eyewear?

The worst thing you can do is come with several other people in tow, as there will always be someone who doesn't agree with whatever you choose. It's hard to find that one pair that everyone can agree on. I often see boyfriends or girlfriends giving their advice without really knowing anything, or picking out frames based on their own taste, which couldn't be further from that of the customer.

So, is it best to go by yourself then?

No, you can bring someone, just make sure you choose them carefully. Make sure you like their look, but above all that they give good advice.

We often see you reacting to eyewear advice in your videos. What's the worst thing you've heard?

I hear a lot of dubious advice, but the most recent was 'aviators suit everyone'. In my opinion, that's completely untrue – they're actually one of the hardest shapes to pull off. But as they're such well-known and iconic frames, people are convinced that anyone can wear them. Don't let yourself be taken in by marketing.
If you absolutely have to have an iconic design, or follow a particular trend, you can always adapt it. For example, lots of customers tell me that they can't get on board with the trend for oversize glasses, as they have a small head – that's not true! They just need to pick a 'normal' sized pair. On someone with a small face, they'll look oversize. You should experiment with your eyewear and have fun

You've also created hybrid accessories known as 'colliettes', (when necklaces meet glasses chains), which have quite the following. Tell us more…

I love that glasses are becoming more and more important. Over the years, I've noticed us moving away from the idea that glasses are just medical devices. Nowadays, people really do see them as fashion accessories. Wearing glasses is no longer viewed as a handicap – it's an asset!