Focus
More than just practical: ultra-light frames
Going back to work after the summer holidays is sure to place greater demand on your eyes. So, if your eyewear needs updating, now might be the time to look into it. No-one wants to be weighed down by their specs. Fortunately, opting for some of the lightest frames around can help ease you through the day and keep your glasses from feeling like something that has to be endured. Don't miss our round-up of where to find eyewear that's light as air (or almost).
The benefits of ultra-light frames
When it comes to eyewear, weight is consistent with comfort. The lighter the frames, the nicer they are to wear and if you rely on them, this can really make a difference day to day. Light-weight frames let you almost forget that you're wearing them… there'll be no more marks on your nose or soreness behind the ears when you finally come to take them off either. Heavy frames are more likely to slip down your nose as well. The kind of lightweight looks popular with sporty types can be just as beneficial for anyone who has to wear glasses all day long.
However, when you try them on at the opticians, it's not always easy to tell how light any pair really is to wear. Often, you won't know until you come to use them properly. That said, basing your decision on the material, alongside the weight of the lenses and the size of the frames (the bigger they are, the bigger the lenses will be and the heavier the glasses will be overall) should mean you can't go too far wrong.
So, for those wondering whether there was such a thing as eyewear that is light, yet still packs a punch on the style front? Absolutely, there is!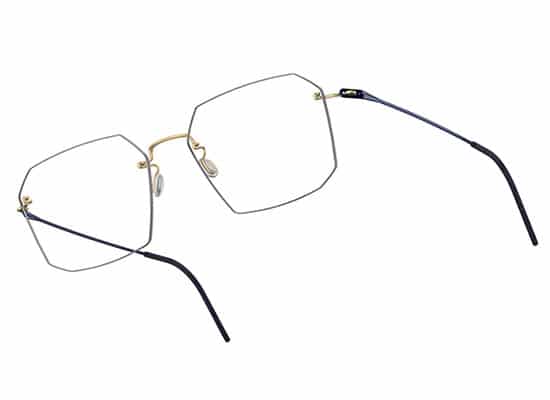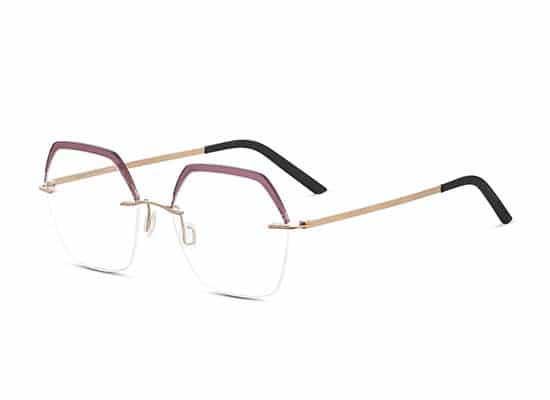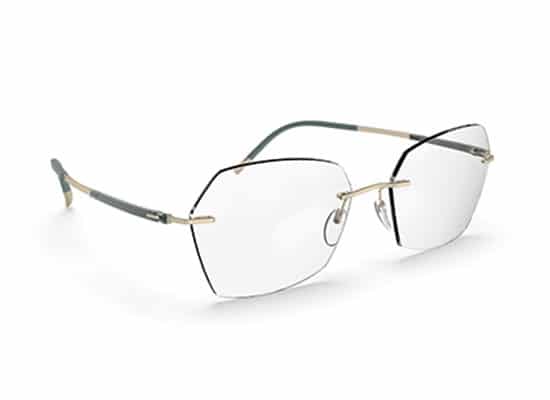 Where to find feather-light eyewear
Less is more
It follows that the less material is used, the lighter the frames. When it comes to eyewear, rimless glasses are the last word in minimalist style. Comprised of just arms, lenses and a bridge, the stripped-down style also gets referred to as "invisible glasses".
Years ago, rimless glasses were about as stylish as Crocs, but they've since enjoyed the same popularity boost as the famous shoe. Nowadays, brands are getting more and more creative in their effort to inject maximum style while using minimum material, experimenting with the color and design of the arms – and even the shape of the lenses. Aside from the classic rectangle, your choices include oval, oversize, butterfly, reworked square shapes… as well as super quirky hearts and clouds.
The Titan Minimal Art from Silhouette are some of the lightest frames in the world and also belong to the 'rimless' family. Weighing in at just 1.8g, the light as air design has been worn by NASA astronauts in space on multiple occasions.
Where to get them
Austrian brand Silhouette offers a wide range of ultra-light rimless glasses in a variety of different shapes and colors. You can also find trendy designs among the ranges by Line Art and Titanium Perfection by Charmant. As far as French brands go, Minima is the expert. However, outside of France, eyewear by Danish brand Lindberg is every bit as fashionable as it is lightweight. Finally, Oakley and Ray-Ban also offer rimless styles.
Picking feather-light materials
When it comes to seriously light-weight eyewear, you can't beat titanium. While helping to reduce the weight of the frames as much as possible, the material also gives them a slim, elegant look. But aside from its aesthetic appeal, titanium has many other qualities. It's renowned for its resistance to shocks and being dropped. It's also a durable material that can cope with perspiration, as well as the elements. Finally, unlike metal frames that can trigger allergies (due to nickel), titanium has the added advantage of being hypoallergenic.
The only downside is the cost… while justifiable, it is more expensive than other metal frames. For those with sensitive skin, stainless steel frames are also hypoallergenic.
Where to get them
Silhouette and the Charmant group both specialize in titanium frames. The precious material used to make them comes from Japan, which is renowned for both its superior quality titanium and its world-renowned expertise.
If you're looking for graphic and distinctive lines, look to brands such as Anne & Valentin and Dita. For fans of thinner frames, Caroline Abram has created a vampish collection with Charmant. Lesser-known Japanese brand Matsuda offers high-end finely crafted frames and fans of Oliver Peoples will be glad to know that it too has some options available in titanium.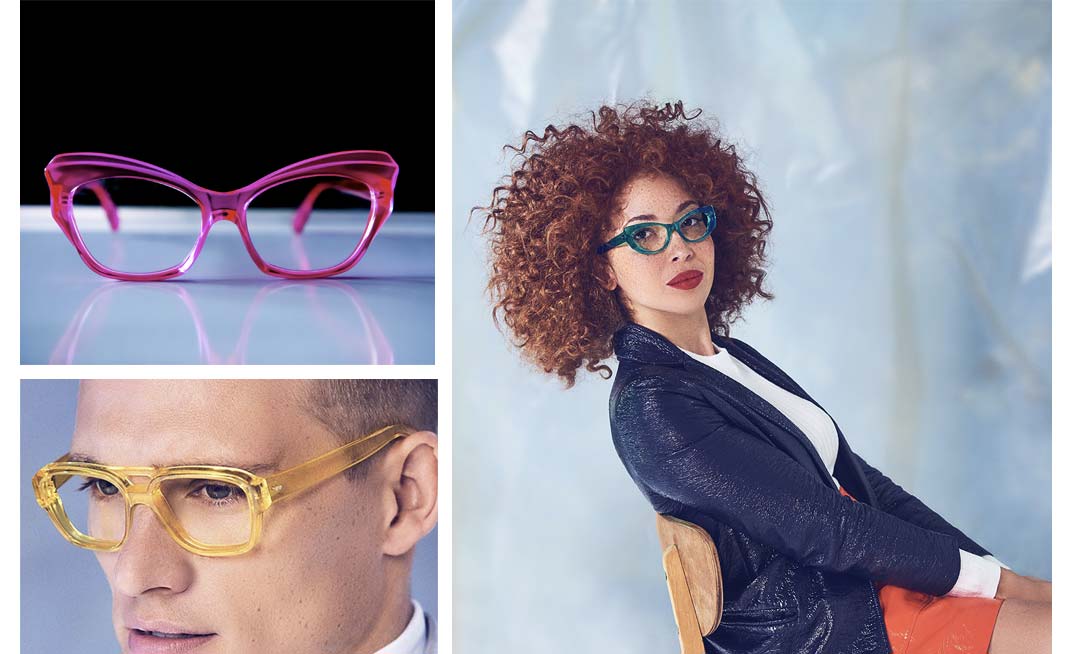 A matter of size
'Lightweight' may suggest more delicate designs, but fans of oversize styles are catered for too. The surprisingly light frames available from British brand Kirk & Kirk are created by designers Jason and Karen using acrylic. Ordinarily, thick colored frames are made from acetate. Acrylic affords the designers the same creative freedom, while being lighter than acetate.
Bold and colorful, Kirk & Kirk's frames have plenty of character and are all as light as you like. The brand even manages to make frames up to 10 mm thick, while its acetate styles go up to 6 mm.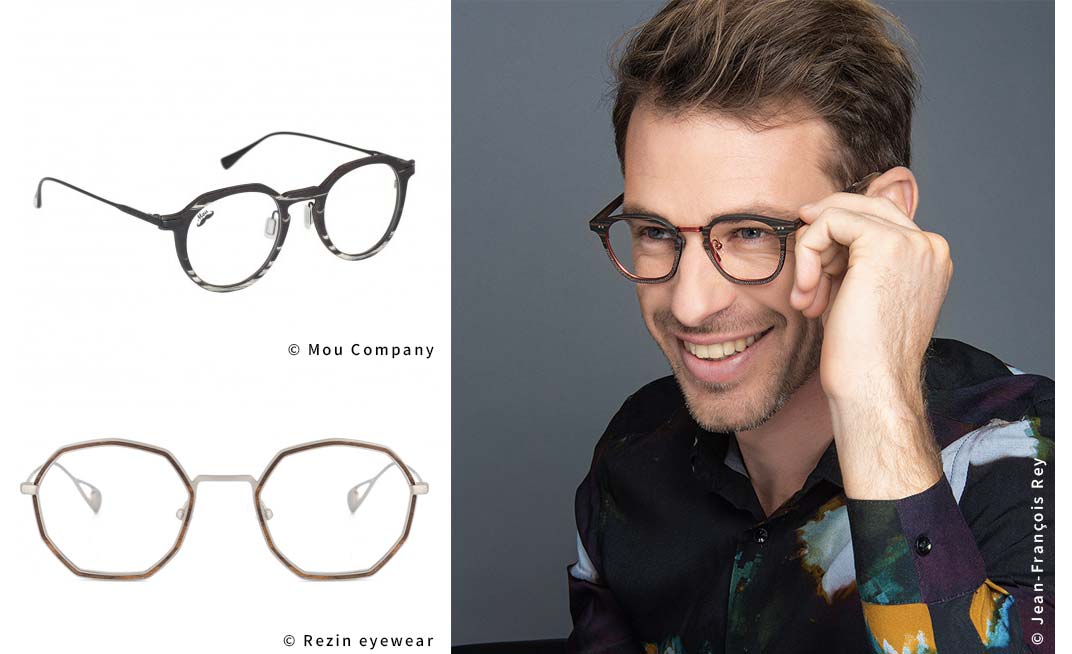 Improving on wooden glasses
The fashion for wooden glasses owes much to their warm and authentic charm. However, they aren't the lightest around, which is why some brands have opted to combine wood with other materials like titanium and carbon fiber. The latter has the advantage of being extremely light, not to mention supple and robust, which is why it's also a popular choice for sports eyewear. What you end up with are glasses that combine the charm of wood with a streamlined structure. The other options we've given you may be lighter still, but as far as wooden glasses go, these might be the compromise you're after.
Where to get them
Wooden frame specialists, such as Rezin and Mou Company. Designer Jean-François Rey also offers stylish wood and carbon fiber designs.
N.B.: The most important element to consider when choosing frames is the kind of correction required. Some of these won't be an option if you're myopic (nearsighted), hyperopic (farsighted), astigmatic or presbyopic. Ask your optician to help you narrow down the choices on offer.
Written by Eleanor Fullalove