Focus
Tom Sapin's make-up tips for wearing lipstick with glasses
After teaching us "How to wear make-up with glasses", star M·A·C Cosmetics make-up artist Tom Sapin is back to fill us in on the season's trends and must-have products, and share tips for pairing glasses and lipstick to ensure you look fabulous.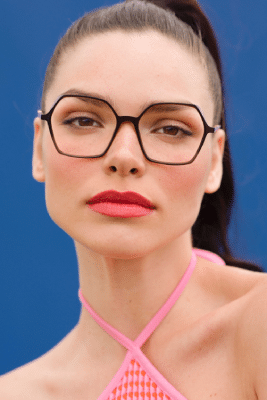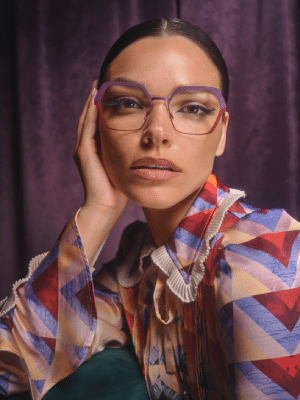 EYESEEmag: Why do you love pairing glasses with lip make-up?  
Tom Sapin: There's just something fascinating about finding the right lipstick to go with different styles of eyewear. Glasses will frame your eye make-up – I've actually made a few tutorials about it with Caroline Abram – and make it pop, but because glasses create a lot of focus on the eyes, it's quite easy to add lipstick. When I do make-up for someone who wears glasses, I tend to get creative or I try to find a lipstick in a colour that matches the frames to complete and enhance the look.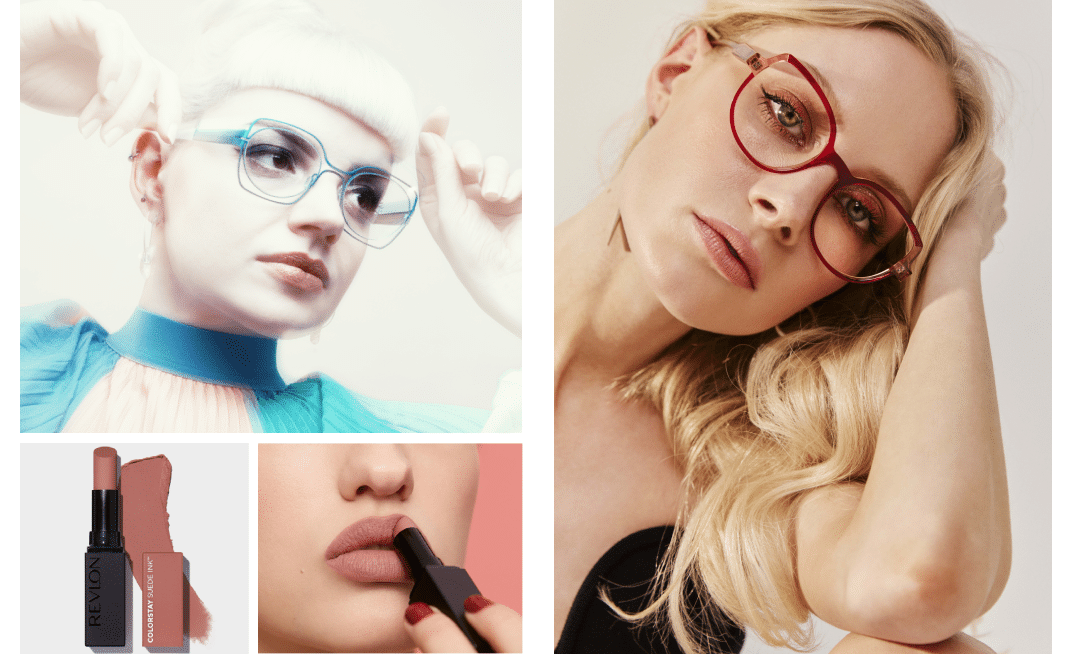 EYESEEmag: What would you say to anyone who thinks you shouldn't pair dramatic eyewear with a bold lip?
Tom Sapin: I really don't see why. A bold lip can be in a neutral tone. Right now, for example, 90s style is making a comeback. For lipsticks, this means that brown tones, brownish undertones and very neutral shades are on-trend and it's all about a defined, lip line. Brightly-coloured glasses, like orange, look great with this kind of make-up, really making the lips stand out. So, the lip colour may be quite understated, but looks darker because of the contrast with the glasses.
Colorstay Satin Ink Lipstick, Revlon, £9.99
EYESEEmag: During your previous interview, you mentioned that these two graphic elements should be complementary. Do the frames play an important role?
Tom Sapin: Yes, particularly with very bold frames because they're more striking. They're also more fun. I always adapt make-up to suit a person's glasses, but I get much more of a kick creating lip make-up to complement eyewear when the frames are bold.
You always need to base your choices on whether the lenses make the eyes look bigger or smaller. If they make them look smaller, even if emphasis is placed on the mouth, you still need to make the eyes stand out, using very simple techniques like adding mascara or a light-coloured pencil to the inside of the eye.
When the glasses are subtle, you have complete freedom. Frameless styles blend into the face, so it will be all about the eyes or lips. Even though they're subtle, they still draw attention to the eyes, so I would recommend choosing make-up that also makes the lips pop. That way, you'll have a more modern look to complement this kind of glasses.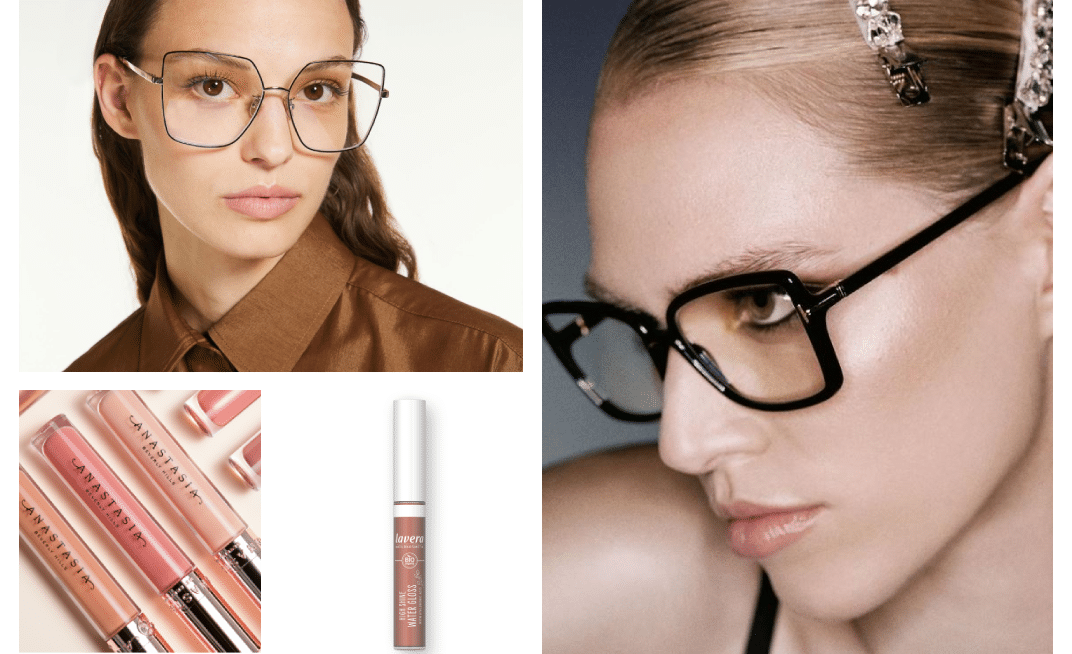 EYESEEmag: How do glasses fit in with the key end-of-summer trends?
Tom Sapin: There has been a shift towards nineties and noughties style, so, very sculpted, defined lips with pronounced contours. I love complementing this with glasses.   Lip gloss is the go-to lip product right now. I love a good gloss because a lot of glasses have a shiny finish, so it's great to have this complementary vinyl finish on both eyewear and the lips. The opposite works well too. For example, if you have glasses in a very matt metal, you may want to pair them with something a bit brighter. Very sculpted, high-shine lips are in right now.
Lip Gloss, Anastasia Beverly Hills,  £20 on sephora.co.uk
High Shine Water Gloss, Lavera, £15.90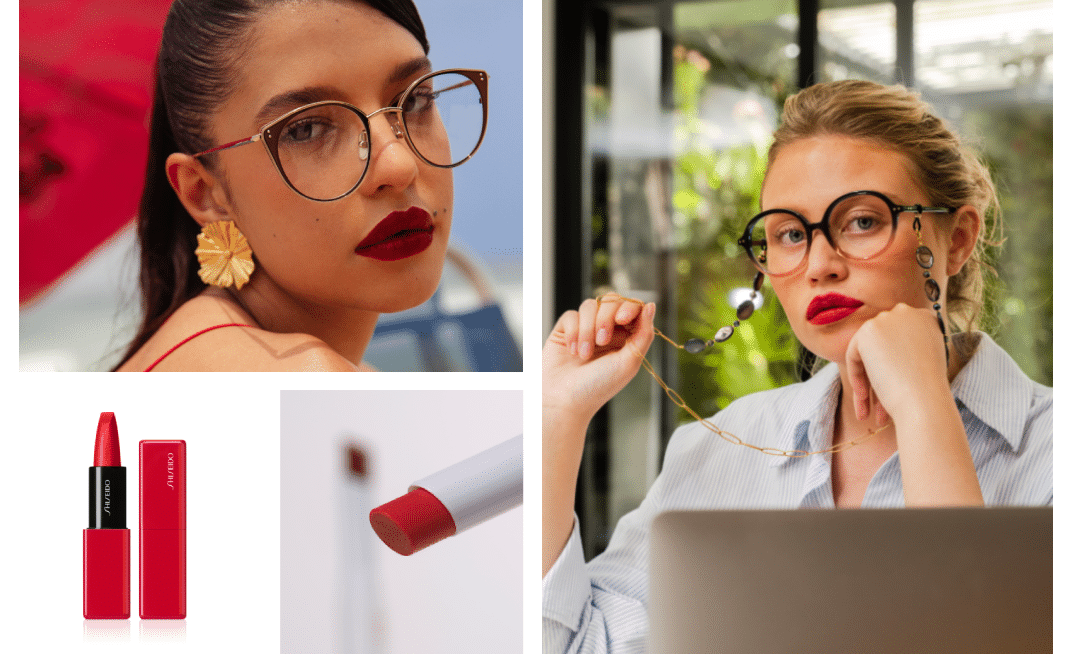 EYESEEmag: A bold red lip is timeless, isn't it?
Tom Sapin: Yes, this is the second trend, although I wouldn't really consider it a trend because it's very much universal and never goes out of fashion. A red lip is always a great choice, especially when you wear glasses. Personally, I love using M·A·C Locked
Kiss Ink longwear lipsticks which have a very matt, opaque finish. You get a very graphic look when you pair them with glasses.
Technosatin Gel Lipstick, Shiseido, £30
Lip Tinted Balm, Oh My Cream Skincare, £28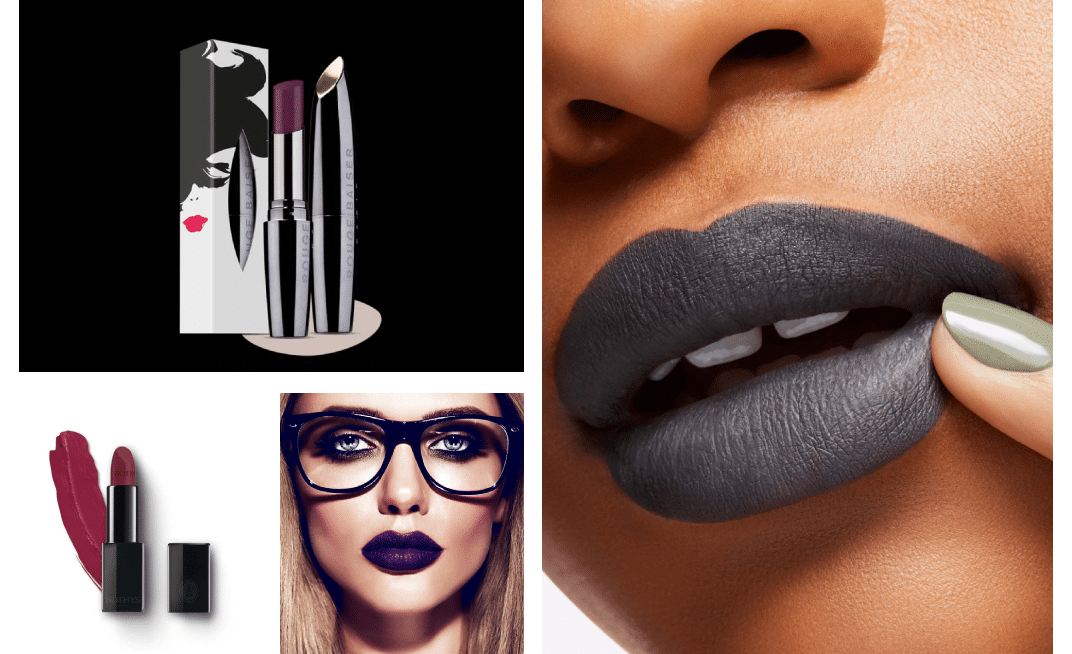 EYESEEmag: And for the bravest ladies?
Tom Sapin: For anyone who is very daring, there's a third trend: the gothic look. It's everywhere on social media. Personally, I think it's a very bold choice. For example, if you want wine-coloured or very dark burgundy or black lips, it can look stunning with glasses. It's a very dramatic style, just gorgeous.
Locked Kiss Ink 24h Matt Lipstick, M·A·C Cosmetics, £32
L'Authentique Long-lasting Lipstick, Rouge Baiser, €18
EYESEEmag: Often women with a big personality wear original glasses.
Tom Sapin: Exactly, it's really easy to do make-up for them. By choosing on-trend glasses, they've already done a lot of the work, so make-up choices are easier.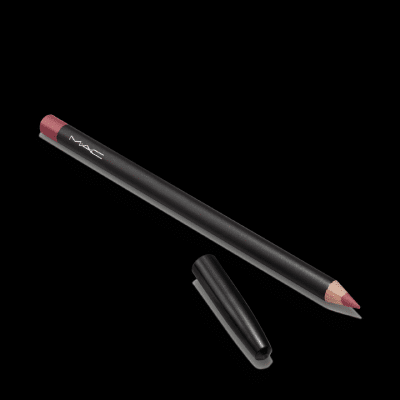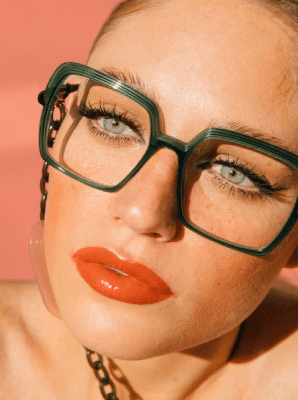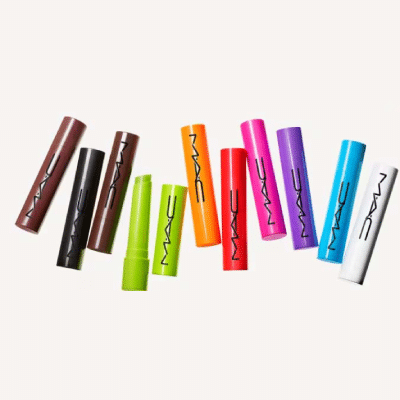 EYESEEmag: What are your must-haves for the season?
Tom Sapin: In June, M·A·C released its Squirt Plumping Gloss, high-shine gloss sticks with a vinyl finish. They're very hydrating, easy to use and great fun, perfect for anyone who wants a very glossy finish. Lip pencil is also very in right now. It can be used in two different ways: alone with gloss for a 90s look, or to create graphic, well-defined lips.
Squirt Plumping Gloss, M·A·C Cosmetics, £22
Lip Pencil, M·A·C Cosmetics, £20