Focus
How to match eyewear frames with different colors of Transitions® photochromic lenses
After mastering the sun's rays using light-reactive lenses that adapt automatically to brightness, Transitions® is teaching us the art of pairing – how to combine our favorite frames with the seven tinted lenses in its range.
Partnership
GLASSES WITH TINTED LENSES TO PROTECT OUR EYES FROM BLUE-VIOLET LIGHT, UV RAYS… AND MORE!
Offering a boost of sunshine during the winter or a splash of good vibes in summer, glasses with tinted lenses have a "wow" factor that everyone wants – even with prescription eyewear. And given that the warmer season means increased exposure to sunlight, Transitions® light-reactive lenses tick every box for being fashion must-haves while keeping you protected during the summer.
Of course, these products are great for protecting our eyes from UV rays and harmful, blue-violet light. But above all, without sacrificing our safety, we want them to go beyond function and reflect our personality. In short, just like cutting-edge sunglasses, our prescription eyewear should be perfect – from the choice of frames to the tinted lenses. From classic tints to the most daring colors, knowing how to pair them guarantees an eye-catching look in the summer sun. Read on to learn how to make the right match!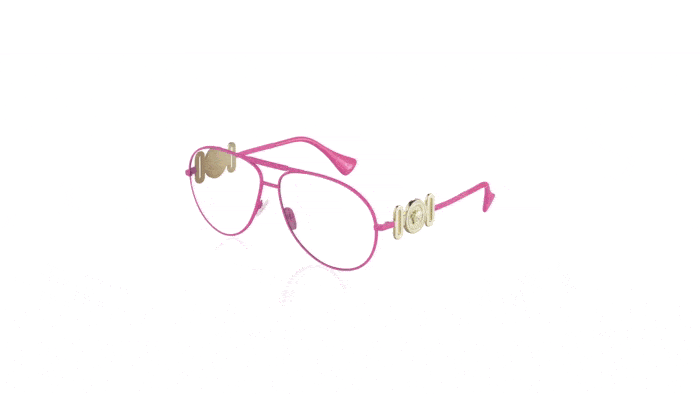 DARE TO WEAR COLOR LENSES FOR ULTRA-STYLISH EYEWEAR!
First things first: What is your favorite color? Each person's answer is the highly personal result of individual experiences, worldviews, and emotions. Put simply, it's the color that makes us feel good. Whether on a bag, a pair of shoes, or a piece of clothing, our favorite color gives us self-confidence. When applied to lenses using photochromic technology backed by multiple patents, this unique tint and its different nuances will have the same magical effect. The final product effortlessly transforms into an ultra-desirable, uber-stylish object in just a few instants thanks to natural sunlight. You can play with tone-on-tone frame-lens ensembles, opt for contrasting colors, or even mix and match with daring tints. Light-reactive tinted lenses have the unique power of enhancing understated frames, softening otherwise ostentatious glasses, and highlighting bold geometric shapes. The selection of colors in the Transitions® Signature® GEN 8TM range adapt to every combination imaginable. Let the pairing session begin!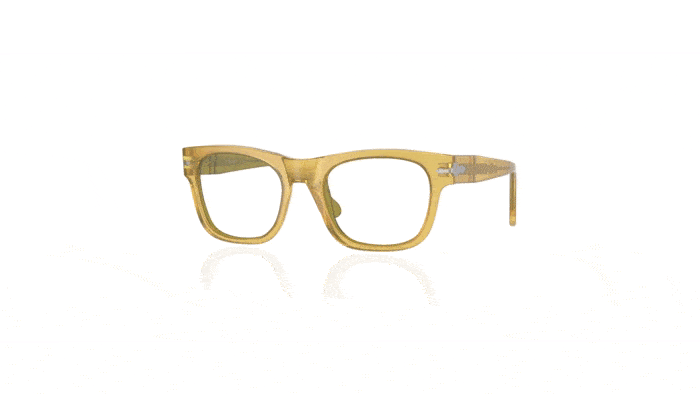 EYEWEAR PAIRING: HOW TO COMBINE LENSE TINTS WITH FRAME COLORS
Now let's take a visit to our favorite optician and peruse the Transitions® lenses! Ranging from classic colors (gray, brown, graphite green) to more original tints (sapphire, amethyst, amber, emerald), they're guaranteed to turn heads! But let's try to push the potential of our future eyewear even further… Take some simple black frames and try them with all the available Transitions® lenses. The result will surprise you!
Next, try your absolute fantasy frames and go through the full spectrum of colors. The easiest way is to combine them with a similar tint to create a risk-free, tone-on-tone effect, but that might also look super stylish when swapped for gray or emerald. You can also experiment with contrasts, which are sure to make a splash. Did you know that tortoiseshell is making a major comeback? Try Ray-Ban Havana frames with emerald lenses! Or perhaps some elegant Persol frames in oh-so trendy translucent yellow, paired with sapphire lenses for an attention-grabbing look. We'd love to see this adorable color everywhere! The most daring shoppers can combine different frame colors and tints with joyous abandon. You'll see – it's so much fun, and addictive!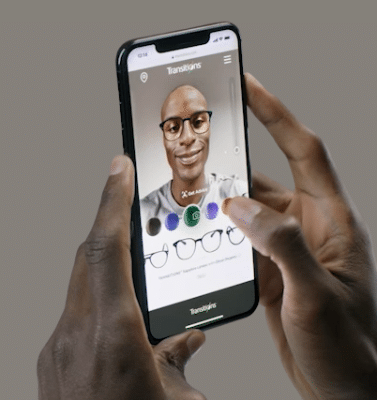 CHOOSING TINTED LENSES FOR GLASSES: WHEN PROTECTION MEETS STYLE
So we can have fun mixing looks, styles, and colors, Transitions® has developed a five-star, online virtual try-on service which is very convincing and easy to use. But to make the experience even better, why not go all-in and try different models at your local optician's? Along with colorful display units and UV lamps that activate the lenses by simulating sunlight, you can also take advantage of the facial expertise offered by a professional. From transparent to color lenses to the full breadth of on-trend gradients, effortless chic is yours to command!