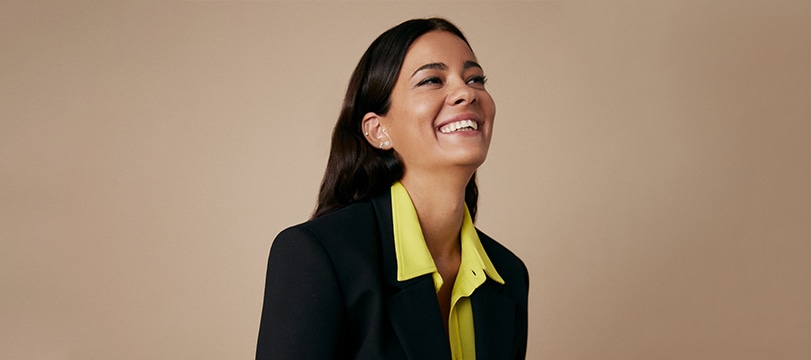 Focus
Patricia Ramo, a profile
Eyewear is in Patricia Ramo's blood, heritage that has become her strength, enabling her to create and develop one of today's most desirable brands: GIGI Studios. For EYESEEMAG, the young entrepreneur agreed to share her story, her passions, and her ambitions.
(Interview by Charlotte Médot)

You have a special connection to the world of eyewear. Could you tell us more?

In the 1960s, my grandfather opened a glasses factory in Barcelona. My father continued his legacy, working for and growing the family business from an early age. He was the one who inspired my passion for well-made products. I went with him to international trade fairs and on business trips.
He always did his utmost to pass on all his knowledge to me – something for which I will always be grateful. Ever since I was a child, I have therefore been immersed in this world. It's something deep within me and for which I believe I have an innate gift.

What made you decide to launch your own brand?

Once again, everything started with the family business. I started working there at the age of 21, just to help out and earn a bit of money. At the time, I was mainly interested in creating my own clothing brand, but the world of eyewear soon won me over.
The company was very different back then, more focused on the national market and specialized in mid-range products. In creating GIGI Studios, I decided to dismantle what existed while keeping certain important aspects to use as a foundation. I then rebuilt everything from there and set the bar as high as possible.

What were your ambitions?

From the very start, my aim was to create a globally recognized brand. High standards, rigor, and an unwavering commitment to improvement are what keep us moving forward. During this rebuilding phase, professionals from the optical industry joined the team, and today we employ more than a hundred people.
Everyone works hard to meet these high standards, but in a creative, young, international setting.

What is a typical day in your life as a business leader?

One of the things I love most about my job is that every day is different. I have a lot of responsibilities, so my day-to-day is very varied! I often travel for work as I like to keep my finger on the pulse of different markets and to meet our customers.
I also spend a lot of time working with the design team to create the collections, as well as with the creative staff to design campaigns and different pieces of content. Lastly, I have several follow-up meetings every day to keep an eye on our various projects.

And what about when you are just you, Patricia Ramo?

When I'm not working, I like to use my free time to see friends, see movies, go to the theater, and hike in nature.

What inspire you, helps you to develop new projects, and encourages your creativity?

Anything can be a source of inspiration, but the most inspiring moments and my greatest ideas come while I'm traveling.
Something happens when I step away from my daily routine, it opens my mind. During my travels, I discover different cultures, meet new people, visit places, go to exhibitions, and discover amazing local shops. This really helps me to review the GIGI Studios' position, to think about future directions I want to take the brand in, and to define the next steps on our journey.

How would you define a GIGI person?

Someone who is interested in art, culture, and often fashion. He or she has no specific age. They are simply someone who wants to wear a good pair of glasses – an accessory that helps them express and convey their personality by adding a distinctive touch.

What are your dreams for your brand? And which ones will be the most challenging in the coming years?

On the business side of things, I want to keep creating solid sales networks to support our global development. With this in mind, we are continuing to work hard on our collections with a growing and highly talented team of designers.
The most important change, which we have been working on for some time now, is to become an eco-friendly, sustainable company. We are trying to avoid using plastics, and if we have to, we are working on sourcing biodegradable alternatives. This is something close to my heart, and I hope that I will soon be able to be proud of the way GIGI Studios manages its environmental impact.

What are your future projects?

This summer, we are starting a collaboration with El Silencio Ibiza, one of the island's coolest venues, created by the Paris-based El Silencio group. We will be setting up a very special pop-up store throughout the summer and presenting a unique capsule collection inspired by the Ibiza atmosphere. This will be a mix between its silent, natural settings and the iconic frenzy of its parties.
Lastly, next fall will see the opening of our new headquarters in Barcelona. It will be a central space designed by architect Isern Serra, and will enable us to present our collections while welcoming our customers to a place that reflects both us and our brand.