Tendances
2022's style muses on the eyewear front
This year, a host of stars are lighting up the eyewear world, with brands out to impress by lining up their biggest names – models, sports stars, pop icons, kings and queens of the box office among them. See how those who have become the face of glasses brands are embracing the role of luxury sales rep.

Megawatt muses
With all eyes on them, these icons help to ensure the most successful of collaborations.
For J.Lo and Dolce&Gabbana Eyewear, this season is all about glamour. The oversize and angular cat-eye glasses and the mask style with removable visor worn by the star are two of the most-talked about new launches for spring/summer 2022.
Another icon, Naomi Campbell, is using her supermodel looks to promote oversize shades bearing the latest version of Lanvin Eyewear's Mother and Child logo.
Soccer idol Kilian Mbappé is the face of Oakley again, who this time is modeling its more urban HSTN design, complete with offbeat arms and circular lenses – check out the latest eyewear news you need to know to find out more.

The new collection of Rimless Shades from Silhouette is in there too. Our top pick from Mido 2022 is already proving popular, with Rita Ora pictured in a series of shots wearing the famous Futura Dot and Fisher Island butterfly frames in minimalist, ultra-light titanium.
A revelation from the Euphoria series, trans actress and model and Gen Z icon, Hunter Schafer, is the face of the new Prada Girl, sporting graphic statement frames.
Wearing the geometric rimless Lewis 47 design, Lewis Hamilton is following in the footsteps of teammate George Russell, bringing the partnership between the Police brand and the Mercedes-AMG Petronas Formula One Team to life.

When muses team up
Sometimes, multiple stars align, so as to shine even brighter – discover the celebrities doing just that…
Versace has pulled out all the stops with its campaigns. One of the eyewear trends for summer 2022 is the Medusa Biggie with XXL logo, which is every bit as flamboyant as singer Maluma and model Emily Ratajkowski, who embody them. However, the Medusa in the men's capsule collection is more restrained, made from fine metal and personified by American actor, photographer and model Cole Sprouse.

Meanwhile, Persol has chosen to concentrate on creative individuals away from the spotlight, such as film director Dimitri Coste for the new version of the legendary Protecor; actress and musician Soko for the first foldable design made from metal and acetate, and celebrity tattoo artist Dr. Woo for the square shape inspired by the archives – with all of them embodying Persol style in their own unique way.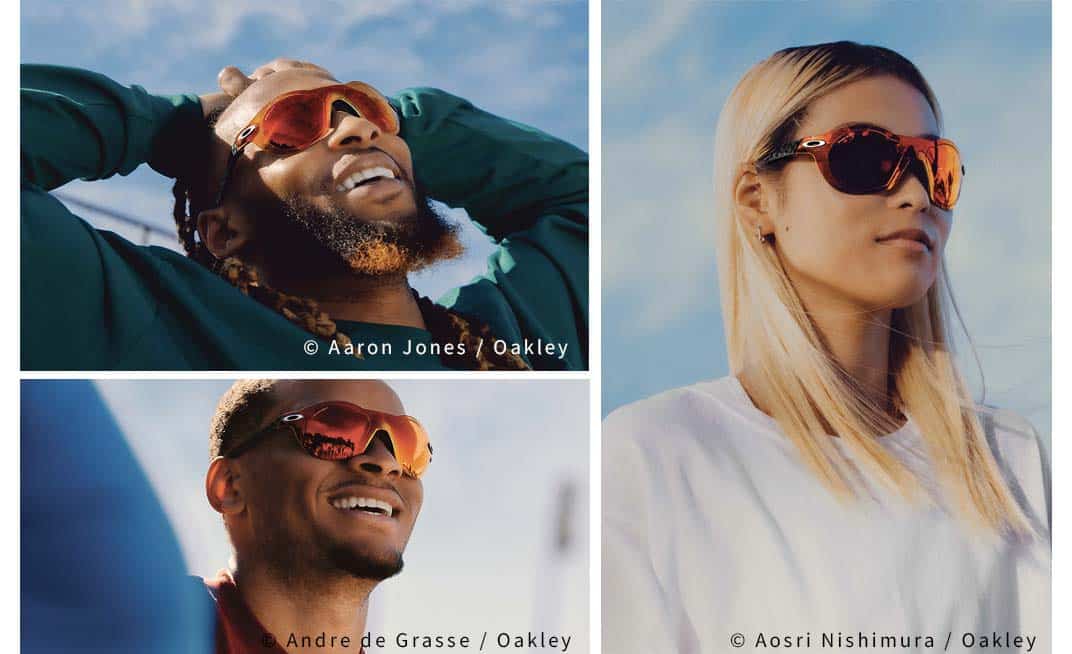 For the launch of its revolutionary 24g Re:Sub Zero frames with shield lens, Oakley enlisted three major sporting champions, including sprinter Andre De Grasse, NFL star Aaron Jones and skater Aori Nishimura.

Muses-cum-designers 
As ambassadors, as well as designers, some muses have managed to escape the paparazzi long enough to co-create the frames of their dreams.
Following on from Millie Bobby Brown and Kate Moss at Vogue Eyewear, It-Girl Hailey Bieber has designed her own capsule collection, comprised of a wide range of delicate, polished acetate frames with special logos for her fans.
Among the most exciting eyewear collabs around, Zayn x Arnette has launched yet more popular designs, this time geared around retro video games – a passion the artist conveys through eco-friendly unisex frames in synth-pop shades.
Meanwhile, Ray-Ban tasked Ferrari drivers Charles Leclerc and Carlos Sainz with creating two pairs of frames with rubber and gold-tone steel details for a limited-edition range inspired by Formula 1.

Footballer Dani Aves has also revealed a surprising eye for design in creating the Reverso Aluminum capsule collection for the young Italian reversible eyewear brand, FACE-OFF. By simply rotating the temples, you can change the color of your glasses in seconds.
The friendship between Nathalie Blanc and Veronika Loubry has given rise to the Veronika, a design created with input from them both in reworking Blanc's best-selling Josephine glasses with black frames, green lenses and the famous inverted bridge.
Danish label Christopher Cloos had the brilliant idea of entrusting its first women's collection to Swedish model, Elsa Hosk, who came up with four vintage-inspired designs, including one very Hollywood pair of cat-eye frames.
Written by Eleanor Fullalove