High - tech
Facebook's Ray-Ban Stories
The first glasses resulting from the partnership between EssilorLuxottica and Facebook (recently and symbolically renamed Meta), Ray-Ban Stories mark the social media giant's entry into the world of smart glasses. It may be a very cautious first step, but Stories are part of an ambitious strategy for Mark Zuckerberg's company, convinced that the Internet is soon to enter a new dimension: the metaverse. Read on for an overview of what seems to be the digital giants' future 'Promised Land'.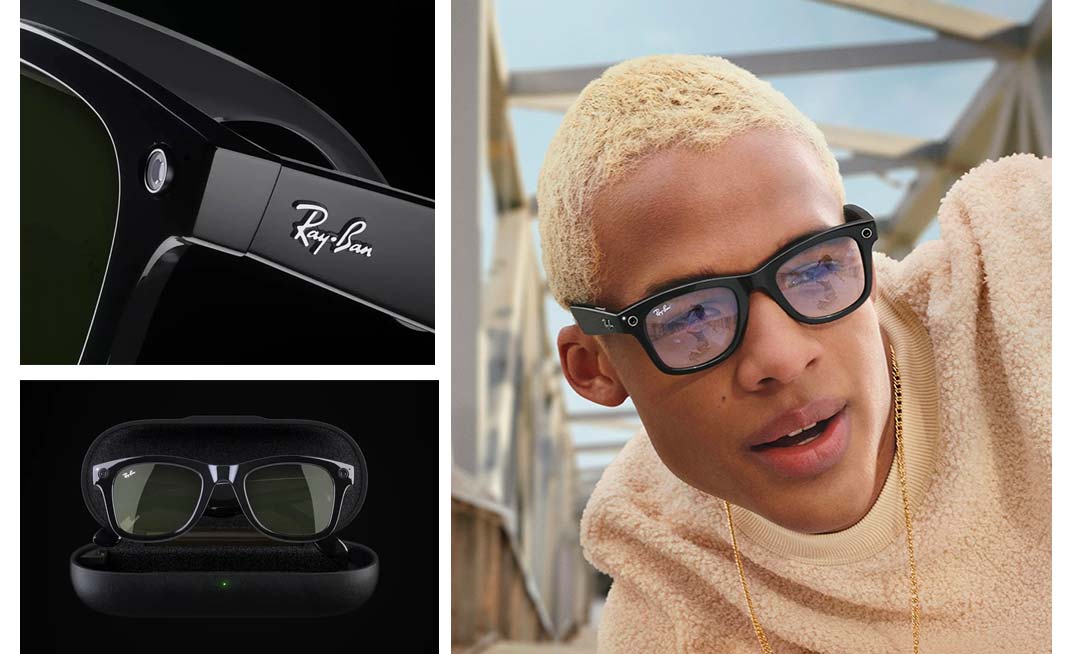 Ray-Ban Stories: a far-sighted first step for Meta in the world of smart glasses
The announcement back in September 2020 of a partnership between the number one social network (owner of Facebook, Instagram and WhatsApp) and a world leader in the manufacture and distribution of eyewear inevitably caused a stir in the digital and eyewear worlds. And as a result of this innovative collaboration, Ray-Ban Stories were presented to the world almost a year to the day after the original announcement was made. Now available in the U.S., Australia, Canada, Ireland, Italy and the U.K., the glasses cost $299 in the U.S. and €329 in Italy.
Available in three shapes (Wayfarer, Round and Meteor) and four colors (ranging from black to olive green), Stories come with a wide range of lenses (including clear, sunglass and Transitions®). Their iconic Ray-Ban shapes may look familiar, but various additions are revealed on closer inspection. First off, on the front of the frames, you'll see a circle on either side, which contains a camera with a 5-megapixel sensor, as well as a small LED on the left-hand side that lights up when taking a photo or video. Meanwhile, the arms feature discreet speakers and microphones, alongside a power button, a capture button and a touch-sensitive navigation bar.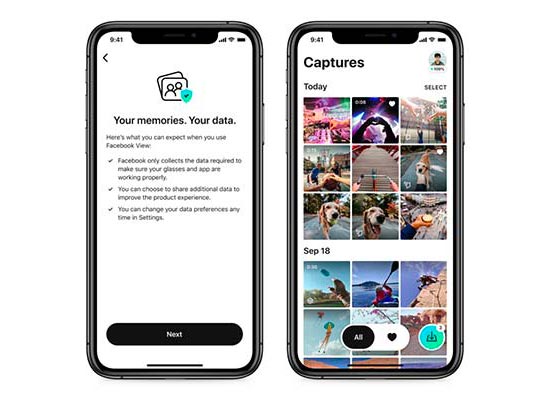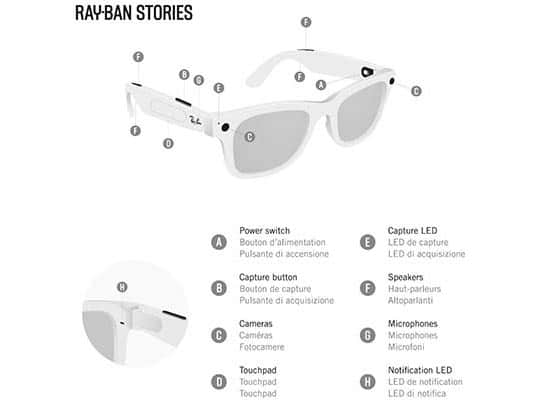 Recharged by being placed in their case and advertised as having six hours' autonomy, Stories let you take photos or make short videos in a square format, lasting up to 30 seconds. To do this, all you need to do is press the capture button, or say "Hey Facebook, take a picture", or "take a video". FYI, as the vocal command only works with Facebook's voice-activated assistant, you will need a Facebook account to use the glasses.
Involved in several high-profile cases questioning Facebook's neutrality and the protection of the private data of users who use the social network where 98% of revenue comes from advertising, Meta has tried to reassure potential purchasers that their privacy is protected. Firstly, there is an illuminated diode to let people know when they are being filmed or photographed. Secondly, there is the physical on/off button that ensures it is impossible to take a photo or a video when the glasses are switched off. Finally, when it comes to data collection, Facebook says it only uses the necessary data and that the collection of additional data can be prevented. However, this necessary data is fairly extensive.

The internal memory built into the glasses offers limited storage capacity, equivalent to 30 videos of 30 seconds in length. However, once transferred to the dedicated Facebook View app by Wi-Fi or Bluetooth, photos and videos are automatically erased from the glasses' memory. The app offers basic editing functions, creating animations with depth and movement effects. It then allows you to share or import the end result to any social network, your inbox, or via various messaging systems.
But the technical specifications and possibilities offered by Ray-Ban Stories are limited to say the least; the photo and video quality and definition are not up to the standard of most current smartphones. The same is also true of the audio system, which in spite of the playback facility, is a poor substitute for a hands-free kit or standard headphones, especially when outdoors. The absence of a display, either on or in the glasses, quickly makes the use of a smartphone indispensable and rules out any element of augmented or virtual reality. They are actually less advanced than some models of smart glasses introduced to the market a few years ago, such as Snapchat Spectacles 3, and Bose Frames (in terms of their sound quality).
But in spite of those reservations, these smart glasses do well to incorporate their electronic components without cramping Ray-Ban's style, which is an important consideration. Don't forget though that this 'first draft' really serves as a test for Meta. Being able to wear glasses with the same branding as the iconic Wayfarer and Aviator designs also helps avoid the possible reluctance of some to have a Facebook or Meta logo on their glasses. Stories will ultimately be remembered as the first attempt to physically integrate Meta into our daily lives and there is no doubt that future designs will offer more opportunities to get closer to the social networking giant's goal… the metaverse.

From Facebook to Meta: en route to the metaverse
The term metaverse may have been widely used in the media since the announcement of Facebook's change of name to Meta at the end of October 2021, but the term is not exactly new. A contraction of 'meta' (from the Greek μετὰ, meaning succession, change, transformation) and 'universe', it first appeared in Neal Stephenson's sci-fi novel, Snow Crash, in 1992. The American author's work was instrumental in founding postcyberpunk. This subgenre of science-fiction develops stories set in a realistic near future. In particular, it explores the theme of the social and psychological impact of the increasing pervasiveness of new technology (nanotechnology, genetics, artificial intelligence, etc.).
The book by Neal Stephenson envisions an apocalyptic America in which a tycoon creates a virtual world connected to the real world, known as the metaverse. In this shared universe, combining augmented reality and virtual reality, people can escape the real outside world via their own custom avatar. But what we discover over the course of the book is that this metaverse is actually a way for its creator to increase his power by monitoring, analyzing and ultimately controlling the minds of its users…
Since there seems to be growing confusion on this: I have nothing to do with anything that FB is up to involving the Metaverse, other than the obvious fact that they're using a term I coined in Snow Crash. There has been zero communication between me and FB & no biz relationship.

— Neal Stephenson (@nealstephenson) October 29, 2021
While Meta's stated aim for this universe is (hopefully!) not the same as that of the tycoon in Neal Stephenson's novel, the concept of the metaverse is very similar to it. Considered the successor to the mobile Internet for Mark Zuckerberg, developing a metaverse is not just about wearing a virtual reality headset to play in a 3D world, or taking part in a remote meeting via an avatar, like the Horizon Workrooms app launched in beta last summer, offered by Oculus and owned by Meta, now renamed Meta Quest.
Meta's stated goal goes much further. The Californian firm dreams of an online world in which users can meet, work, play, participate in cultural events, visit places, buy from shops and more. Within a few years, headsets and glasses combining virtual reality and augmented reality (known as 'mixed reality') will make it possible to navigate this universe with ease. In short, the founder of the social network is convinced that mobile Internet as we know it is on its last legs. In an interview for American website The Verge over the summer, he said he hoped that "maybe five years from now, or seven years from now, people will primarily think about us as a metaverse company".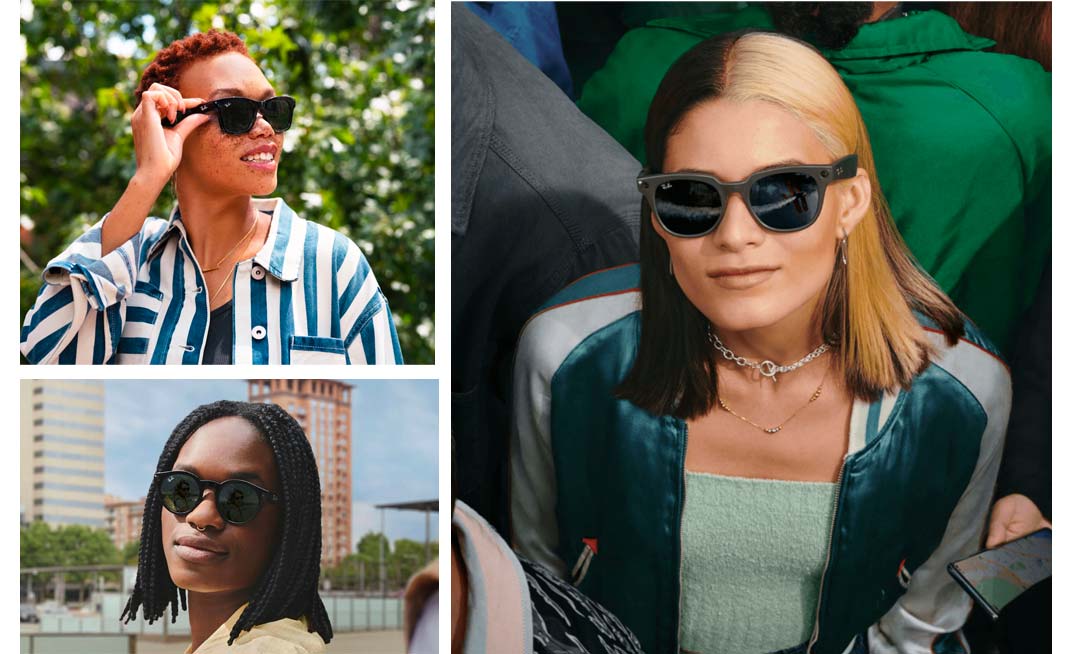 The gradual establishment of a complete ecosystem designed for the Metaverse
While the project may still seem abstract or even utopian to some, Meta is putting itself in serious contention to be one of the pillars of this potential 'Promised Land', whose economy could achieve $1.5 trillion by 2030, according to the auditing and consulting giant PwC. As a result, Mark Zuckerberg's company, whose profits have never been as high as in 2021, already devotes 20% of its workforce – or more than 10,000 people – to building its metaverse. Back in October, Meta also announced plans to hire 10,000 additional engineers in Europe alone within five years. An additional annual budget of at least €10 billion will support this new project. The ultimate idea behind all this investment lies in controlling the whole ecosystem relating to the metaverse, from accessing the Internet, to the end user.
Because 99% of global internet data passes through undersea optical cables, Mark Zuckerberg's firm has invested heavily in this area. The second largest investor after Google among GAFAM companies (or GAMAM, as they should be called from now on) in the roll-out of these cables, Meta has partnered with other businesses to deploy the Internet between all continents, as in the case of 2Africa, a 45,000 km cable (the longest in the world, no less), which will connect Africa, Asia and Europe from 2024.
As the success of the metaverse will require the creation of tailored content, apps and a monetization system, Mark Zuckerberg is trying to attract more developers and creators. Last June, he announced that Facebook wouldn't take a cut from the creators of paid events broadcast live on its platforms (concerts, cookery courses, sport etc.) until 2023. He also promised that "when we do introduce a revenue share, it will be less than the 30% that Apple and others take".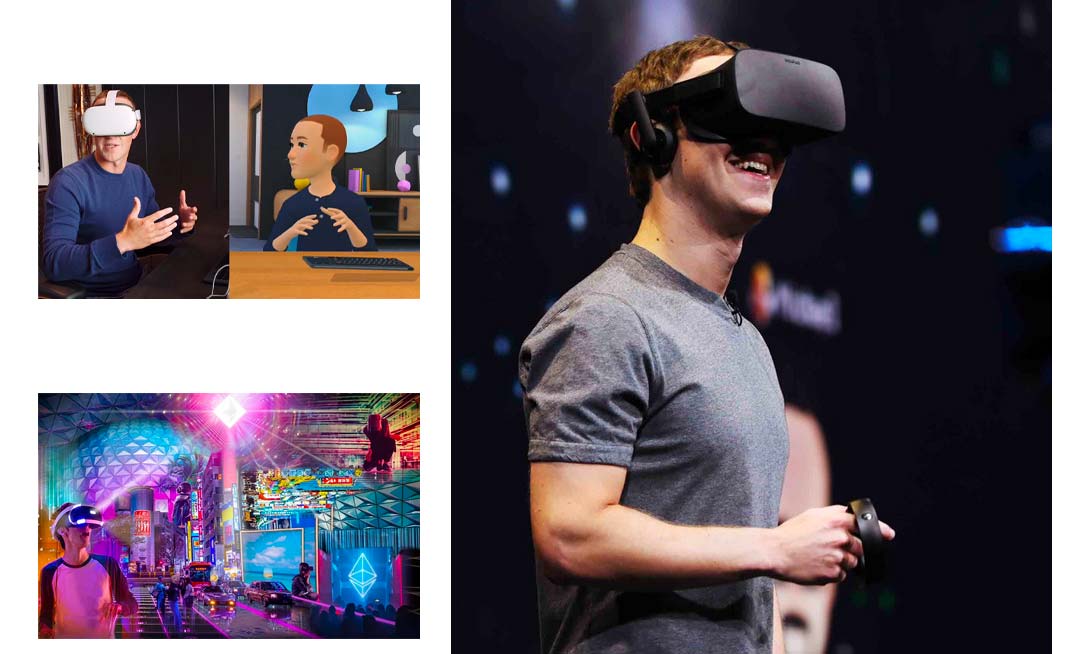 Purchases in a metaverse will necessarily include the purchase of virtual goods of all kinds, from digital art, to fashion and even real estate, with the authenticity of these virtual goods protected by what are known as NFTs, or Non-Fungible Tokens. This is the blockchain, technology that protects against falsification and modification and ensures the value of these virtual goods. Because the acquisition of these NFTs is mostly done using cryptocurrencies, Meta has created its own, Diem, which is only waiting for regulators' approval to be launched. Also of note is the phenomenal success of Facebook Pay, a payment system where Facebook records bank details instead of the seller – it has accumulated more than 100 billion payments since its introduction in 2019, led by the former CEO of PayPal.
The last link in the chain of this ecosystem, the hardware interface (whether in the form of a headset or glasses), has been split into four projects. The first covers the 2014 acquisition of the virtual reality headset manufacturer Oculus, renamed Meta Quest, behind the Quest virtual reality headsets designed for games and entertainment. The second is the Cambria project. Launching in 2022, this will coexist with the Quest range and offer high-end headsets with more advanced features, including eye tracking and facial expression capture.
The third project relates to smart glasses, embodied by the partnership with EssorLuxxotica via Ray-Ban Stories. The fourth and final project, project Nazare is proving even more ambitious and complements Meta's smart glasses offering. Refenced at the Facebook Connect conference back in October 2021, this project is still in its infancy and aims to create wearable glasses for everyday use with the full range of technology to meet the future needs of the metaverse. By Mark Zuckerberg's own admission, designing and miniaturizing all the components will take some time – with any glasses taking years to appear. In any case, if the idea of such a universe can make people smile, feel inspired or even concerned, one thing is for sure… no digital giant will want to miss out on what could be the next Internet revolution – especially not Meta!
Written by Eleanor Fullalove