High - tech
Serenity by Ellcie Healthy: for protecting senior citizens
Already known for their smart glasses that prevent drivers from falling asleep at the wheel, French start-up Ellcie Healthy is going further in its use of artificial intelligence with the Serenity, A smart solution for protecting senior citizens. Able to contact the wearer's next of kin or the emergency services in case of a fall, the new design is a solution for isolated and at-risk individuals. EyeseeMag is taking a look back at the history of the young brand from Nice and their innovation.
Philippe Peyrard: from 'traditional' glasses to smart specs
With a healthy set of experience in the glasses world, Philippe Peyrard founded Ellcie Healthy in 2016. Sales Director at L'Oréal in the late 1980s, he became director of Jura-based glasses manufacturer AMY, then France and Benelux director for Italian group Safilo, before being named executive director general of the Atol brand where he remained for over 20 years. It was here that he took his first steps into the world of intelligent glasses, playing an active role in the development of a frame named Téou, launched in 2015. Armed with proximity sensors and a GPS chip, the model paired with a dedicated app to geolocate a misplaced pair of specs to stop to lose your glasses. After a reorganization of the executive team in 2015, Philippe Peyrard left Atol to found his own company.
Finding a home in business incubator Paca-Est in the Nice region of France, the start-up worked with a team of developers and researchers at the Sofia-Antipolis laboratories, in particular the INRIA (the National Institute for Research in Digital Science and Technology) and LEAT (the Electronics, Antenna and Telecommunications Laboratory) and the company's first idea was to create intelligent glasses that have daily practical use, rather than being novelty gadgets.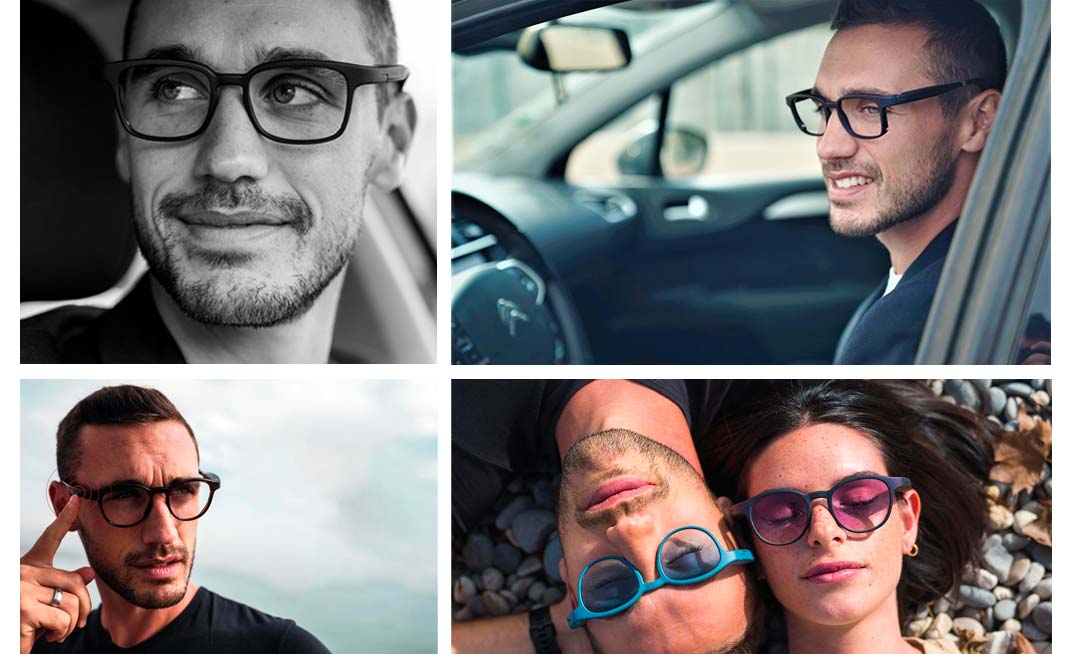 Knowing that nearly a quarter of fatal accidents on the road occur due to drivers falling asleep at the wheel, the first generation of intelligent glasses produced by Ellcie Healthy aimed to redress this shocking statistic and improve road safety. Now distributed by Optic 2000 under the name Prudensee Conduite, these glasses can detect lapses in attention from the driver, and falling asleep, through in-built sensors and algorithms. We spoke previously about the design here. Recognized by the Prix Innovation Sécurité Routière (the Innovation in Road Safety Award) in 2018, as well as an Innovation Award at the CES (Consumer Electronics Show) in 2019 in Las Vegas, the professional recognition that the intelligent glasses received encouraged the start-up to pursue its strategy of designing technologies to reduce daily risks.
A first (big) step towards better protection for seniors
Just like the Prudensee Conduite, the idea for the Serenity came from a simple statistic. According to a recent report from Santé Publique France, the French Public Health board, the number one cause of fatal accidents and the third highest cause of acute care hospital admissions in senior citizens is having a fall. It is also the third highest cause of fatal accidents in adults. In France, the risk of having a fall is estimated to be 35% for people aged 65 to 79, and 50% for those aged over 79. As well as being the highest cause of mortality, falls are also one of the highest reasons for loss of independence among senior citizens: 40% of people hospitalized after a fall are unable to return home and have to be admitted to a specialized care home. What's more, someone who suffers a fall will see their risk of long term hospitalization increased three-fold if emergency services don't reach them within an hour of falling, so it's clear to see why it's important for public health to find ways of helping senior citizens sound the alarm after falling.
With investment from the MAIF Foundation, Philippe Peyrard's start-up is designing a solution in close collaboration with LAMHESS (the laboratory for human motor functions and sports health) and the Nice CHU. They hope to detect falls and immediately alert the emergency services and next of kin. Algorithms will analyze data collected by infrared sensors on the frame (a gyroscope measuring rotation, an altimeter and an accelerometer) to detect any accidental falls and its exact geographical location thanks to inbuilt GPS.
Tested by TASDA (the Alps Home Health and Independence Technology Hub) the model went straight to the top of the list of tools for automatic fall detection in terms of effectiveness with a detection rate of 74%, rising to 86% in heavy falls, with less than 2% of 'fall positives'. When a fall is detected, the glasses connect via Bluetooth to the Serenity by Ellcie Healthy app and send out an alert via SMS or email to up to four next of kin registered in the contacts. As soon as someone takes charge of the alert, the others are notified. It is also possible to subscribe to a service run by French company Vitaris for 10.50 euros a month, who will phone the wearer or their next of kin when needed, followed by the emergency services if necessary.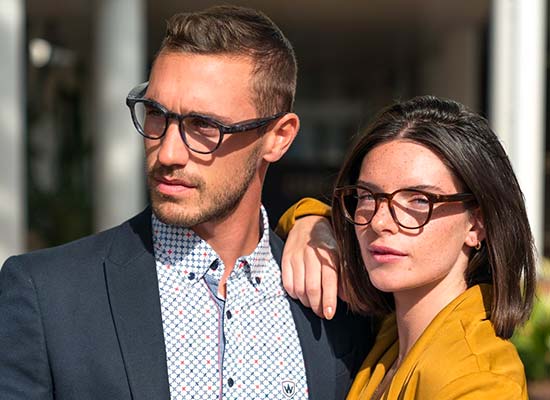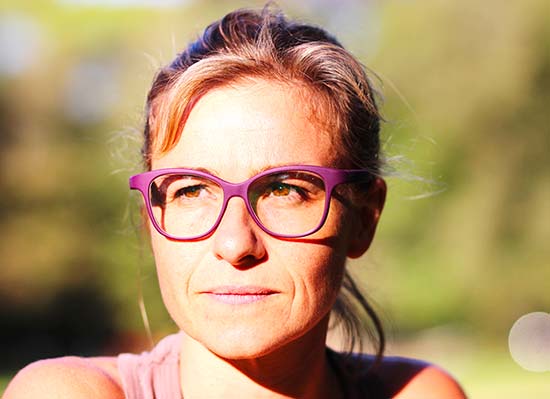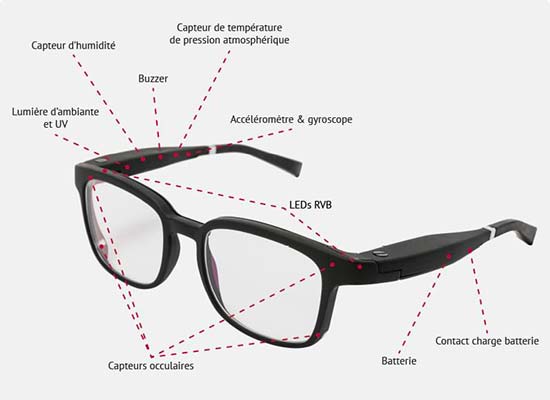 Ellcie Healthy's main objective is to design innovative intelligent glasses that have real-life practical use, but they also aim to offer new functionalities to the user over time, without them having to replace the pair each time. Owners of the Serenity can therefore benefit from sleep detection and it is likely that new features are on their way. "The way our glasses evolve sets us apart from other intelligent objects that are often designed for a single task," explained Philippe Peyrard. "From the beginning, we have designed glasses that are able to take care of their wearer and prevent risks as varied as falling asleep at the wheel and falling over."
As well as detecting falls, the glasses already allow their wearer and their next of kin to track their physical activity (how many steps walked in a day) and to find their frames when misplaced thanks to the inbuilt GPS. Available for 319 euros on the brand's website, the 26g frames are made in France and are compatible with corrective lenses, coming in several shapes and sizes (round, butterfly, square and rectangular) and colorways. Optic 2000 also have a similar model named Prudensee SOS Chute, but do not include the sleep detection capabilities. Their version is available for 289 euros.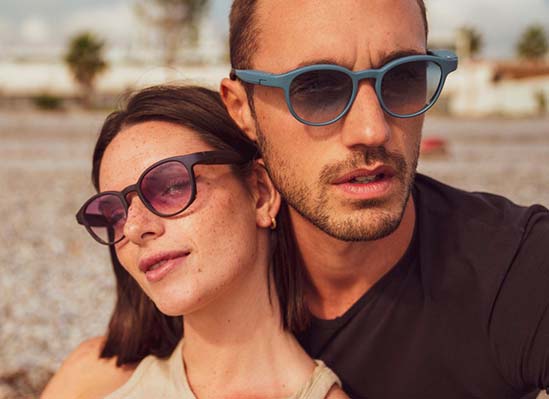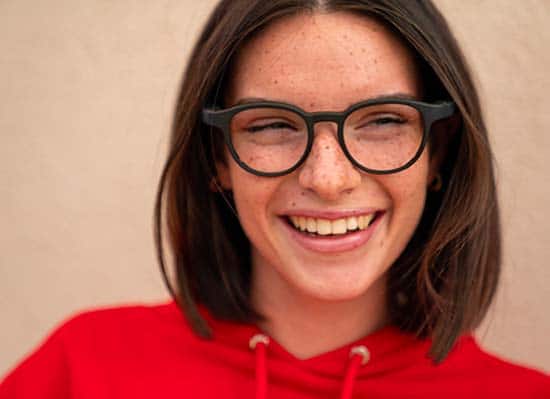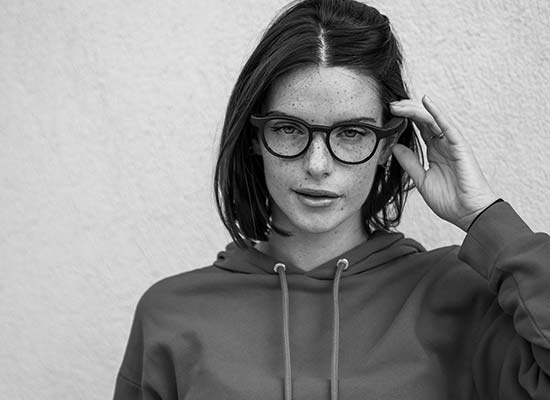 New challenges for Ellcie Healthy
After launching innovative products in the road safety and protection sectors, the Nice-based start-up continues to grow its areas of research in health, especially in the detection and tracking of neurodegenerative and psychiatric symptoms. Having signed a contract with the German hospital in Dresden, the company is working on spotting and predicting crises in Parkinson's patients. In partnership with the Barhtélemy Durand EPS psychiatric service, their research is also helping to detect precursors of bipolarism, depression and schizophrenia. Observation outside of the hospital is made possible by the intelligent glasses, making these tools invaluable in psychiatric patients, allowing the health services to observe behaviors in an ordinary environment rather than a hospital and removing the white coat syndrome which affects at least 20% of patients during consultations.
In 2020, the young company won a bid for a contract from the Direction Générale de l'Armement (the Arms Department) through Thales et Dessault Aviation, under the name Project Man Machine Teaming (MMT). Ellcie Healthy's mission is to design a system capable of tracking the eyes and allowing precise analysis of the physical and psychological state of fighter pilots. Thanks to a set of sensors and light detectors built into pilots' visors, the system will eventually lead to improvements in safety and efficiency during airborne operations. But the company isn't stopping there, and has launched several other projects that range from water sports to detecting odorless gasses, as well as a tool for the visually impaired and blind. Watch this space – we're sure to be talking about Ellcie Healthy again soon.