High - tech
Light Drive de Bosch : The tech that makes your glasses smarter
A couple of years ago, Bosch set itself the challenge to develop technology that can transform any pair of glasses into smart glasses and in late 2019, the German firm announced a system for third-party manufacturers. The Bosch Light Drive is an off-the-shelf solution that makes a convincing case for manufacturers looking at the smart market.
The Light Drive: a logical new solution from Bosch.
Bosch subsidiary Bosch Sensortec, specialized in electronic and electromagnetic components and solutions, announced in December 2019 that it was working on a way of transforming ordinary glasses into smart glasses. The Light Drive is a simple way to adapt a standard frame, making it theoretically possible to display notifications, information, and messages from smartphone apps without you having to take your phone out of your pocket or bag. For manufacturers who are not specialized in smart glasses technology, Bosch is offering an easily embeddable, off-the-shelf solution and an entry point into the smart eyewear market.
It's also a chance for the German tech giant to link in with other growth areas of their business, starting with electric bicycles. A strong growth sector over the past few years, Bosch already has an offering with models ranging from town bikes to mountain bikes, but their expertise looks set to go far further that motorization. For the past few months, Bosch's ebike division offered a SmartphoneHub designed to transform your phone into an onboard computer for cycling, including navigation support and an activity log.
With Light Drive, Bosch is going even further, enabling cyclists and motorists to see their itineraries and other information from their smartphone without even taking their eyes off the road. The advantages while traveling are clear, but the solution will also prove to be useful in other everyday situations in which smartphone use would be difficult, dangerous or impossible. Keeping your hands free while cooking from a recipe, filling your caddy while checking your shopping list and reading information during a presentation that you can pass on directly to your audience, are all useful examples suggested in the brand's presentation video.
Light Drive de Bosch : The tech that makes your glasses smarter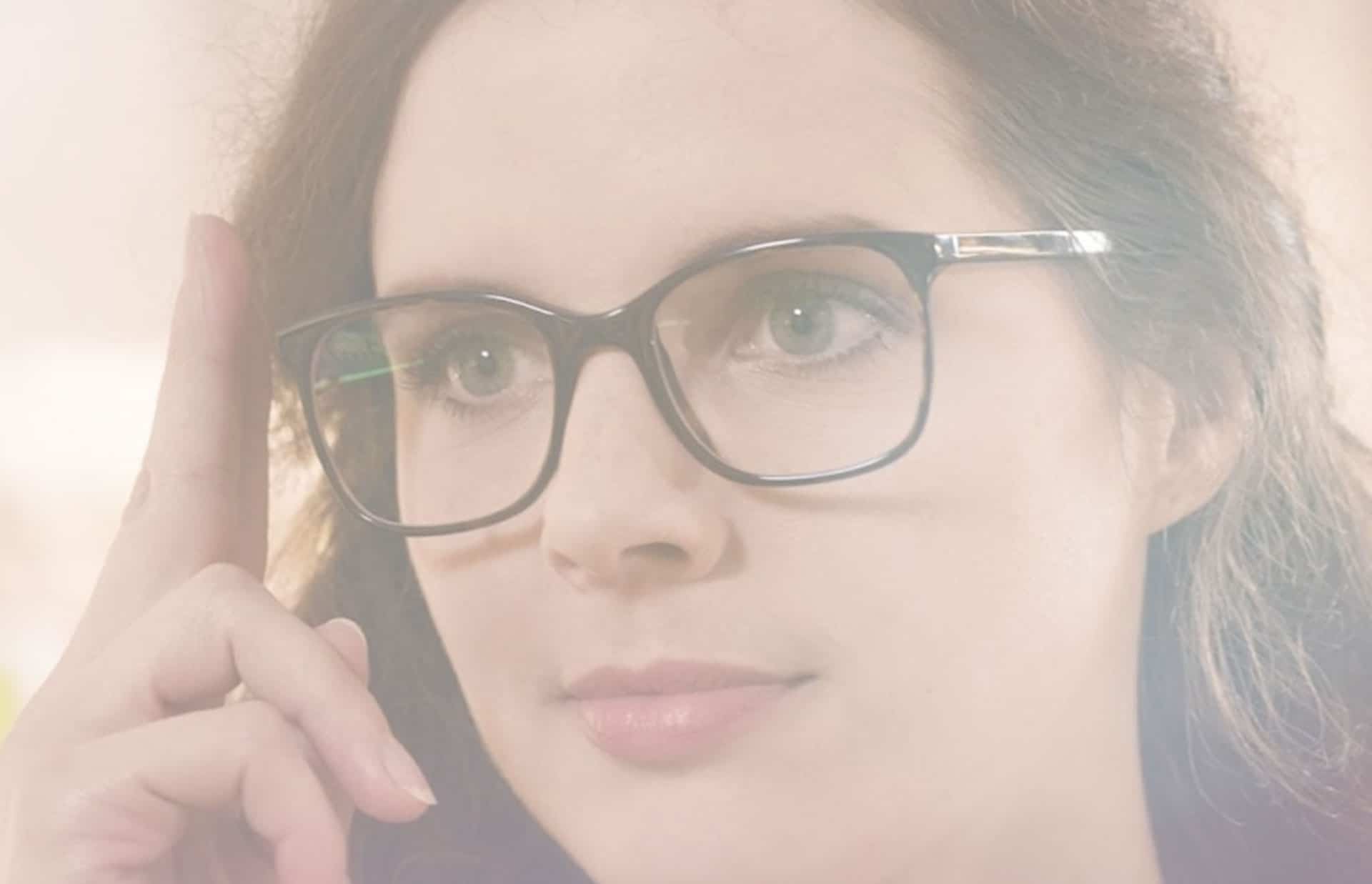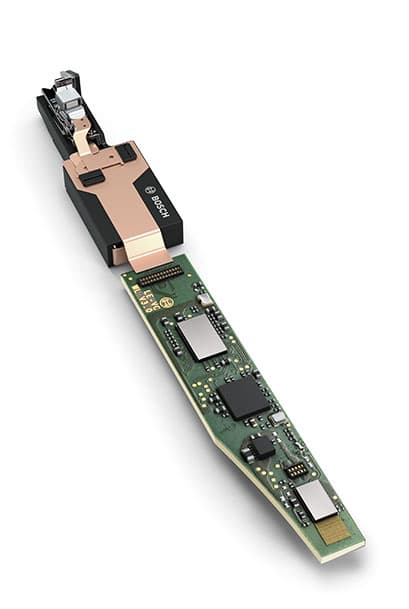 A lightweight solution that can be adapted to most types of glasses
Unveiled early this year at the CES (Consumer Electronics Show) 2020 in Las Vegas, the Light Drive is still at the prototype stage and should be on the market by 2021. According to the manufacturer, it will be between 4.5cm and 7.5cm long, 5-10mm tall depending on how it is embedded and 8mm deep. Weighing in at less than 10g, the system is designed to be easily fitted to the arm of a pair of glasses, without making the frame too heavy.
The German firm's aim is to make a regular pair of glasses into a discrete, lightweight smart accessory that can be easily used throughout the day. Equipped with a 350mAh battery with 14 hours' autonomy, the system looks to have around a day's worth of function between charges. With weight and size limited as far as possible, the Light Drive represents another concentration of high technology from the German firm.
Once attached to your frames, the device is operated by tapping the arm thanks to a Bosch-patented barometric pressure sensor. Connection with your smartphone is via a Bluetooth module and smart software connection, and a geomagnetic sensor and accelerometer mean that your trips and positioning (angle, position, rotation) can be measured precisely via magnetic field measurements.
An innovative, convincing new projection system
Alongside relatively advanced technology for this kind of equipment, Bosch is offering original new projection technology, that is highly innovative for this kind of device. An electromagnetic microsystem named BML500P, uses a projector equipped with three laser diodes that construct an image line by line for a 2D holographic display onto the lens of the glasses, which is then directed back to the surface of the retina by the lens as a light beam, forming a high-resolution image.
If the idea of a laser beam projected onto the surface of the retina sounds scary, there's no need to worry. Bosch's laser beam is just 15 microwatts, compared to the low-power class one laser pointers, considered risk-free by the International Electrotechnical Commission (IEC), that can reach power of 400 microwatts, 25 times that suggested by the German brand.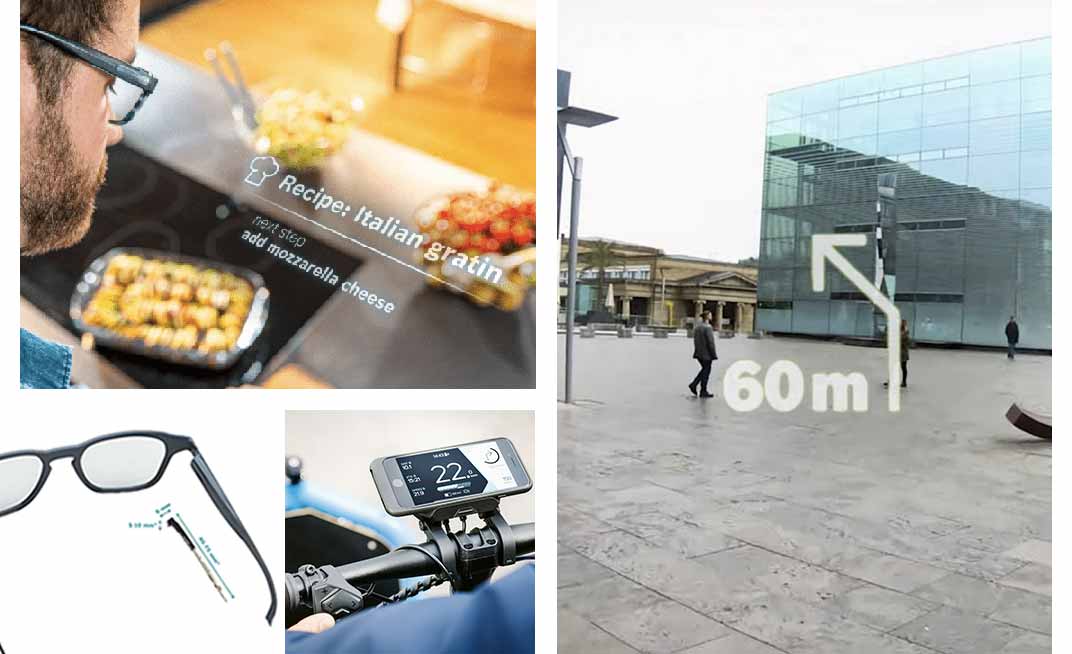 The technology developed by Bosch has several advantages over simple projection onto lenses. Firstly, the Bosch system only reflects three laser wavelengths (450, 520 and 638 nanometres) and is imperceptible by the person wearing the glasses. The obvious advantage here is discretion: to other people, in most cases, your lenses will appear completely transparent. It's only when they look very closely that they would be able to see a tiny colored mark, but the image projected on the inside will still be completely unreadable from the outside.
Another advantage, is that once the system has been tailored to the lenses, theoretically, it will stay clear and readable at all times, whatever the light, thanks to an integrated photosensitive sensor that allows self-adjusting brightness. The optical transparency represented by the new technology, combined with low sensitivity to diffuse light, means that there are no reflections, mist or other visual effects that could disturb your feld of vision, unlike most smart glasses on the market right now. Finally, the system is not only embeddable for the majority of regular glasses frames, but it also works with curved-lens prescription glasses and contact lenses, widening the integration possibilities for Bosch even further.
Written by Kate Matthams