Focus
Eyewear shopping special: Black Friday bargains!
Friday November 25th is Black Friday in the States – as in England, too. Traditionally, Americans are keen to take advantage of the thousands of discounts and bargains around the day after Thanksgiving. Though few of us on this side of the Atlantic celebrate the family holiday with a turkey dinner, Black Friday has become a must for shopaholics. Here, EYESEEMAG looks at what this special day has in store for us…
The term Black Friday was originally coined back in 1961, on account of all the traffic jams caused by shoppers out looking for bargains. Fast forward to 2022 and Black Friday still takes place in stores and even more so online – where it can last all weekend and run until Cyber Monday. Even where there are sales before sales, when time is of the essence, planning ahead can really pay off.
Black Friday's ultra-luxe deals
Appealing to our wallets with reductions of between 30% and 70% are sophisticated fashion sites like Selfridges, stocking special collaborations, exclusives and hand-picked designers.
While among the famous luxury labels, such as Dior, Saint Laurent and Gucci, there are hidden gems waiting to be found, like Lexxola, Totême and the IT-girls' go-to glasses, Velvet Canyon and The Attico at Net-à-Porter.
At Farfetch, you can choose from Lesca, Off-White and Gentle Monster sunglasses and eyeglasses. Browse the vintage pieces on the British site, where Dior, Chanel and Cartier frames could be yours. Or opt for Victoria Beckham, Roberto Cavalli and Pucci at 70% off.
A week before Black Friday, Galeries Lafayette has already given us a taste of what's to come, with 20% reductions on Tiffany & Co jewelry glasses and 50% off Prada's on-trend Millennials range.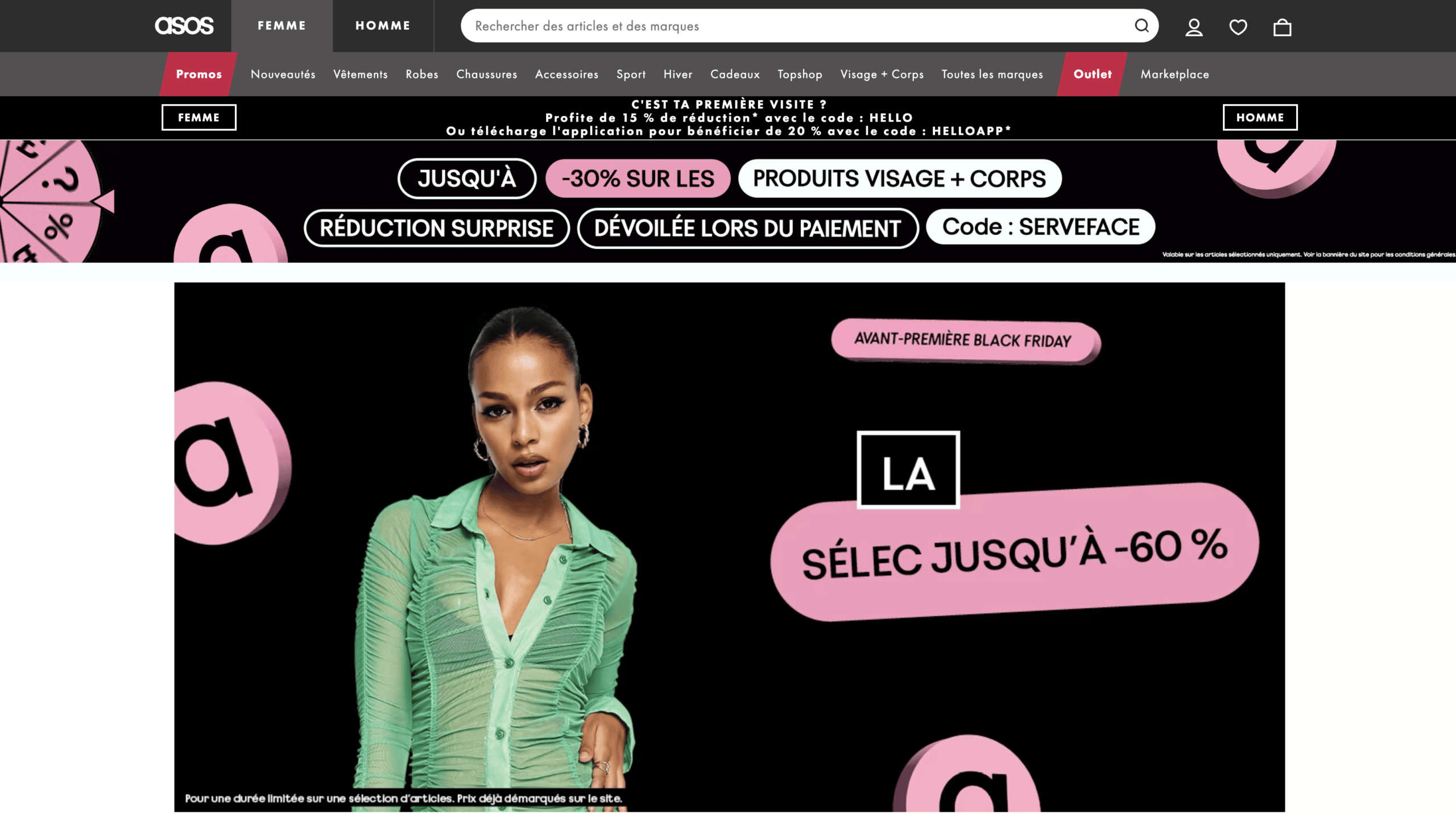 Great choice at low prices
This year, Asos promised its Black Friday would be huge! Gen Z's favorite British site is planning incredible deals on more than 850 fashion and eyewear brands, including Ray-Ban, Quay, Lacoste and Marc Jacobs – with oversized Missoni frames priced at just €75.
Similarly, Zalando started discounting long before everyone else. Don't miss Missoni's oversized square frames, now priced at €740,20 instead of €130 – or your chance to have yourself a Pretty Woman moment, like Julia Roberts at Cannes Film Festival in Lanvin pilot frames for €199.95 instead of €249.95. And thanks to discounts of 20% – 59%, affordable luxury labels Liu Jo and Zadig & Voltaire are now more so than ever.

Black Friday at the opticians
Prescriptions at the ready, now's the perfect time to treat the whole family to new glasses! By visiting an optician, you can enjoy discounts, while also benefiting from advice and the chance to try the glasses on, so the benefits of Black Friday could be really close to home. In fact, Alain Afflelou is to start discounting on November 24, offering 50% off all frames, with our favorite 'mini me' model, the Paz, marked down to just €29!
Over at Krys, Black Friday is known as 'Blue Friday', but never mind what color it is… what really matters are the discounts of 30% at participating stores. Likewise, Optical Center has taken 40% off its already unbeatable prices.
If you're after something less mainstream, then look to Les Belles Lunettes, with its wide range of designers. The network of concept stores based in the Reunion also has a store in Paris and an e-shop offering 40% off pieces by the likes of Barton Perreira, Gamine, Nathalie Blanc, Thierry Lasry and the edgy Lazare Studio and Sabine Be.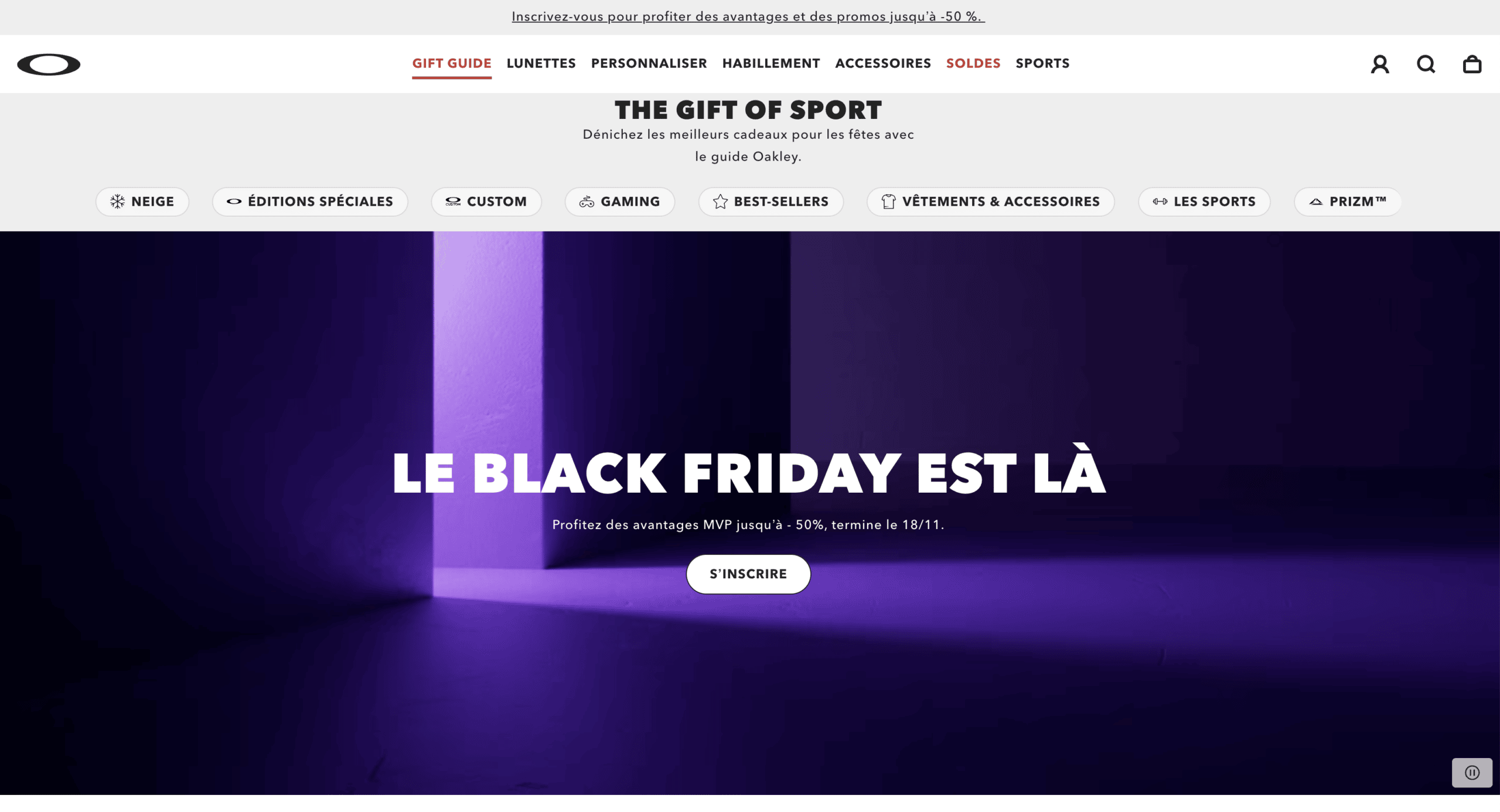 Black Friday for brand fans
For those who swear by Ray-Ban – and we know that many of you do, Black Friday represents an ideal opportunity to add to your collection. Among the bestselling Clubmaster, Aviator and Wayfarer models, there are discounts of up to 20% to be had. However, an impressive range of frames in every imaginable shape, including new styles with 50% off, are just a click away.
Sporty types should look to Oakley, which is offering 20% – 50% off sports frames, like the Radar, Flack and Flight Jacket, reduced from €225 to €112.50. Plus, there'll be no more wondering which glasses to wear for which sport, as these will do for cycling, running – and plenty more besides.
Happy shopping!
Written by Eleanor Fullalove