Focus
Clip-ons to get attached to
Not just practical and easy-to-use, clip-on glasses have potential on the fashion front too. For several seasons now, they have been making their comeback in the eyewear world and leaving their dated reputation behind. So, which ones should you go for and how to ensure they look their best? Clip-ons to get attached to.
In the past, clip-on sunglasses were the sort of sensible accessories you could find at any opticians without even paying much attention. Their minimalist design appealed to those who wanted an effective and economical solution for converting eyeglasses into sunglasses, just like that. Clip-ons were therefore considered pretty basic accessories, not to mention slightly outdated – and not the most stylish option, either. But as we know, trends come back around and fashion is full of surprises! All of which explains how an item for years labeled 'tacky' is finally in style again…

The revival
Clip-ons are back and looking more stylish than ever. But how did it happen? More influential than anything else are the eyewear brands and the designers behind them; they must constantly launch new models, inspire new trends, or rework and update old designs. The latest clip-ons offer a stylish and inexpensive alternative to the many sunglasses already on the market. In fact, their practicality, together with their quick-change qualities are among the other advantages of these accessories, helping to keep you at the cutting edge.
How to wear them well
Want to wear clip-ons the right way in 2022? Then opt for modern designs and forget about being boring or sensible and keep an eye out for more original designs, like the magnetic clip-ons from luxury label Tom Ford, or the range of Magic Clips from Alain Afflelou, including a wide range of different shapes, as well as different designs. Flit between colorful frames with almost opaque lenses and tinted lenses with more neutral frames. Fashionistas will be in their element, able to match their glasses to their mood.

Also highly recommended are the fashion-forward brands to have embraced and adapted the accessories. Think classically stylish, like Céline's black pair, finished with a gold-tone clip and brown lenses, which are elegant in the extreme. Meanwhile, the team at Retrosuperfuture have also reworked the accessories in golden metal, giving them an impressive bridge and cat eye shape for the perfect blend of retro style and futuristic design. And more inventive still is Zenka, a French company specializing in clip-on glasses to set off your existing frames and offering plenty of bold colors and arty looks to choose from, including mask styles.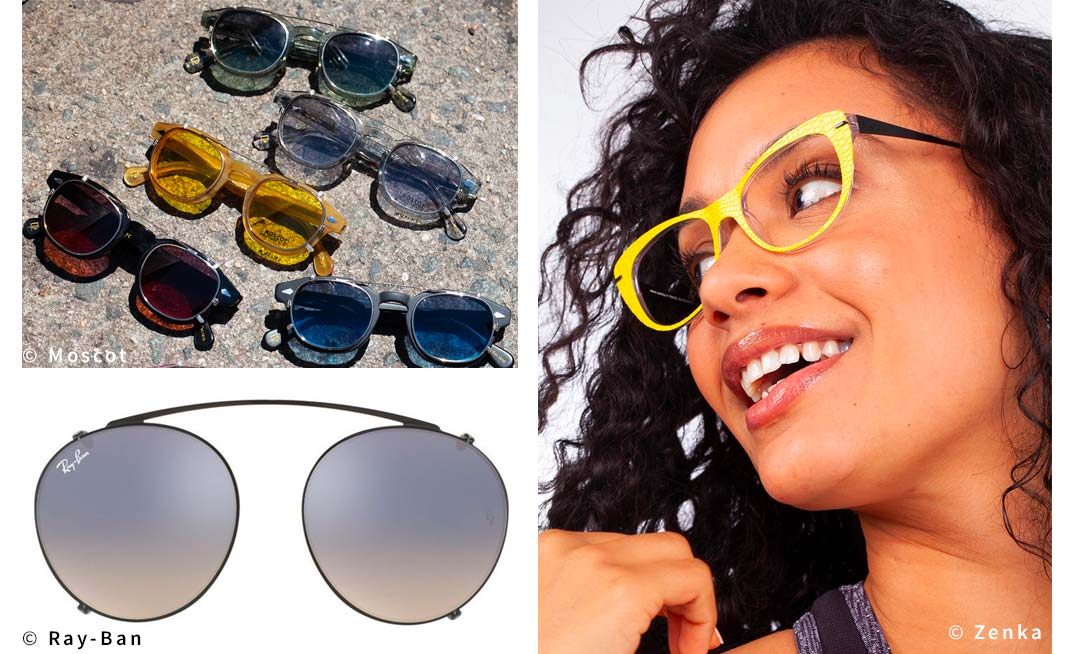 If you want to follow the trends for 2022 without risking too much, stick to the classic must-haves. As an iconic name in eyewear, it should come as no surprise that Ray-Ban has created its own range of clip-ons in four different shapes, compatible with various styles from its permanent collection.
Finally, New York-based family company Moscot also offers a wide range of affordable clip-on glasses in neutral shades, as well as more extravagant ones, with all the advantages of clip-ons – style, versatility and practicality among them.
Written by Eleanor Fullalove