Tendances
What exactly is the camp trend?
Honoured at the 2019 MET Gala, the camp trend is still proving buzzworthy. Extravagance, theatricality, humour, excess… attempting to capture such a unique aesthetic in a word is no small feat. Check out today's selection of 5 camp as can be glasses!
Some art historians believe the English term "camp" is derived from the French "se camper" and we have to admit, it's a definite possibility when you get to know a bit about this colourful and theatrical form of expression.
Combining elements of irony, humour, aestheticism and extravagance, camp has always got people talking, especially in the late 1960s. As a matter of fact, the "Notes on Camp" essay written by novelist and American activist Susan Sontag in 1964 served as the basis for the Camp: Notes on Fashion exhibition, which ran until September at the Metropolitan Museum of Art. Camp was also in the spotlight at the 2019 Met Gala, one of the most fashionable and spectacular events held in New York. In her essay, Susan Sontag explores how irony, humour, parody and exaggeration are expressed in fashion, defining camp as "Dandyism in the age of mass culture" and "the spirit of extravagance". Alessandro Michele, Creative Director of Gucci, who brought camp back to prominence in his collections for the Italian fashion house, told US Vogue "Susan Sontag's essay perfectly expresses what camp truly means (to me): the unique ability of combining high art and pop culture".
The kitschiest camp
 Wondering how camp could possibly apply to glasses? Talking about this trend, thoughts often turn to clothing in opulent or outlandish colours. Or extravagant make-up and wigs worthy of Marie-Antoinette in her heyday. Nevertheless, as you'll be able to see with the help of supporting photographs, some glasses really do look wonderfully kitsch and outrageous.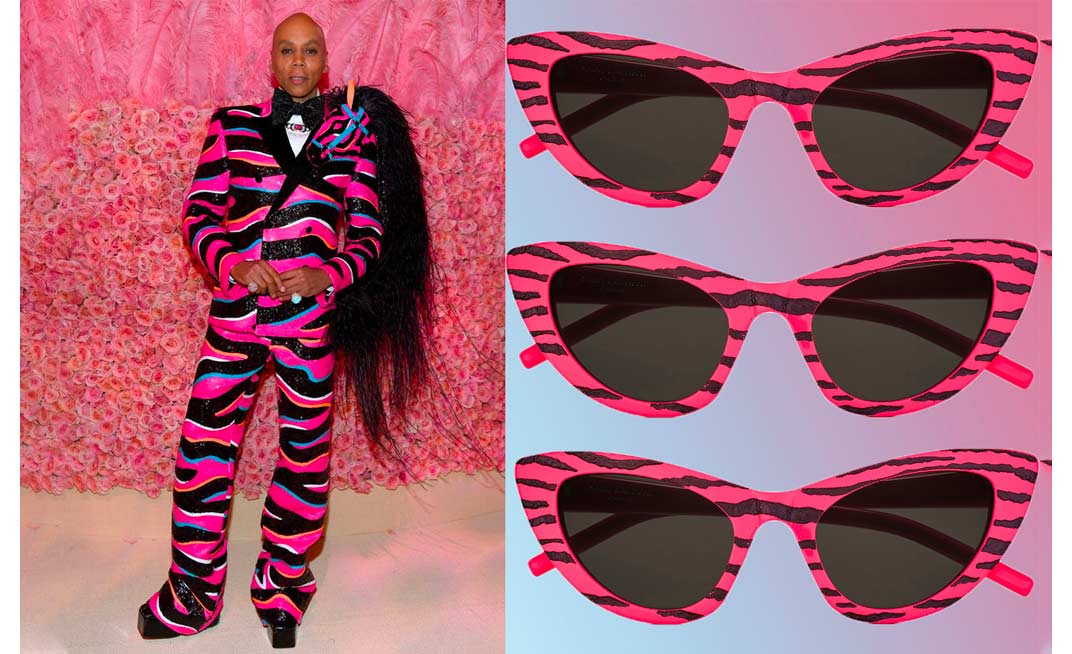 1. RuPaul in Zaldy at the 2019 MET Gala. YSL glasses (SL 213 LILY TIGER)
Looking at the famous American drag queen, RuPaul, in a Zaldy zebra suit, we couldn't help but be reminded of this pair of fuchsia cat eye sunglasses from  Yves Saint Laurent. Grrrrr…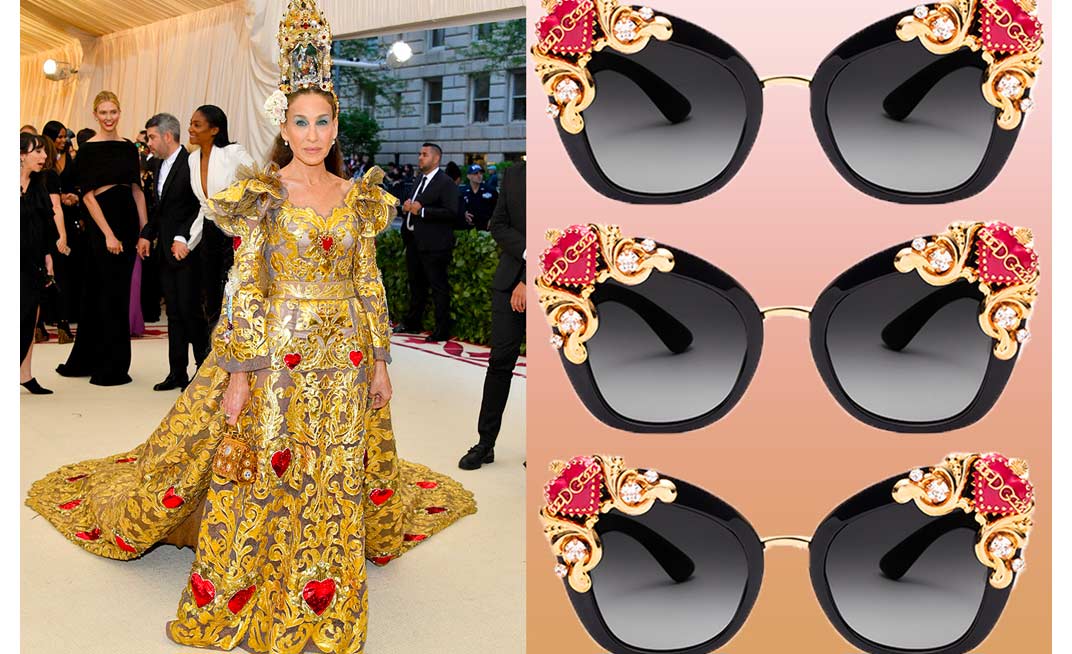 2. Sarah Jessica Parker in Dolce & Gabbana at the 2018 MET Gala. D&G glasses
We loved seeing Sarah Jessica Parker in her Manolos on Sex and the City and here she is wearing a distinctly baroque Dolce & Gabbana number at the 2018 MET Gala. Not only did she wow the crowd with this outfit in line with the religious theme of the event, but it also falls quite neatly into the camp trend. It wasn't difficult for us to find a pair of glasses by the same legendary Italian label to complement her outfit and potentially make it even more extravagant. Embellished with crystals and what D&G describes as « cuore sacro » (sacred hearts), these butterfly frames were the obvious choice!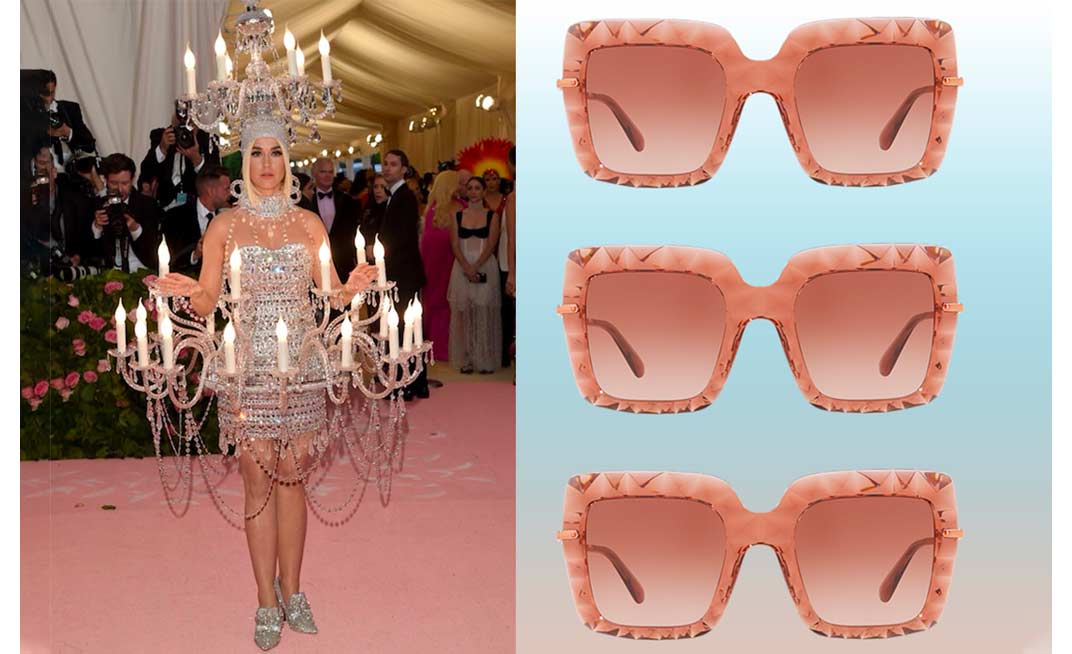 3. Katy Perry in Moschino. D&G (Squared) glasses
The singer was transformed into a chandelier for the night. Dressed by Moschino, she certainly lit up the MET. But to save her being dazzled by the light, we could have suggested she shield her eyes with this striking pair of Dolce and Gabbana sunglasses, also available in grey, light blue and burgundy.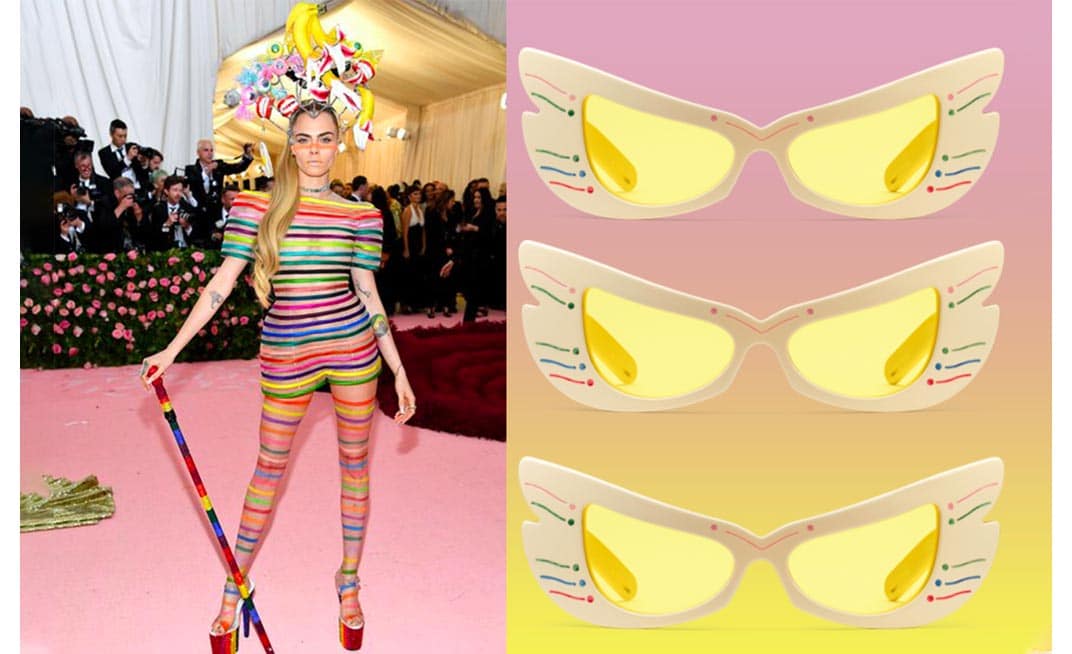 4. Cara Delevingne in Dior. Gucci glasses (Cruise 2020 collection)
Teaming her Dior mini dress with multicoloured tights, the model and actress Cara Delevingne put us in mind of these mask sunglasses from Gucci's Cruise 2020. Showcased in the fashion show held at Rome's Capitoline Museums, their butterfly shape is sure to have plenty of takers. The perfect accessory to help you stand out from the crowd.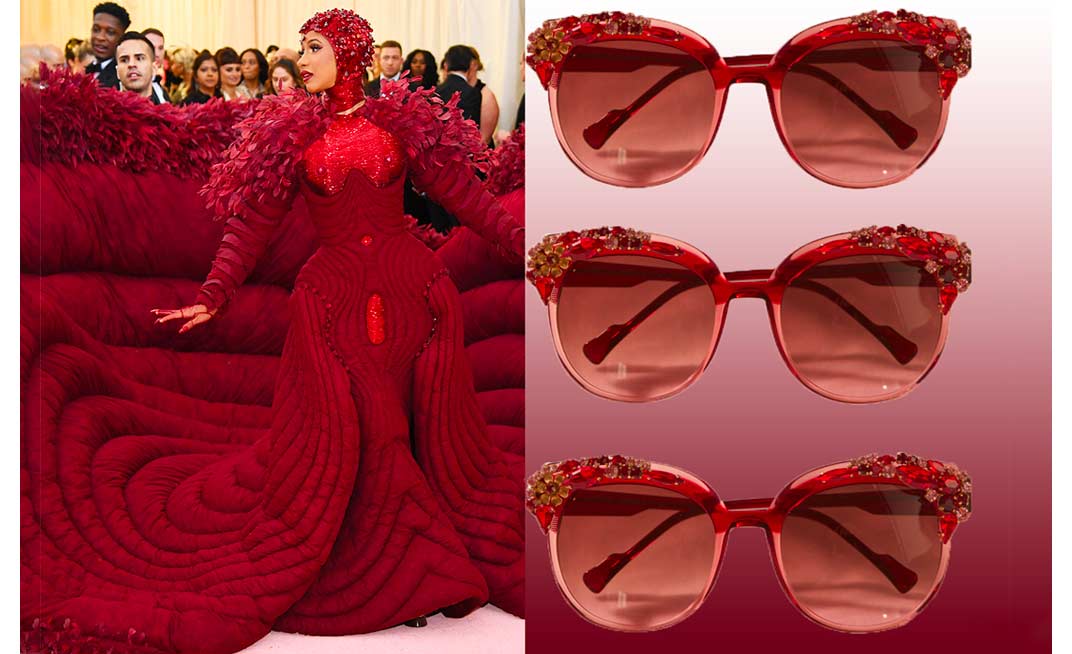 5. Cardi B in Thom Browne. Caroline Abram glasses (Beverly)
Never one to waste a good photo opportunity, rapper Cardi B really set the bar high in her Thom Browne creation at this year's MET Gala. We had our work cut out to find a pair of glasses as flamboyant and dominating as her dress. However, the Beverly model by Caroline Abram seem to fit the bill perfectly!