Tendances
Christmas Gifts: Our Selection of Accessories for Glasses
Personalised cases, jewels, trendy chains and clever necklaces… Eyewear accessories area back on top this Christmas! We've rounded up a selection of our favourite gifts for him or her, to put a twinkle in your loved ones' eyes.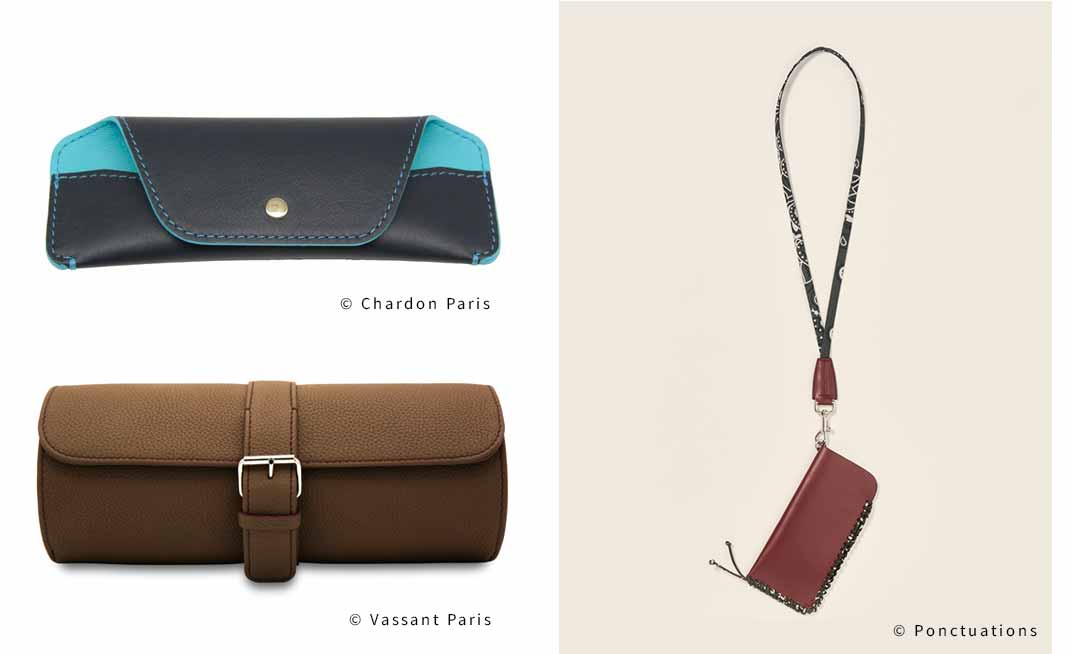 CASES FOR YOUR EYES ONLY
What better way to take care of glasses than a personalised case? This unique and exclusive gift, made out of good-quality materials, is far more than a storage case… Ideal for protecting glasses in style.
1 – Brightly coloured or discreet minimalist leather case, with hand-tinted edges and a customisable label, Chardon Paris, exclusively at Bon Marché Rive Gauche, 99€
2 – Calf leather and hand-woven bandana case with a carabiner, Ponctuations, exclusively at Bon Marché Rive Gauche, 155€
3 – Fully customisable case, made to order in the most precious skins and in a wide variety of colours, Vanessa Paris, price on request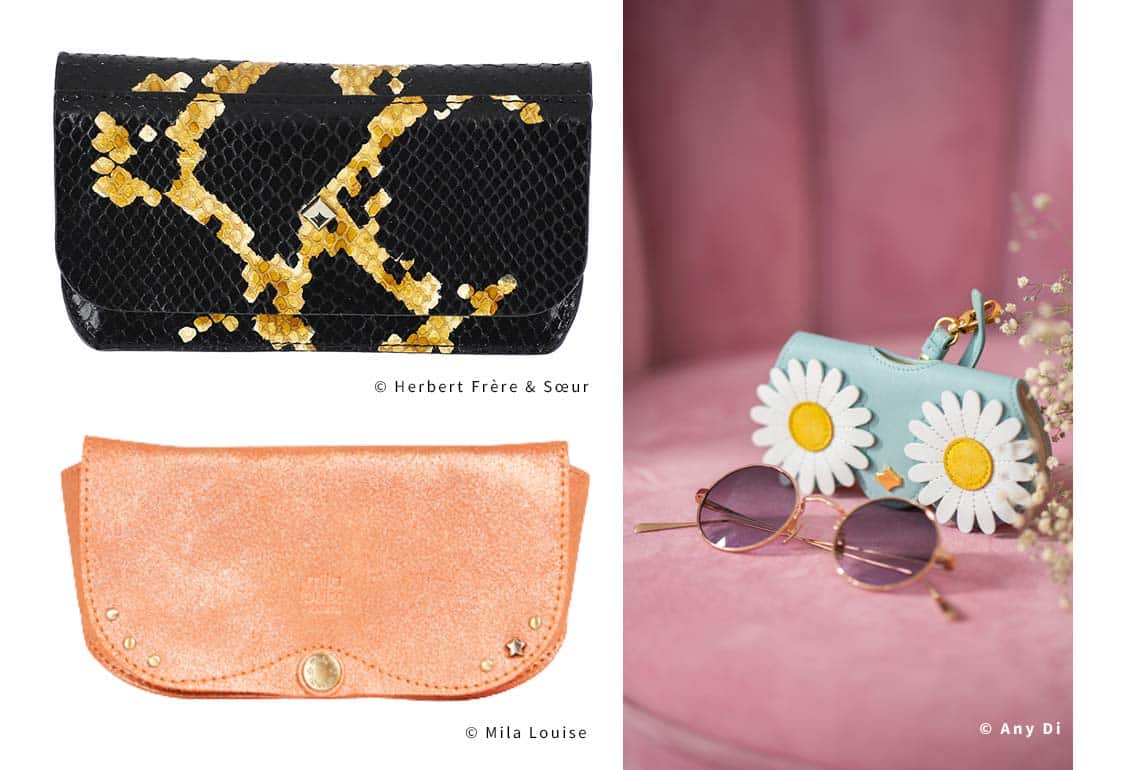 EYEWEAR CASES AND A DOLLOP OF FUN
Eyeglass cases don't have to be all serious… They can be practical and original and fun! And they make the perfect Christmas gift, too.  Mini accessories are all the rage right now, so why not replace a clutch bag with a sparkly glasses case?
1 – "Ossip" glitter leather case, Mila Louise, 45€ on placedestendances.com
2 – "Spookie" calfskin case with gold jewels, Herbert Frère & Sœur, 70€
3 – "Daisy" leather SunCover, Any Di, 89€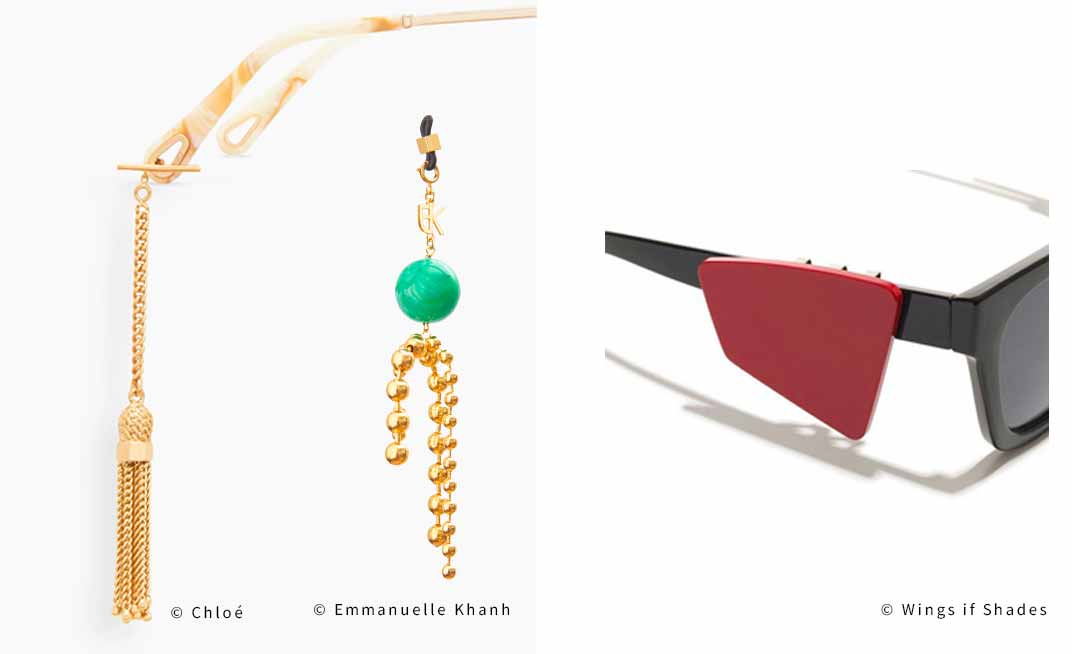 EYECATCHING TEMPLE JEWELS
Everyone gets jewellery for Christmas… Why not shake things up this year with the latest glasses trend: clip-on jewels or small chains? Create an earring-like effect with chiselled jewels, geometric shapes or precious stones, for glasses worthy of any high-end jewellery house.
1 – "Lynn" gold-plated brass eyewear jewels, Chloé
2 – Resin clip-ons, Wings of Shades
3 – "La Tella" golden temple jewels with fine gold, Emmanuelle Khanh, 130€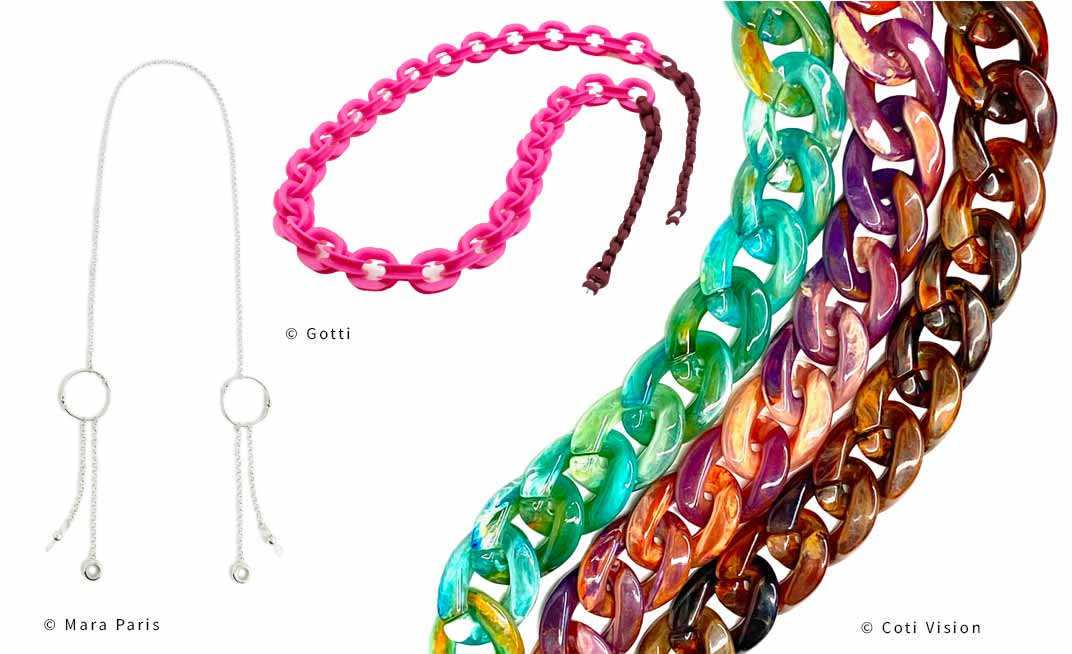 IT'S SNOWING CHAINS
If you haven't already succumbed to the glasses chain trend, it's time to treat yourself or your loved ones. Fine metal chains, large links, beads, crystals… Glasses chains come in all shapes, sizes and styles and make perfect gifts for all ages. Looking for inspiration? Follow us to find out how to wear eyewear chains and add a stylish twist to your sunglasses or glasses!
1 – 3D printed polyamide chain, Götti, 34€
2 – Silver hybrid chain for eyewear and earphones, Mara Paris, 215€ on printemps.com
3 – "Joen" chain available in 20 colours, Coti Vision, 27.93€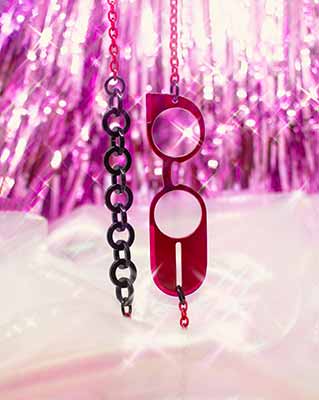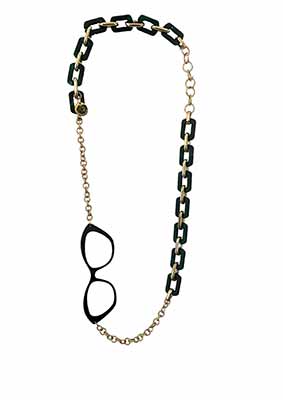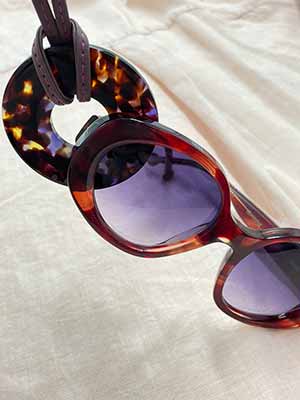 UNDER THE TREE AND AROUND YOUR NECK
Looking for something stylish to see more clearly and always have your glasses at hand? One accessory ticks all the boxes. You can't go wrong with a pince-nez-style necklace with magnifying glasses or an eyeglass holder ring. Glasses necklaces are useful, elegant and must-have gifts that suit all looks and styles.
1 – Acetate "L'Anneau" ring on a leather cord, Maison Nathalie Blanc, 59€
2 – Magnifying glasses or blue-light glasses on a chain necklace, M'as-tu vue, 85€
3- Hand-held "Darling" reading glasses, Caroline Abram, 160€