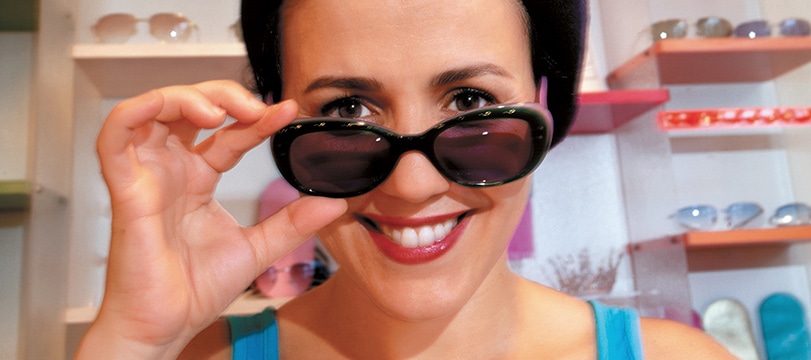 Focus
Profile of Selima Salaun
From her childhood in Tunisia and student days in France, to boutique openings in New York, Paris and Santa Monica via art-filled trips to Arles, Switzerland and Miami, Selima Salaun draws on inspiration around the world to create glasses that the stars can't get enough of.

Where are your roots and what inspires you? Tell me about your journey.

I was born in Tunisia and I did my optical qualifications in Morez, France then Paris.
My first job was in a beautiful optical store in the 16tharrondissement in Paris, Royal Optique, where I learnt to make bespoke frames. Our clients were mainly government ministers and celebrities who wanted one-of-a-kind pieces. At the time, we worked with the historic glasses-maker Dorillat, and incredibly, I still work with them today!
I am inspired by my travels and my clients. I have a passion for architecture and photography and go to Arles every year for the International Photography Festival. When I can, I also like to go to Art Basel in Switzerland and Miami.

What was the turning point that really got your business off the ground? What your first collection.

I opened my first store in Soho, Manhattan in late 1993. It was a very different neighborhood to what it is today, just art galleries. We were one of only two opticians, the other one was French as well, which was funny.
My first collection came about quite by chance. I couldn't find what I wanted on the professional market (and lots of people didn't want to sell to me, haha). That first collection was quite playful; classic with sexy, nerdy touches. I looked to the films of Godard, Fellini, Pasolini to choose different themes and used a lot of color. We were amongst the first to create two-tone laminate materials, mixing up navy blue with tangerine, green with purple and red with blue, for example.
The turning point for me was when Barneys bought the collection and offered me a concession in their Madison Avenue store.

What was the x-factor behind your success at the time?

We managed to develop a quite incredible client base, very quickly. Bono wore my glasses in one of his videos and we had Caroline Kennedy, Yoko Ono, Lenny Kravitz, Elizabeth Taylor and Meryl Streep all came into the store. The list is super long and we still have celebrity clients today, with Ryan Gosling, Susan Sarandon, Jay Z, Beyonce, Rihanna, Lady Gaga, Audrey Tautou, Vanessa Paradis and others.


Frames should be simple, elegant and timeless.

What are you most proud of?

The frames that I still make for the Neue Galerie museum in New York. It's a magnificent museum that houses Portrait of Adele Bloch Bauer by Gustav Klimt. I created the Freud, Marlene Dietrich and Egon Schiele frames for them and the collaboration we worked on the Japanese photographer Hiroshi Sugimoto is also absolutely extraordinary.

Which well-known glasses would you have liked to create?

If you had a magic wand to create the glasses of your dreams, what would they look like?

They would be glasses that make people happy… completely indescribable!

Where can we find you when you're not working?

I'm usually at home looking after my four dogs and two cats. I read a lot, I'm obsessed with books and French films.

What would you be doing if you weren't designed eyewear?

I'd probably be a vet, because I love animals.

which are your favorite cities?