Tendances
How tennis players do sunglasses
With the French Open, the world's most well-known clay court tournament, well under way, EYESEEMAG is taking a closer look at the sunglasses worn by the most on-trend players. Eyewear fans, brand ambassadors and sometimes even designers, these court stars are definitely winning with their fashion sense.
FROM ANDRE AGASSI TO ARNAUD CLÉMENT, WHEN PLAYERS HIT THE COURTS IN THEIR SHADES
In 1992, André Agassi played a Davis Cup match in a pair of Oakley sunglasses to hide the aftereffects of a night of partying. The image was anecdotal, but worth its weight in gold. The brand's sales exploded and the Agassi look went down in history. In fact, in 2018, iconic designer Virgil Abloh drew inspiration from the look to create the Nike x Serena Williams collection.
But when we think of the racket and glasses combo, Arnaud Clément may be the first player that comes to mind. Throughout his career, the French tennis player flaunted a signature look of Oakley glasses with tinted lenses and a coloured bandana. Although initially motivated by sight problems, his glasses turned him into a real style icon.
Serbian tennis players Janko Tipsarevic and Viktor Troicki, Russian Denis Istomin and former world number 4 Samantha Stosur never take to the court without their sunnies.
And then there's Australian Bernard Tomic with his white Nike frames. Belgian tennis player Kirsten Flipkens always has a few pairs of shades on the go so that she can switch up styles and colours. And at this year's Roland-Garros, it was Mexican Fernanda Gomez' turn to show off her own signature look.
When you're playing tennis, or any high-performance sport really, your sunglasses need to be lightweight, fine, as compact as possible, aerodynamic and most importantly, guarantee perfect vision. Unfortunately, looking glamorous isn't always an option.
FROM STEFANOS TSITSIPAS TO ROGER FEDERER, SOME TENNIS PLAYERS JUST REALLY LOVE EYEWEAR
Now, let's take a look at the choices tennis players make off the courts, when their sunglasses really show their personality. In the age of social media, their wardrobe is out there for everyone to see.
World number 5 Stefanos Tsitsipas is regularly spotted with his favourite round Ray-Bans.
Voir cette publication sur Instagram
As for young Canadian Félix Auger-Aliassime, he is never without his Dior 0219S frames. During an ATP Tour interview, he pointed out that sunglasses are essential for players, who are constantly moving from one sunny destination to the next.
Last February in Acapulco, Casper Ruud flaunted a cute pair of translucent frames in the Mexican sunshine, while Danish prodigy Holger Rune posed with Ray-Bans in Monaco.
But the trophy for the most eagerly-awaited sunglasses right now has to go to Roger Federer. After wearing Ray-Bans for years, the Swiss champion now chooses Oliver People shades whatever the occasion.
Voir cette publication sur Instagram
TENNIS PLAYERS BUT ALSO SUNGLASSES DESIGNERS
With 20 Grand Slam titles under his belt and the most elegant man of the decade according to GQ magazine's December 2019 issue, Roger Federer will now fuel his legend with eyewear collections bearing his famous "RF" logo. In May of this year, he announced his sunglasses line in collaboration with Oliver Peoples at the Met Gala in New York.
While the frames have not yet been unveiled, the Swiss star did share a little about the spirit of the collection. It was designed to be practical, comfortable and quite sporty (Roger Federer loves the Oakley Romeo shades worn by Tom Cruise in Mission Impossible 2). "I am thrilled to collaborate with Oliver Peoples.  I've been a fan of the brand for years and have always appreciated their exceptional craftsmanship alongside timeless, elegant designs. We both found great commonality in how we approach our work, so they are an ideal partner for the launch of my debut RF collection in 2024," announced the Swiss champion.
The Roger Federer x Oliver Peoples sunglasses are sure to showcase the natural class and poise that the gentleman of the tennis world has in buckets. Now, you're just going to have to wait patiently for the hottest collabs of 2024!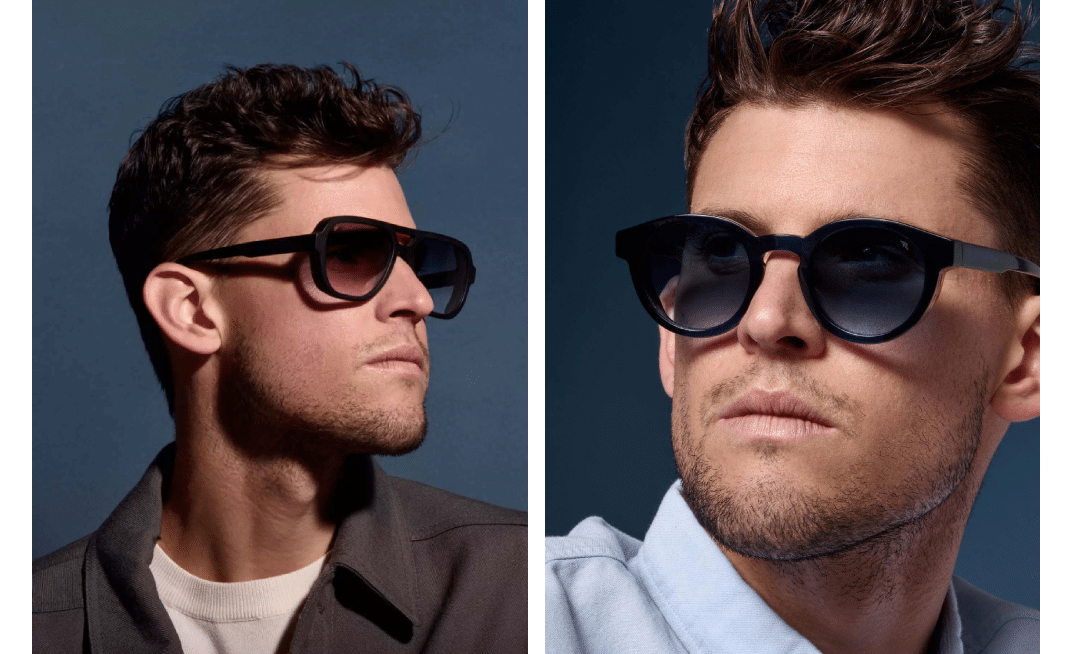 Austrian Dominic Thiem, another single-handed backhand pro, is getting back to the top of his game. Winner of the US Open in 2020, he used his return to competition to announce the launch of his sunglasses brand Theim View. Designed as a tribute to nature, the four pairs released are eco-friendly and built to last, qualities on which the Austrian star refused to compromise. Thiem View sunglasses are made from 100% recycled materials, feature biodegradable lenses, and fit perfectly into the mixed sunglasses trend.
But game, set and match go to Novak Djokovic (hardly unusual) and his collaboration with Lacoste. The debut collection of three pairs of sunglasses was released in 2018, and every collection since then has remained understated and sporty. The round and oval frames made from acetate or metal with enamelled details are perfect for fans of the Djoker of the tennis world and anyone who appreciates Lacoste's meticulous lines. The brand known for its little crocodile logo is very much connected to the world of tennis and has just launched a collection of three pairs of sunglasses for Roland-Garros, in the colours of the famous Parisian tournament.

WHEN PLAYERS BECOME MUSES
Between two tournaments, tennis players sometimes lay down their rackets to play ambassadors for leading brands.
In 2011, long before its partnership with Manchester United, Maui Jim played doubles with ambassadors like American Mardy Fish, German Sabine Lisicki and French players Gaël Monfils and Benoît Paire. At the time, the latter explained, "On and off the court, I realised that my eyes were much less tired when I protected them from the sun. The technology used in the lenses helps me to see better regardless of lighting conditions, because there are no UV rays and there's no risk of glare."
Now that we've mentioned technology, we can't but think of a German brand that is making a place for itself in the sunshine through its partnership with tennis player Alexander Zverev. Zepter Hyperlight Eyewear is a line of stylish glasses with smart lenses, which turn harmful light into hyperpolarized light, beneficial for rest and wellness. Alexander Zverev, who underwent eye surgery in 2019, is a huge fan, singing their praises on social media.
Tennis player Matteo Berrettini lends his charm to the BOSS Eyewear spring/summer 2023 campaign, alongside top models Gigi Hadid and Naomi Campbell. Tall, dark and handsome, he shows off the sophisticated yet stylish new shades made from renew acetate. As BOSS's global ambassador for the past year, we'll give him the last word: "It is good to mix the performance and the style. (…) I think tennis, of course, is a classy sport and you think about Wimbledon and think about how tennis started as the sport of elegance. But at the same time, we are in 2022, so it is important to be modern and kind of different, but not pushing too much. That's what we are trying to do with Boss. Everything we are doing together is to bring tennis back to the fashion world and vice versa", Berrettini told Forbes. Game, set and match.