Tendances
The hottest sunglasses collabs of the summer
With each new season comes its collaborations. Red hot this summer, three of the coolest sunglasses collections are the offspring of the biggest houses teaming up with celebrities and smaller brands. With Lacoste and a Serbian tennis star, Fendi's South Korean co-venture and Kenzo's innovative foray into eyewear, we take a closer look.

Game, set, match: Lacoste X Novak Djokovic
When a bastion of French sporting style teams up with a living tennis champion, it's bound to be a winner. Sponsored by Lacoste since 2017, Novak Djokovic has now launched a collection with the brand, which includes a selection of polo shirts as well as sunglasses. Sleek and sporty, their metal frames also includes leather detailing, so tastefully mimicking the handle of a vintage tennis racket. But don't save these for the court. They'll look good at the beach and you can pair with whites in the day to ace a preppy, but cool look.
Acetate sunglasses, €179. Available at Lacoste.com

Futuristic frames: Fendi x Gentle Monster
Collaborating under the name of 'Gentle Fendi,' the high-fashion house Fendi recently teamed up with the South Korean label Gentle Monster to launch a clothing collection. Including two styles of eyewear, each available in several colour variations, the glasses combine innovative design with a fashion-forward sensibility. Well-known for their futuristic aesthetic and use of cutting-edge design technology and materials in their garment fabrication, Gentle Monster have given a slightly curve-ball update to the luxury Italian house. True to the current trend for logos in fashion, the Dark Havana style feature the name of the respective brands on the corner of the lenses in graphic typeface. Team with jeans and a white t-shirt to elevate your day look, and definitely expect people to stop and ask where you got them.
Sunglasses, around €430, on sale from the Gentle Monster website and in a selection of Fendi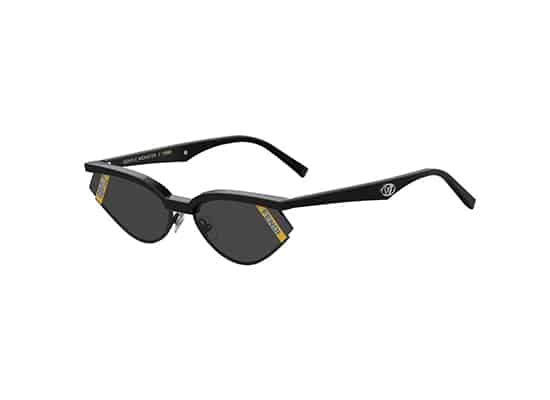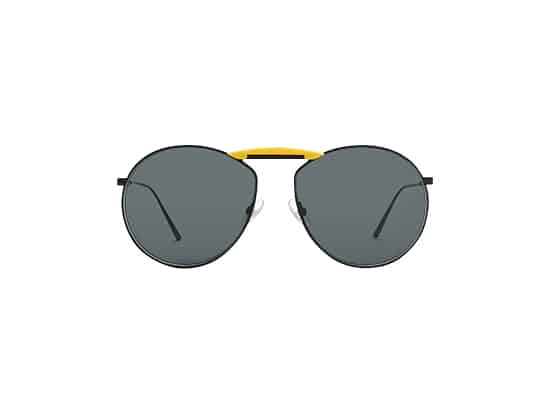 East meets West : Kenzo x Thélios
For their first collection of eyewear, the Japanese label Kenzo have really gone the extra mile. The brand have teamed up with Thélios, an eyewear specialist set up in 2017 as the joint venture of French conglomerate LVMH and Italy-based eyewear label Marcolin, two names who know a thing or two about creating high-end fashion items. Thélios specialize in combining advanced technologies with luxury craftsmanship. Having previously collaborated with Céline, Thélios pride themselves in unlocking the DNA of each house they work with in their designs. Aptly then, for their collaboration with Kenzo collaboration, the glasses come in an assortment of cool colours and are graphic and futuristic, so true to the aesthetic we already know and love. With an ad campaign featuring models ethereally poised as stargazers, the overall vibe is a high fashion answer to Stranger Things, and so perfect for the recent anniversary of the moon landing.
Sunglasses, around €150, available on Kenzo.com