High - tech
The MyEye OrCam, when AI can help the visually impaired
Designed for those with a visual deficiency, the MyEye OrCam is an intelligent tool that, when attached to any pair of glasses, will read out any text that it sees. Without the need for internet connection, visually impaired or blind wearers can get real time text-to-voice thanks to its in-built artificial intelligence, giving them a real solution to a daily problem.
OrCam: from driving assistance to improved accessibility for the visually impaired
Eleven years before establishing their Jerusalem-based company OrCam, Amnon Shashua and Ziv Aviram were the team behind Mobileye in 1999, a start-up specializing in the development of advanced systems that assist driving using mounted cameras, anticollision radars and onboard electronics. Thanks to real-time image analysis, made possible by artificial intelligence, cars equipped with their system can foresee potential hazards like someone suddenly crossing the road, a bike getting too close or even a car breaking too quickly in front.
Mobileye quickly became a leading car equipment supplier and a major player in the development of autonomous cars, so it's not surprising that the company was finally bought by Intel in 2017, after being courted by the likes of Google and Apple, while their products became the 'eyes' for cars of several manufacturers including General Motors, BMW, Audi, Nissan, Ford, Volkswagen and Citroën. Using their experience in the automobile sector, Amnon Shashua and Ziv Aviram founded OrCam in 2010 to bring their artificial vision technologies and machine learning to the assistance of those living with vision problems, as well as those with hearing loss.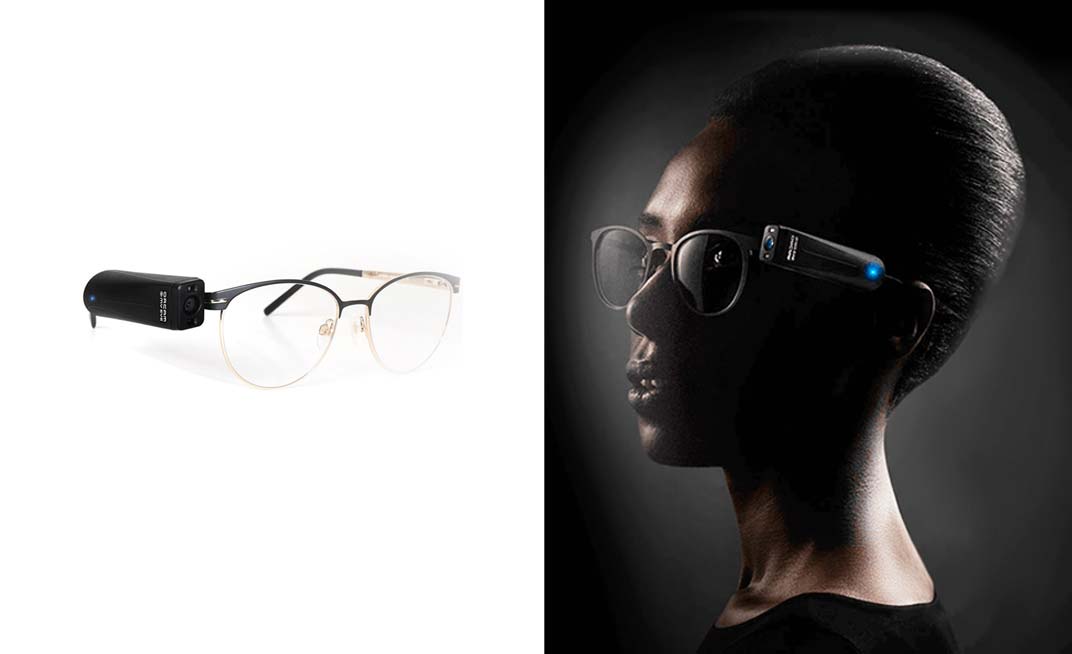 MyEye OrCam: seeing is hearing
"How many times a day do we need to read something, recognize a face or tell the time? To help people who are visually impaired, we've created this artificial vision technology: a camera that clips to the temples of a pair of glasses." This is how Andrea Andry, Sales Development Manager at OrCam, summarized the project. Measuring 7.6cm by 2.1cm and weighing 22.5g, the rectangular tool looks like a large USB stick and can be attached to any pair of glasses using a double magnetic system.
Once set up, there are three accessible ways to activate it: by voice, using a finger or using the touch bar on the side, lightly textured to make it easy to find, which is also used to control the volume. All it takes is for the wearer to speak, touch the touch bar or to point a finger at (or close to) the printed text they want read out. The camera takes a recording of the text, then reads it out, almost instantly converting the text to voice.
This voice, that can be set to either masculine or feminine, is played on a small speaker set just above the ear, or can be played through Bluetooth headphones or speaker and the speed that the text is read can also be adjusted. The read-out can be stopped or paused any time, either by holding the back of the hand up to the camera, using the touch bar or with a voice command.

How artificial intelligence is making daily life more accessible
MyEye is equipped with a processor that uses artificial intelligence to analyze text captured by the camera and can let the wearer know when the text is misplaced or misaligned. The use of artificial intelligence to analyze text also allows the user to give specific instructions as to what they want read out. That might be just the headings on a menu at a restaurant, for example, or specific amounts on a bill. And by looking at your wrist, as if looking at a watch, MyEye will give you the time and date.
But intelligently read a text isn't all it can do: MyEye is also able to recognize and identify faces which are easily saved in the device by looking at the person and pressing the touch bar. The tool will ask you their name and record your reply. MyEye will then let you know when that person is next in front of you, using the name saved in its database which is entirely encrypted to protect all personal data.
In the same way as MyEye, OrCam can also recognize any object that it has been taught. It has a pre-saved database of objects that allow it to recognize a bar code, QR code or bank notes, and this can be expanded by saving new bar codes yourself. The user can also find out the color of an object by pointing at it with a finger.
MyEye 2 from OrCam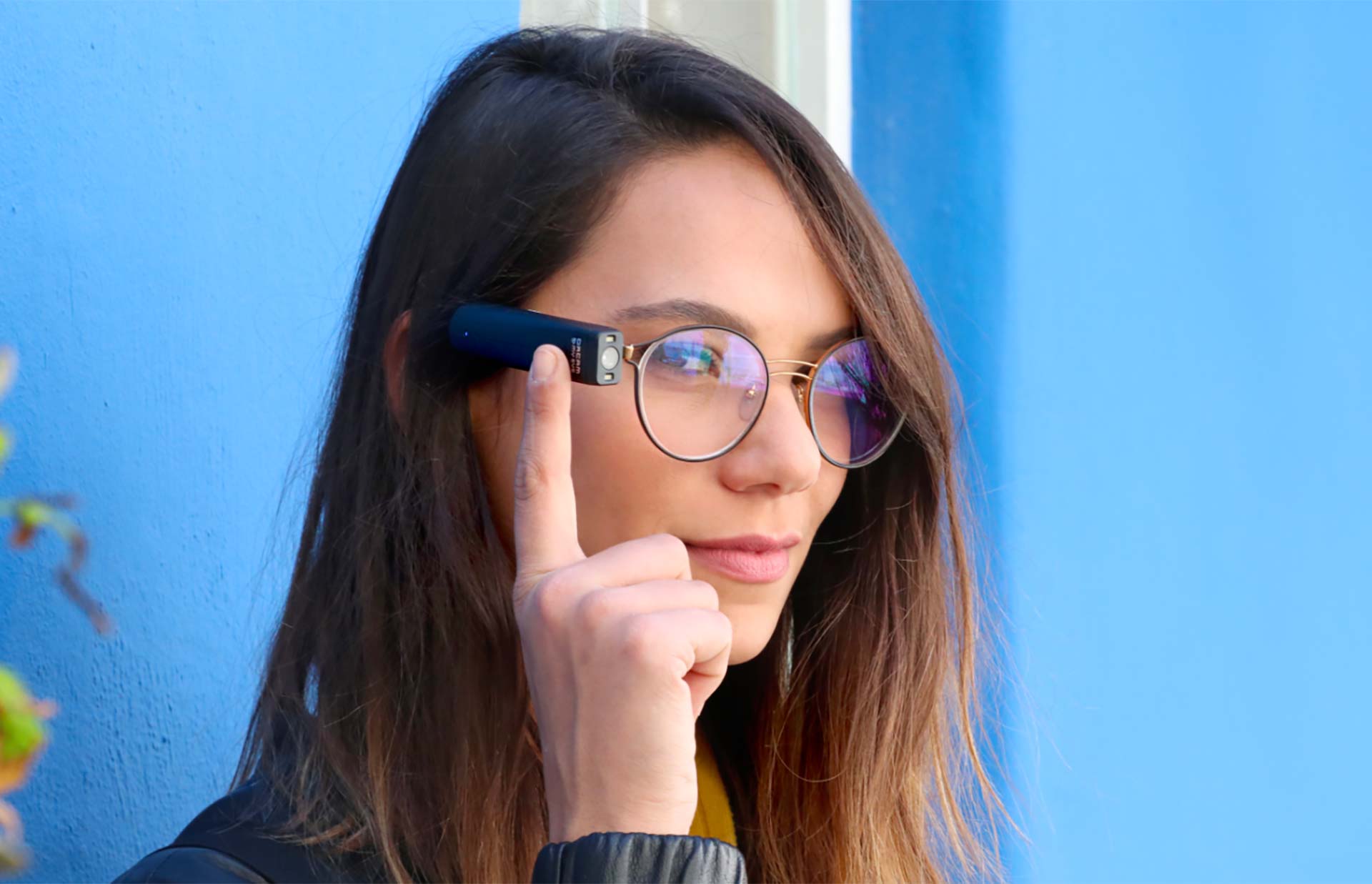 Recognized with several awards (the Innovation Prize at the Consumer Electronics Show, the Silmo d'Or, Time Magazine's top inventions of 2019), OrCam's design is available in 25 different languages at 48 countries, and comes in two options: the MyEye PRO  and the MyEye smart. The second is largely the same as the first and has all the same functions except the ability to recognize faces. There is a new device, Orcam read, also intended for the visually impaired and dyslexic. It is a portable "pen reader" which fits in the hand. While these tools are sure to make visually impaired life easier, their price tag (3000-4750€) is likely to be the biggest obstacle to their widespread use, especially as they are not covered by public healthcare or benefits systems. But with the support of several charities, OrCam is working to make them a genuinely viable tool to make life easier.