High - tech
A Blind Legend
It was always going to be a big ask to design a free action-adventure mobile game, with no visuals, that users play using their headphones and mobile phone as a controller, aimed both at visually challenged people as a wider public looking for a fun new sensory experience. But that's the challenge that Lyons-based video game studio Dowino set itself in 2015. And they rose to it with aplomb.
Behind a highly original project
Located in Villeurbanne, near Lyons, France, Dowino is an independent studio specializing in 'serious games', those games or mobile apps designed to raise public awareness about public health issues, sustainable development, social responsibility and garner support for other causes.
Studio co-founder and video game producer, Nordine Ghachi remembers how the project came about from the idea of "putting the player in the position of a blind person" and "making a person often presented as fragile, into a fighter with special powers, like a superhero".
As the project developed, another point came to light: most games designed for people with visual impairments offered a linear experience, much like that of an audio book in which the player is the lead character, with lots of text read aloud, very little free exploration and even less action. This kind of video game was clearly of limited interest to the wider public.

A video game for both sighted and visually impaired gamers
The goal became to develop a real action-adventure game, with a solid narrative, that was easy to get into, with intuitive playability designed for a wide gaming audience. Nordine is proud to say that families have since been in touch to say that family members who were gamers before they lost their sight, have been able to rediscover the pleasure of playing through A Blind Legend.
Co-produced by French radio station France Culture, the video game's production was also made possible thanks to the success of a crowdfunding campaign on the site Ulule. Over a thousand contributors donated money, creating a loyal community of followers for a project that was also supported by the Fédération de Aveugles de France (French Federation of Blind People), playing an active part in helping to develop the video game.
THE TECH CHALLENGE OF REPLACING SIGHT WITH SOUND
Set in the medieval world with an edge of fantasy that will be familiar to gaming fans, in A Blind Legend players pit their wits as Edward Blake, a blind knight who is guided by the voice of his daughter, Louise and the sounds around him. During a perilous epic journey, he must field fights and encounters, cross villages and forests, and climb mountains and towers, amongst other challenges, to find his wife, who has been kidnapped by a mad king and his army.
The video game deprives gamers completely of their sight, usually a player's main tool. The rush of a river coming ever closer, the whispers of Louise in his ear, the acceleration of a galloping horse and the sound of an enemy's sword passing just above his head, are so many sounds that the production team tried to recreate as faithfully as possible. The technological challenge at the heart of the video game, was to make the audio experience immersive and convincing.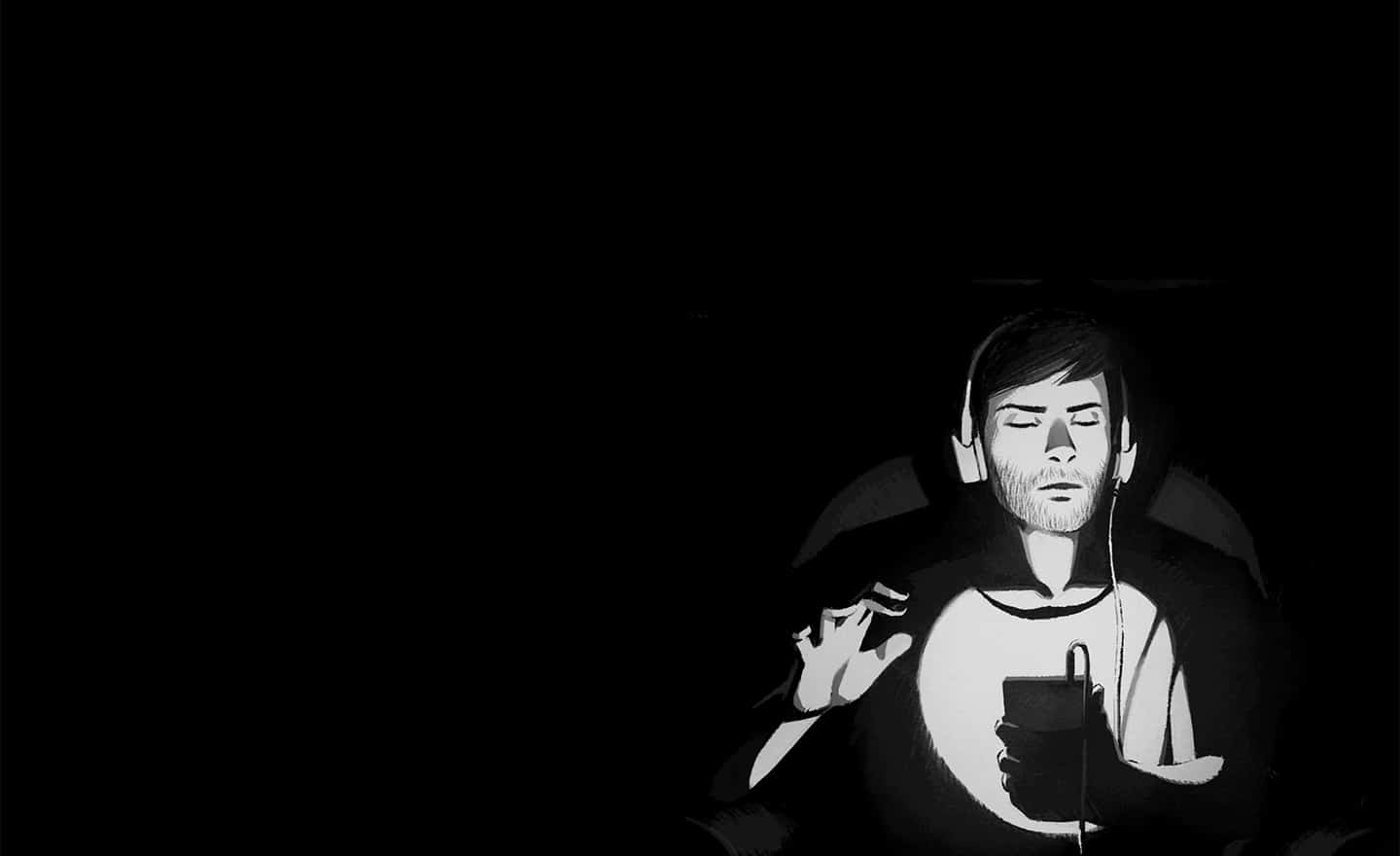 What is binaural sound?
The idea of using binaural sound, also known as 3D sound, came to Nordine in 2007, when he discovered a video in which the listener took on the role of a client in a hairdressing salon. "With the aid of nothing more than stereo headphones, I felt the scissors and shaver passing over and around my head and along my temples, the sensation was incredible!".
The idea behind binaural sound, is to spatialize sound so as to give the listener the impression of being in the middle of a scene, by reconstructing the varying levels of sound intensity depending on distance, position (left or right), and localization (above, below, in front or behind). The binaural technique aims to recreate a close reproduction of natural hearing, based on the physiological characteristics of human hearing. The reproduced sound picture is then understood by the brain as being three-dimensional, meaning that we use the brain just as much as the ears, to hear in 3D.
Some researchers have found the roots of the idea in the 1881 invention of the 'theatrophone', by the engineer Clément Ader, which offered subscribed listeners a chance to hear the opera at the Opéra Garnier in Paris, with an earpiece on each ear that relayed sound from the two different sides of the stage. If the origins of the idea go back to the late 19th century, a lot of progress has been made since and the large majority of sounds created for the video game, mainly thanks to a contest on the radio station France Culture – a binaural specialist – were digitally treated with algorithms designed to spatialize real-time sound.
Challenge completed?
As an original and absorbing new video game,A Blind Legend has met with critical success both in France and internationally for depriving the player of his or her visual touchpoints and offering a brand-new sensory experience, as well as raising awareness amongst the general public of what it's like to be visually impaired. All dialog has been recorded in English and the game is available on Apple Store, Google Play Store and Steam. Downloaded more than a million times to date, the video game has seen great success with the public and remains a reference in binaural sound gaming. And for a small, independent studio, that's a great achievement.