Glasses culture
Serge Gainsbourg's dark glasses
Serge Gainsbourg died on March 2, 1991 at the age of 62. So to commemorate 30 years since his death, we're taking a closer look at his glasses. Because behind those tinted lenses, Gainsbourg became Gainsbarre, an alter ego that gave him the freedom to be provocative.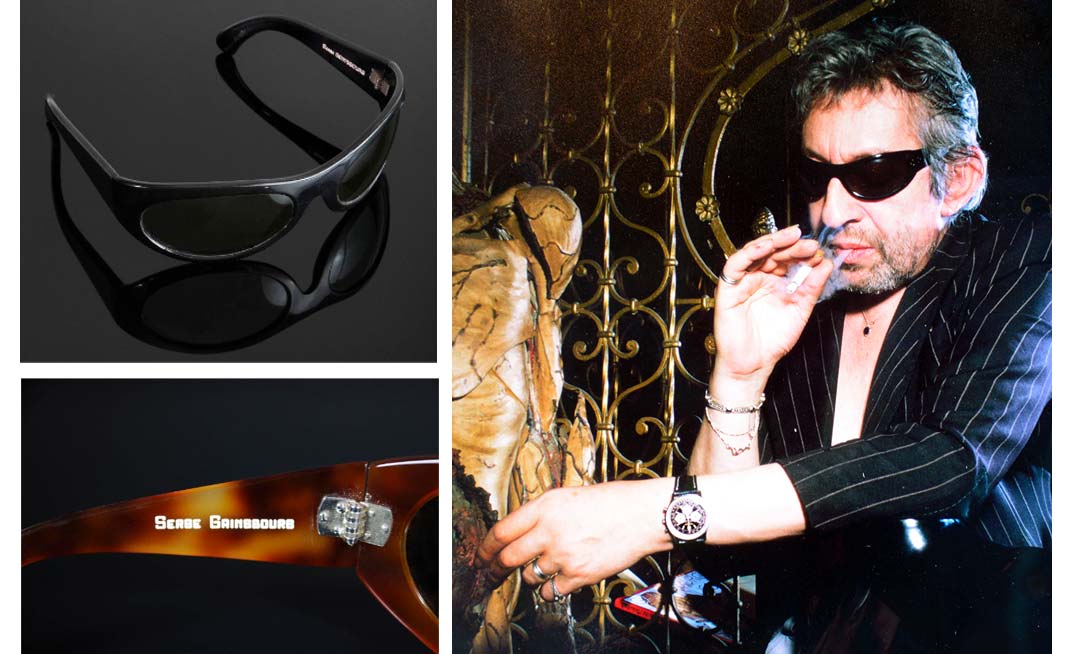 Just like they were for Karl Lagerfeld and Elton John, Gainsbourg's glasses were an integral part of his persona. When Gainsbourg became Gainsbarre in the 1980s, he was almost never seen in public without his dark glasses. Along with his worn-out jeans, stubble, Gitane cigarette and white Repettos, worn without socks, his glasses defined his look, giving him his brooding poet charm.
He wore them on TV shows, he wore them for photo shoots at his home on rue de Verneuil, he even wore them in bars and clubs when out at night. His glasses were his mask, a shield protecting him from the people around him who he would provoke, often under the influence of alcohol. The singer didn't find himself attractive and expressed that feeling in his songs, like with the line "La beauté cachée des laids se voit sans délai" (the inner beauty of ugly people can be seen instantly).
Could he have been trying to invent a new self while self-destructing with all of his excesses? When he separated from Jane Birkin, the singer might have used his glasses to hide his sadness, even when he found love again with Bambou. In the last ten years of his life, Gainsbourg was criticized in the press, notably for his song La Marseillaise and for burning a bank note on television. He felt misunderstood and if the eyes are the window to the soul, covering them up surely allowed him some freedom from the searching eyes of his audience.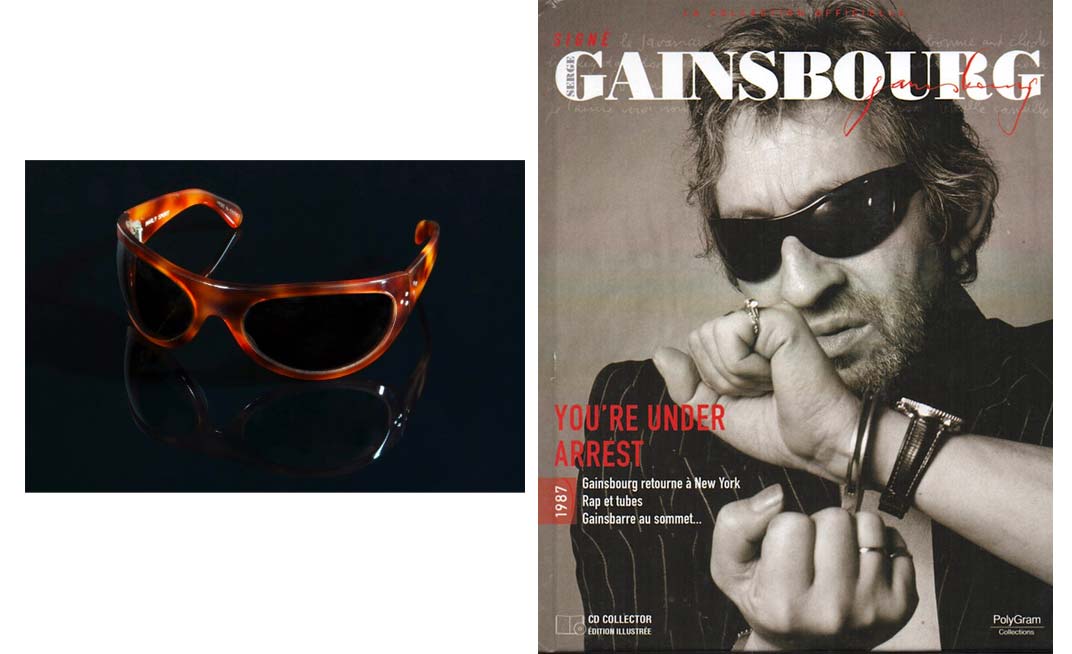 The glasses of the stars
Gainsbourg's dark glasses are a cult object still to this day. The design that he wore were from the Marly Sport line made by French optician Pierre Marly whose tortoiseshell, leather and wood glasses were much admired by celebrities in the 1950s and 1960s.
Parisian society was often to be found in his boutique on rue François 1er and he designed original pairs for Audrey Hepburn (who wore his designs in the 1963 film Charade) and a pair of glasses shaped like television sets for Sophia Loren. His loyal clientele also included Romy Schneider, Lauren Bacall, Madonna, Marlene Dietrich, Michel Serrault, Michou, Lino Ventura, Michel Legrand, Valéry Giscard d'Estaing, César, Jean Cocteau, Brigitte Bardot, Sophie Marceau, Johnny Hallyday, Elton John, André Courrèges, Karl Lagerfeld, Yves Saint Laurent, Jackie Kennedy, Aristote Onassis, Michel Polnareff (the famous rectangular white frames) and of course, Serge Gainsbourg.
Before he died in 2015, the optician helped transform glasses from a simple practical object to a fashion accessory, capable of adding something to an outfit. In 2016, two pairs of Marly glasses that Gainsbourg had worn were sold at auction by Drouot. One of them, a black acetate pair which the singer was often seen wearing in public, was sold for 2100 euros. The other, a brown tortoiseshell acetate pair, had been ordered by the singer but never collected. The Marly optician still exists and sells several luxury brands from its boutique at 50 rue François 1er. In 1978, Pierre's son Gilbert Marly took charge of the company, helped by his own daughter Camille Marly. Vintage designs from the brand are also available on Ebay and Etsy, but be warned: some rare pairs can reach the heady heights of 1300 euros like those made famous by Audrey Hepburn. You can find these glasses of stars in our article on 14 legendary pairs of sunglasses in film.