High-tech
Snapchat Spectacles 4.0, a taste of augmented reality
Among the pioneers in the field of mass market smart glasses, Snapchat has been working hard on Spectacles 4. Aimed at content creators eager to test out the new features, this latest version marks a turning point in the brand's strategy. Equipped with state-of-the-art technology, Spectacles are supported by an ecosystem designed for glasses augmented reality and could well provide some insight into what players in the smart eyewear market are planning to do next…

A technological and strategic breakthrough for Spectacles
Snap Inc., the Californian company that owns the Snapchat, Zenly and Bitmoji apps has invested heavily in smart glasses – via its Spectacles line – since 2016. While the first and second versions were equipped with a camera able to capture photos and short exportable videos in the Snapchat app, Spectacles 3 featured a second camera able to create 3D videos that could be shared via any social network. Persevering with smart glasses, this fourth version to come from Evan Spiegel's company is a technological leap forward.
Unlike previous pairs, Spectacles 4 are not available to the general public – and there are two main reasons for this. The first is based on the commercial failure of the versions that went before, when hundreds of thousands of goods went unsold. Snap Inc. has therefore produced its latest glasses in limited quantities. The second reason is the company's desire to appeal to developers and content creators wanting to test out the functionality offered by the new Spectacles. If you want to try them for yourself, an application form is available on the official website.
The company sees these glasses as the future interface for Snapchat, the social network with 500 million active users. This interface will become the core element of its network, linking the real world to the myriad virtual materials being offered by the Californian firm in the future. And in releasing its augmented reality glasses now, Snap Inc. is ahead of key competitors, including Apple and Ray-Ban Stories from Meta.

Smart glasses in the age of augmented reality
These smart sunglasses might look like the old Spectacles, but this fourth version marks a technological turning point compared to its predecessors – they are the first to be equipped with screens integrated into the lenses and capable of projecting 3D images. Though this technology already exists in certain virtual reality headsets, like Microsoft's HoloLens or Meta Quest (formerly known as Occulus), Spectacles 4 are the first glasses to benefit from it.
Aesthetically, the solid, angular frames wouldn't look out of place next to Tesla's Cybertruck. But at 134g, the glasses are five to six times heavier than a normal pair. They are therefore not as easy to wear all day. Rather than create frames that are lightweight and discreet, the aim of the company seems to be more closely aligned with daring and experimental design, incorporating technologies never seen before in glasses.

With two cameras, four microphones, a touchpad and stereo speakers, the battery life of Spectacles is limited to 30 minutes. However, the case can store enough power to charge them fully up to four times over. The glasses also incorporate 3D waveguide displays in each lens. This is what makes it possible to see and interact with objects in augmented reality in an immersive way. These two low-latency displays (around 15 milliseconds) have a 26.3-degree diagonal field of view that superimposes 3D objects in the wearer's vision. And thanks to dynamic brightness adjustment up to 2,000 Nits, the glasses are easy to use outside, even in very bright conditions.
Spectacles are also equipped with a Qualcomm Snapdragon XR1 processor with a dedicated artificial intelligence core designed for augmented reality and virtual reality devices. Capable of capturing movement, this processor allows the glasses to track hands, surfaces and other markers for placing or adjusting the placement of 3D objects viewed by the wearer. As for audio, they integrate HFTF (Head-Related Transfer Function), which spatializes sound in such a way to give the user the impression of hearing sounds from a specific place in space.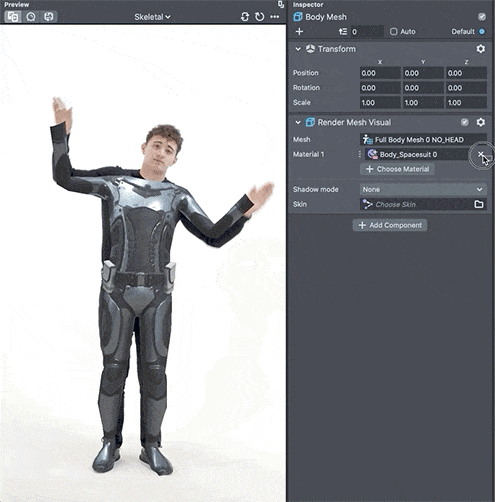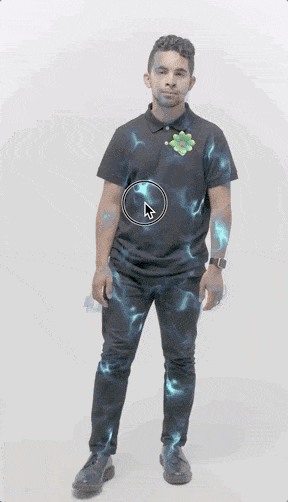 Eyewear designed for Snapchat's ecosystem
After the failure of the first Spectacles launch in 2016, Evan Spiegel, CEO of Snap Inc., said he expected the adoption of smart glasses by the general public would take about 10 years and involve the creation of a strong community based on 'a thriving ecosystem of experiences that people can enjoy'. By this logic, targeting developers and creators of augmented reality content makes sense.
Evan Spiegel's company says Spectacles 4 were designed to enable those people to 'discover new ways to fuse fun and utility through immersive AR' thanks to Lens Studio, the tool for creating the famous Snapchat filters. This free tool, which is already used by over 200,000 creators, is ever-growing. It now includes a visual effects editor to improve the rendering in augmented reality, as well as 3D Body Mesh, which allows you to create virtual objects (clothes, accessories, visuals…) that fit a moving physical body perfectly.
Spectacles 4 are therefore fully integrated with Lens Studio and allow professionals to create content in augmented reality and test them in real life. Many creators and certain brands are already experimenting with these glasses, to provide filters, as well as augmented reality experiences making information, games or virtual creations readily accessible to the wearer.
Written by Eleanor Fullalove