Culture lunettes
What are the most sensational glasses in the eyewear world?
Glasses are daily accessories, mobile, practical, and even essential all at once. But sometimes, thanks to designers, they become works of art fit for a collection. High-end creatives enjoy playing with eyewear codes, and can transform their models into exceptional pieces of jewelry. Here's a closer look the most spectacular glasses around today.
What makes an object exceptional? In the optical sector, the answer to this deep, philosophical question depends on two things: the superior quality of the materials used and the rarity of the product itself. Read on to discover the pairs that meet both criteria…

Diamonds are forever, by Maison Nathalie Blanc
There is a fine line between eyewear and jewelry. The collab between designer Nathalie Blanc and the Lorenz Baümer atelier have proved this perfectly. By combining their know-how, the two brands have created three optical jewels. The latest to be unveiled is the Josephine model, featuring sophisticated square frames adorned with a heartbeat symbol set with white diamonds. An ultra-chic, refined detail – the height of luxury.
Available here.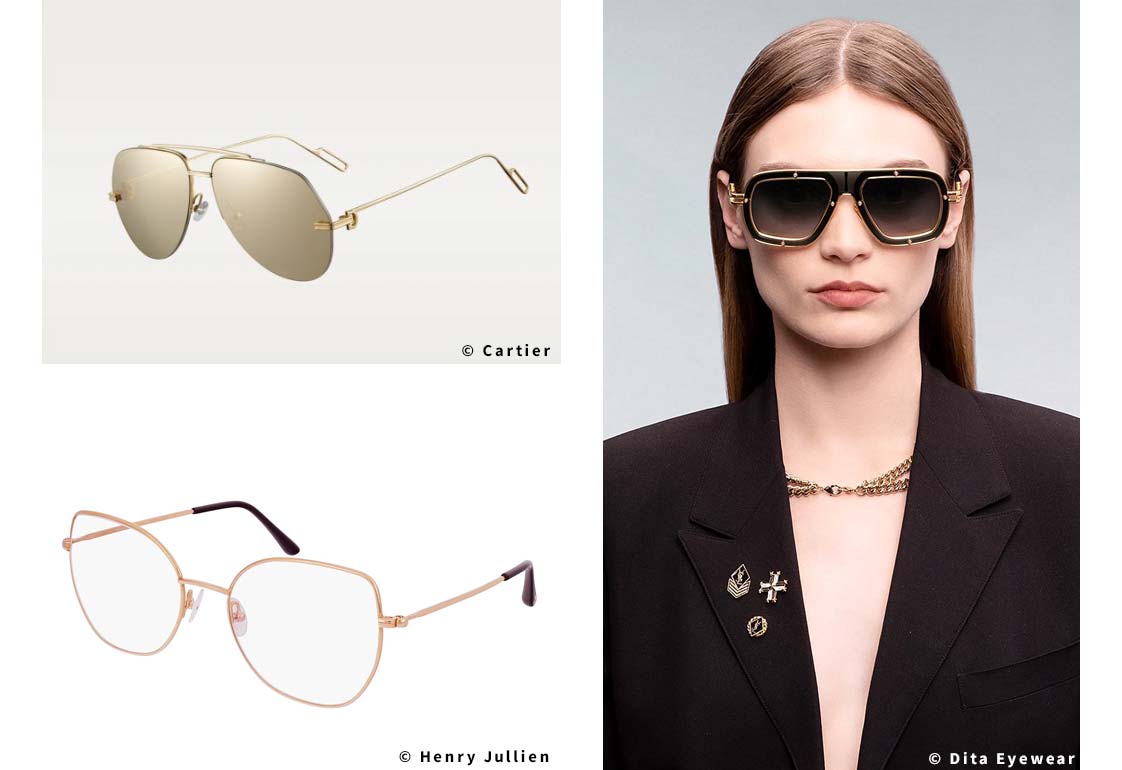 The gold rush, by Cartier
Worn by countless celebrities, from French footballer Kylian Mbappé to today's biggest rappers, Cartier sunglasses are definitively must-have accessories. Among the brand's vast range, one model clearly rises to the top. Its exceptional features include a modernized pilot shape all pierced-lens frames in 750/1000 yellow gold. Exceptional purity that transforms these sunglasses into nothing short of optical finery.
Available here.
Double vision, by Henry Jullien
This century-old house owes its international reputation to a well-kept trade secret: gold coating. This process involved fusing the base metal with the perfect amount of gold alloy. The result is elegant, sustainable, luxury eyewear, as beautifully demonstrated by the Insolence model. This pair brilliantly combines minimalist style and exceptional know-how – the very definition of French chic.
Available here.
Ready for takeoff, by Dita
A limited edition can make a pair of glasses exceptional, but with Dita, uniqueness truly meet beauty. The RAKETO capsule collection features one model available in three colors, boasting complex technology and unlimited fashion potential. Expect revisited aviator lines complete with pinpoint details such as a dual lens construction. In short, sunglasses paying tribute to aviation – enough to make anyone want to set out on an adventure.
Available here.

Designed for the red carpet, by Chopard
These glasses certainly live up to their name. The Red Carpet frames are the perfect way to stand out while the cameras flash at the Cannes Film Festival, or simply while on the terrace of an upmarket bistro. Here, the luxury brand's model in acetate is enhanced with jewels and 23-carat gold plating. These extravagant, precious details are featured on the temples and the external angles of these square frames.
Available here.

Sophisticated heritage, by Silhouette
Pierced-lens glasses are the embodiment of paired-back yet delicate aestheticism. This mindset was the starting point for the iconic Austrian brand to create Atelier, which includes the Art Divine high-jewelry mini-collection. Optical masterpieces in 18-carat gold available in yellow, white, and pink, each adorned and subtly enhanced with multiple diamonds. Making things even more exclusive, every model is handmade to order to satisfy the demands of each individual customer. Unparalleled excellence!
Available here.