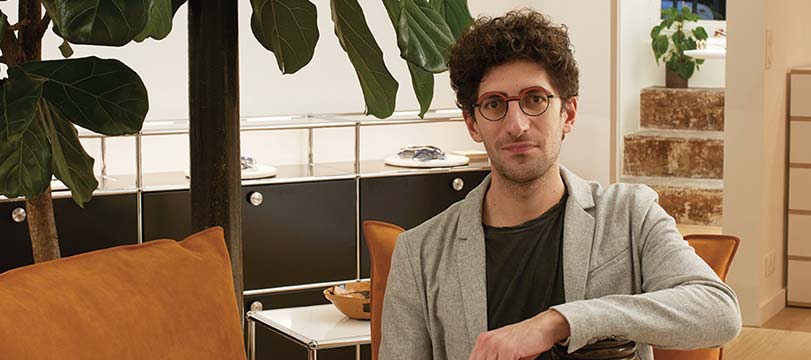 Focus
In conversation with Jérémy Miklitarian
The father of the Miklitarian family is the designer of the eponymous brand Alain Mikli. However, his son, Jérémy, is also driven by a passion for optics, design, and art, and his brand TARIAN offers original eyewear reflecting his boundless creativity. We met up with him to find out more.
-Interviewed by Charlotte Médot-

You have a special connection with the eyewear world. Could you tell us more about this family heritage?

I first encountered the world of eyewear in 1998. I was 11, and my severe nearsightedness forced me to wear what I considered a visual prosthesis.
My first glasses, chosen by my grandmother, were rectangular and in red acetate – the famous A0412 model by Alain Mikli. That's how I discovered the creative world of my father's fledgling company. It was a whole new universe; a mix of drawings, prototypes, and this crazy energy that seemed to flow out of the renowned workshop in Paris. This is how I entered the fascinating eyewear sector, where finding the right pair to suit your face shape and personality is so important.

What drew you to this world, and what led you to launch your own brand?

After studying graphic design, I was lucky enough to spend two years working in product design for ic! berlin. My experience soon made me want to create my own brand, to express my own ideas and start a new adventure as an entrepreneur. I started thinking about original designs and how to create them by exploring different manufacturing techniques.
Fast-forward to today, and TARIAN brings together a variety of professions, including prototype designers, photographer, graphic designers, and salespeople, all united by a family spirit.

Where do you find your inspiration?

Traveling, of course, and my heritage is also a source of inspiration. I gather all these memories and emotions together in my Parisian studio. Alongside my work as a designer, I study ceramics, which I incorporate into my eyewear research. Transformation, manipulation, and experimentation are an integral part of my daily practice. This results in creations with delicate yet complex colors and shapes.
Drawing also takes up a lot of my time. I work with pencils, gouaches, inks, and pastels.
For the past ten years, I have also been collaborating with photographer Kate Fichard. We make images that suggest emotions, and always with a certain sense of humor. These creative moments help to develop colorful productions.

How would you define your brand?

My freedom and my craft-based vision of my products mean that I design my collections in micro-editions while respecting the highest quality standards. My network of manufacturers features experienced, qualified professionals who work closely with me to create exceptional products.
Thanks to this approach, I can offer new creations every year, each one unique as the last. TARIAN eyewear is the fruit of this creative philosophy, and each model is released as a limited collection of 500 individually numbered pieces.

And who are they aimed at?

These pairs appeal to a discerning demographic who consider eyewear to be not just a simple visual aid but an elegant and refined accessory. Comfort and design are the main features of these premium products, which are designed to last a long time .

You have successfully combined your know-how and passion for ceramics and applied it to eyewear. What is your process?

My relationship with ceramics goes back to when I was 8 years old. My mother saw that I wasn't enjoying sports as much as other children my age, and had the brilliant idea of enrolling me in a ceramics class at the Ateliers du Carrousel du Louvre. That was 20 years ago, and this activity has now become a passion.
Ceramics are an integral part of my creative world. In my work, I mix naturally colored earth to create tiles used as mounts for all kinds of objects. This technique, known as "mixed earth," is the basis for my research into new acetate colors. I am working closely with our Italian manufacturer to create a whole range of exclusive shades for TARIAN. We also mix different pieces of these tiles to create new acetate sheets, which are then used to make the eyewear frames.

What do you do when you are not working for your brand?

With eyewear and ceramics, I work ten days a week! Fortunately, I am well organized, which enables me to devote time to my second love: Paris. Our studio is just a stone's throw from the Place des Vosges, a place teeming with creativity, galleries, museums, countless buildings steeped in history and, of course, some hidden spots. I love wandering around this neighborhood.

How do you think TARIAN will develop?

My vision is to continue preserving the originality of my creations. My approach is shifting towards finer materials, perfect eyewear designs, and discreet, personal colors. The aim is to offer a subtle palette of frames.
I am also working on developing our network of partners, and of course I am trying to win a fourth Silmo d'Or award.

What have you got planned for the next few months?

It's going to be a busy fall! I have the pleasure of presenting two new editions. The first is our ATELIER series, which features frames formed of collages of three colors, a lot like marquetry, which creates an optical illusion between the thickness of the material and the transparency of the lines. Then there is the CANVAS edition, featuring geometric shapes all in exclusive TARIAN colors. Lastly, I want to keep combining my two specialties by offering our partners several ranges of ceramic objects. They can be used to brighten up their stores or simply as something beautiful to look at!