Tendances
What eyewear turned heads at Cannes this year?
The 76th edition of the Cannes Film Festival has just come to a close, and dresses, tuxedos, jewelry and… sunglasses were all in the spotlight. EYESEEMAG has created a list of the celebrities that put stars in our eyes. Here's the best of red-carpet eyewear in 2023.
FROM JOHNNY TO LILY-ROSE, MOVIE STARS ARE NEVER WITHOUT THEIR DARK GLASSES AT CANNES
At Cannes, glasses are also the stars of the show. And this year on the Croisette, all-black frames are all the rage, with actors and actresses alike pulling out all the stops in a festival of styles.
Voir cette publication sur Instagram
The star couple from Jeanne du Barry kicked things off, with Maïwenn wearing Chanel and Johnny Depp sporting his iconic Original Pilot aviators by American Optical. Bucking the usual trends, these glasses adapt to every style and occasion.
Voir cette publication sur Instagram
Like father, like daughter – we were also impressed by young actress Lily-Rose Depp's unique sense of style. Spotted with The Weeknd in Saint Laurent, she was snapped wearing a fashionable oval model by Chanel.
Voir cette publication sur Instagram
The trio of actors from May December gave us a glimpse of the different oversize shapes for both him and her: a round Louis Vuitton Flower Edge model for Julianne Moore, cat's eye Ahlem Babylones for Natalie Portman, and rectangular frames by BOSS for Charles Melton.

Meanwhile, Jason Statham in Bottega Veneta and Rosie Huntington-Whiteley wearing Saint Laurent prove that dark glasses are the perfect addition for rounding off that "power-couple" look.
Voir cette publication sur Instagram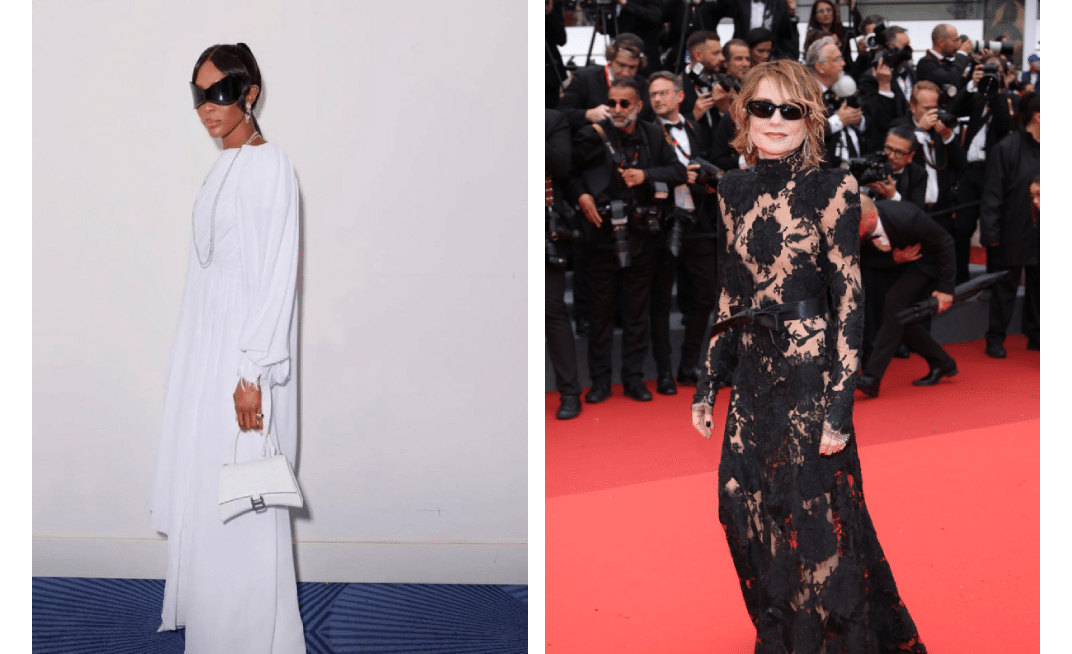 THE CANNES FILM FESTIVAL, WHERE GLAMOROUS SUNGLASSES REIGN SUPREME ON THE RED CARPET 
Each in their own way, the world's most beautiful actresses, directors, and filmmakers embodied the glamor of Cannes for this new edition. Juliette Binoche went for a natural, unisex look in Ahlem New York, while Isabelle Huppert and Naomi Campbell both flaunted a futuristic twist in Balenciaga .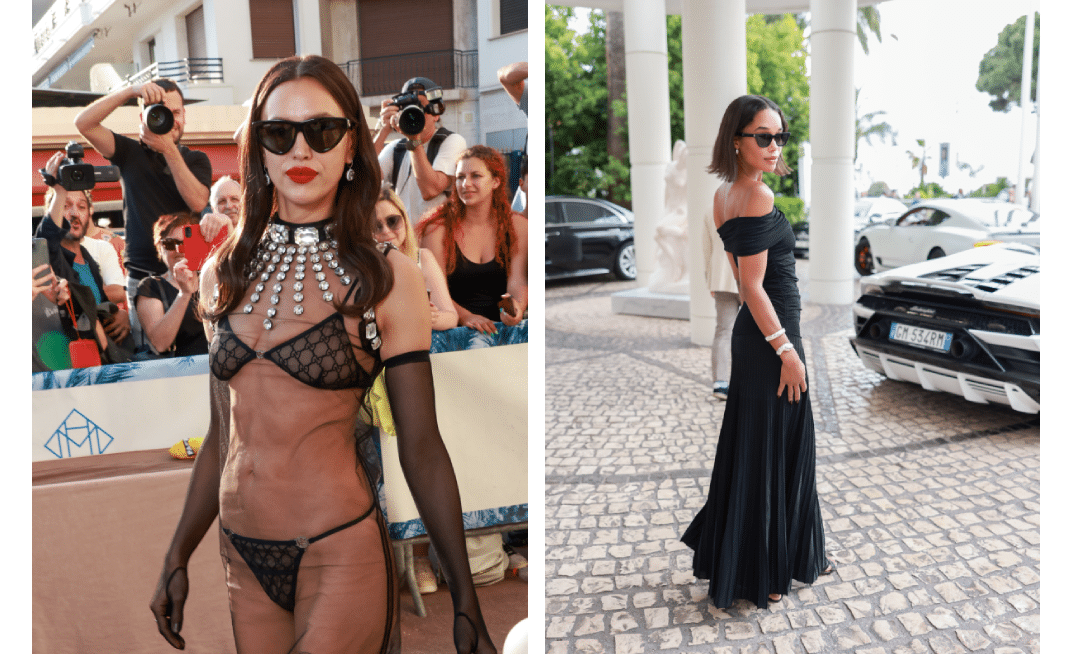 Meanwhile, American actress and model Laura Harrier sported Saint Laurent frames to showcase a classic, super-chic style.
On the other end of the spectrum and just as eye-catching, Russian model Irina Shayk turned heads with her Gucci glasses in a perfect example of the Italian brand's eclectic style.

Artist Nadia Lee Cohen wore an oversize cat's eye model by Saint Laurent to create an extravagant retro look.
Voir cette publication sur Instagram
And accustomed to changing up her eyewear in Inventing Anna, one of our 11 favorite shows, Julia Garner transformed into a blonde pin-up thanks to her cat's eye glasses by Oliver Peoples.
UNDER THE SUN IN CANNES, A FESTIVAL OF FASHION SUNGLASSES JUST FOR MEN
While women walked away with the Palme d'Or in the glamor category, men also had a few surprises up their sleeves. With exciting shapes, colors, and cutting-edge trends, these 21st-century males dared to stand out and step away from the classic tuxedo.
Voir cette publication sur Instagram
Those who successfully thought outside of the black-tie box included Pierre Richard and his Cecil frames by Kirk & Kirk paired with a blue, three-piece suite.
Voir cette publication sur Instagram
Meanwhile, French actor Cédric Appietto set himself apart with a 5.45 Racer model in green acetate from the ultra-exclusive, artisanal Corsican brand Alba Nera.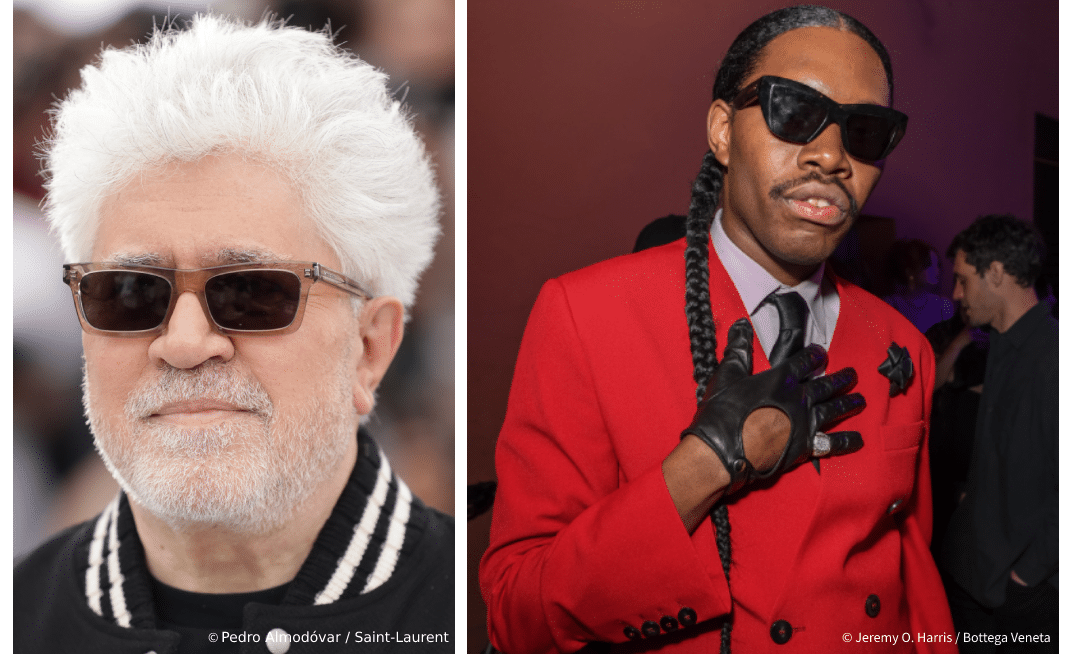 Actors are constantly approached by fashion brands, and are familiar with the most current trends. Case in point: the transparent Saint Laurent glasses worn by Pedro Almodovar, a tortoiseshell model by Tod's worn by Benoît Magimel, oversize Saint Laurent eyewear for The Weeknd, and Jeremy O. Harris sporting Bottega Veneta. Harris' eclectic style speaks for itself! His oversize sunglasses already caught our eye at the Cannes Film Festival in 2022.
Voir cette publication sur Instagram
Last but not least, Leo Di Caprio was perfect in Oliver People's Sun Horn model and Sean Penn kept his rebellious spirit in . Even when out of the fashion rat-race, the two actors maintain their legendary status.