News
Three unmissable new collabs
Going back to work post-vacation might seem like ancient history and the commute is tediously familiar once again. We thought we would liven up the daily grind with three new eyewear collaborations featuring Sebastian Herkner, Manchester United and Lewis Hamilton. Time to cut the suspense and give you everything we know.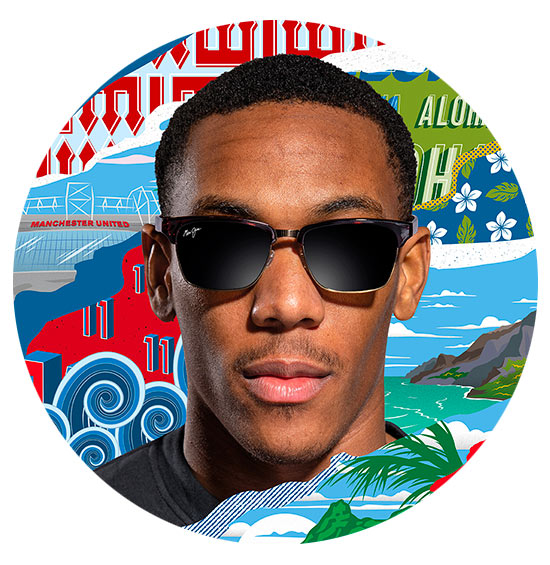 Every so often, a collab will come around seems completely out of the blue. So far this season, we've had three: Manchester United has announced a partnership with US glasses brand Maui Jim; Ic! Berlin has called on Sebastian Herkner, Maison&Objet 2019 designer of the year for a capsule collection and five-time World Formula One Champion Lewis Hamilton has signed with Italian eyewear label Police.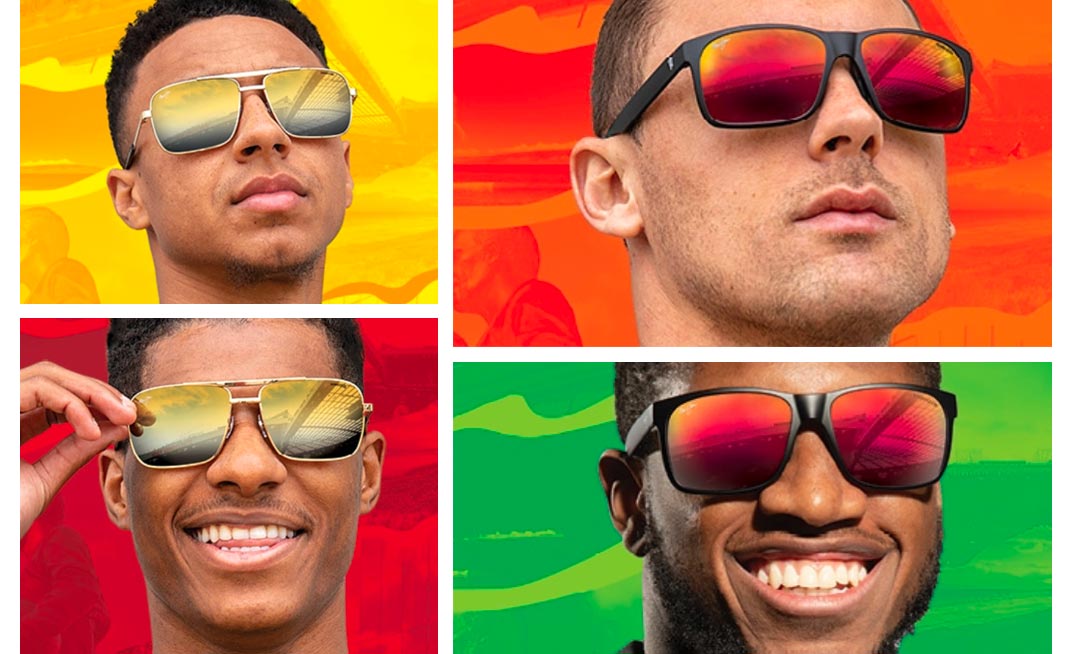 Maui Jim x Manchester United
The Red Devils have announced a partnership with Hawaii-based glasses label Maui Jim, a brand with one of the most authentic backstories we've heard for a while. When founder Jim Richards started out selling sunglasses on the beach in Maui, looks came in second to the importance of real protection for the eyes from the tropical sun. After Jim, who was a fisherman, former ship's captain Walter Hester took over and the company focused on better-quality production, more sophisticated design and a choice of high quality lenses. Today, it's a leader in the market for Polarized lenses, which work by blocking the polarized light that bounces off surfaces like water and snow that can be so harmful to the eyes, and helping people see the relief of the surface that would otherwise be dazzled flat. They are now a go-to choice for water and snow sports enthusiasts and professionals, as they sharpen vision and make navigating a sailboat on the ocean for example, a great deal easier in sunny weather. So the choice to work with football team in a city in which the sun isn't always shining might raise a smile for some, but the move makes sense. The partnership will not only involve Maui Jim equipping the Manchester United first team, training center and women's teams, it also covers sales to fans in the Old Trafford store and the team website. You'll know where to go if you want the same sunnies as Paul Pogba or Anthony Martial.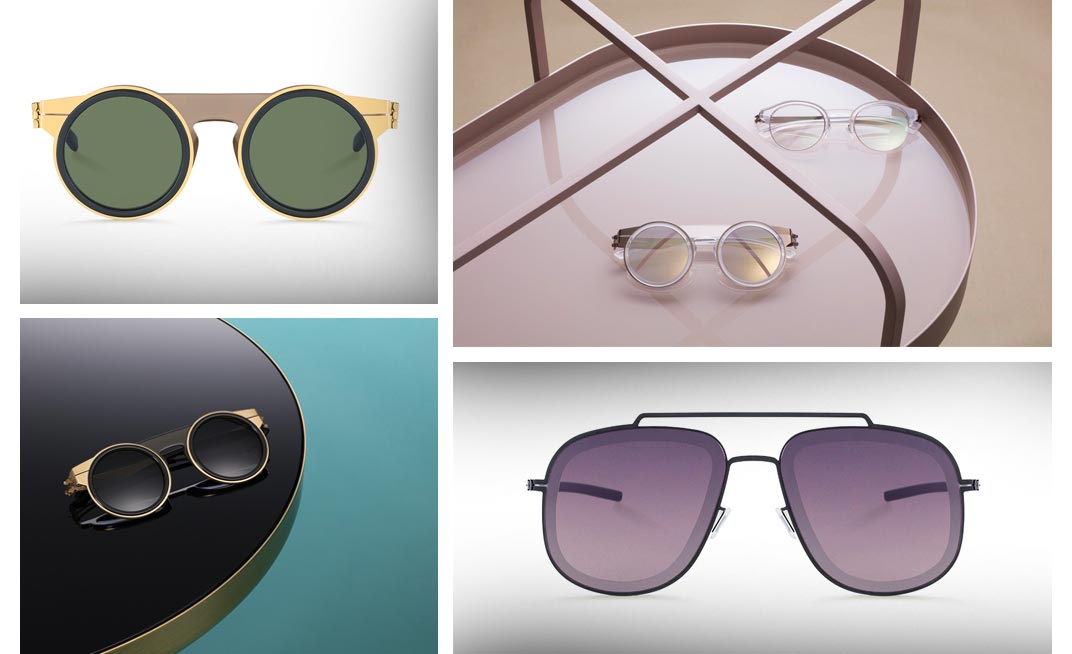 Ic! Berlin x Sebastian Herkner
One of Fall's biggest surprises is the capsule from ic! Berlin and Maison&Objet 2019 winner Sebastian Herkner. Known for his previous collaborations with interior design giants like Thonet, his work with ClassiCon and considered a pioneering furniture designer, the German designed who trained at Offenbach University of Art and Design has taken on a new challenge. The collection with ic! Berlin will mark his first fashion and lifestyle collaboration, with four unisex frames (two eyeglasses and two sunglasses), named for locations around the German capital. The Bellevue is a nod to the German presidential palace; Dahlem pays tribute to the South-Western neighborhood of the same name; Avus is named for Berlin's car racing track, which is one of Sebastian Herkner's strongest memories of the city, and finally, the Hansa was inspired by the famous recording studio of the same name. The pieces are available in a range of colors including gold, bronze and chrome, from a designer who is known for blending tradition and innovation with an approach that mixes historic techniques with modern methods. Says Herkner: "that same synergy is also a part of ic! Berlin. The idea behind this capsule was to highlight diversity and create different, inter-connected styles, using high-quality materials with elegance and modernity."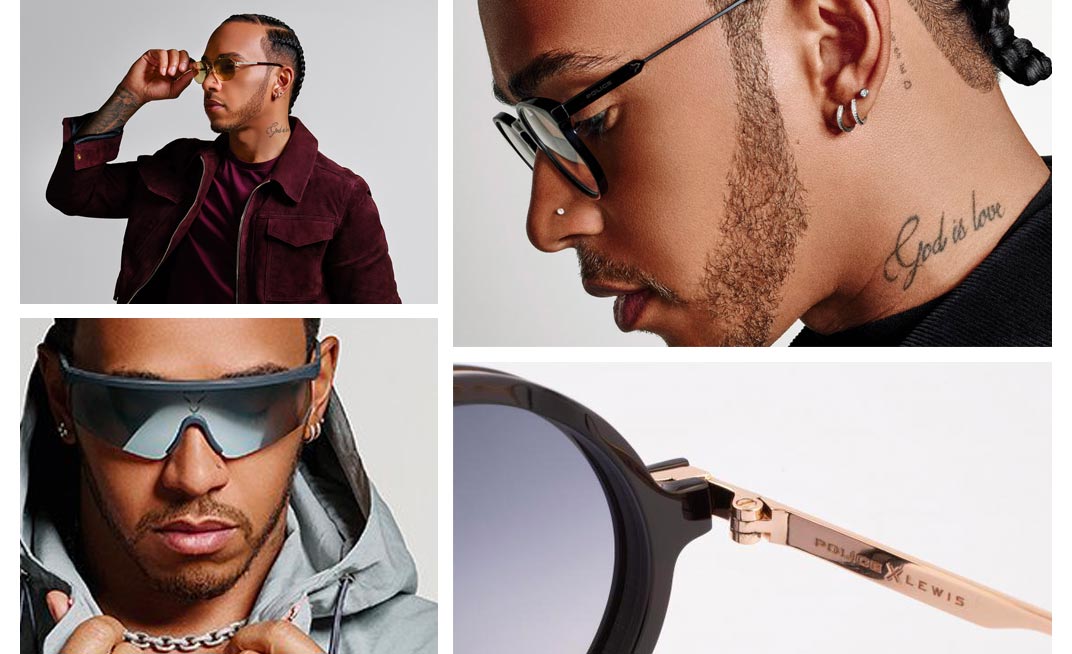 Police x Lewis Hamilton
Italian brand Police is just as well-known for watches, fragrance and jewelry as well as its glasses. It's also just announced a sponsorship contract with Mercedes-AMG Petronas Motorsport, which, amongst others, covers five-time Formula One™ champion Lewis Hamilton. Drivers and their team members will wear sunglasses and prescription glasses by Police and the brand logo will be visible on the helmets of Lewis Hamilton and Valtteri Bottas, who is also in the running for the 2019 world title. The championship could be the sixth for Hamilton, who is the big favorite this season and has also been tapped by Police to design a collection that he will also front and comprises seven pairs of sunglasses and three prescription frames, each of which channel top design and the world of racing cars. Enrico Furlan, creative director of De Rigo Vision, said: "An icon of both Formula One™ and the world of fashion, Lewis Hamilton has made glasses a key element of his own look. He was really interested to learn about the creative process and contributed with his personal style." Lewis Hamilton added that "working with Police to develop this collection has been an incredible experience. I have always set myself challenges both on and off the track and I give 101%, which is why I enjoyed the design process and learnt so much from working with the talented creative team at Police."