News
Can wearing glasses protect you from coronavirus?
A coronavirus rumor has been doing the rounds in recent weeks, claiming that wearing glasses or sunglasses can help protect against the virus. A failsafe or fake news?
Plenty of people on social networks and forums seem to think that wearing glasses can protect them from catching the virus, and more and more in the street are wearing glasses as if they were surgical masks for the eyes. Even the New York Post endorsed it, publishing in a recent article: "Unlike face masks — most of which don't work — glasses may actually be an effective barrier between your body and the deadly virus. That's because coronavirus can spread through the eyes, experts tell The Post. Sunnies and everyday specs can act as a protective shield. 'For people [who] already wear glasses … it could give them a measure of protection,' Robyn Gershon, an epidemiology professor at New York University's School of Global Public Health, tells The Post."
It seems that even the very well-respected New York Post is not immune to fake news. The Journal de Montreal in Canada carries information that inspires more confidence, citing three researchers specialized in ocular health who contradict the rumor. Lyndon Jones, Director of the Center for Ocular Research and Education (CORE) at the University of Waterloo (Canada), Philip Morgan, Director of Eurolens Research at the University of Manchester (United Kingdom), and Jason Nichols, Professor at the School of Optometry at the University of Alabama (USA) all confirm that there is no proven scientific link between wearing glasses and protection against COVID-19.
However, they do note that cleaning and disinfecting glasses and contact lenses becomes even more important during a pandemic. In a press release, the Center for Ocular Research and Education at the University of Waterloo details: "some viruses can survive on surfaces for several hours or days, ending up on the fingers and face of glasses-wearers." They add: "anyone who wears contact lenses or glasses must wash their hands carefully and thoroughly with soap and water, then dry them with unused paper towels."
The danger of direct contamination is real, but extremely slight. Some patients have been infected by micro droplets released from the mouth and nose during coughing or sneezing, with the virus then contaminating the eyes and eyelids. In these cases, the carrier would have to be very close to the other person's face.
Under these conditions, a simple pair of prescription glasses or sunglasses would not be sufficient to hold back the virus. Only professional-style protective goggles with significantly greater coverage, like those worn by the staff in hospital intensive care departments, could provide effective protection.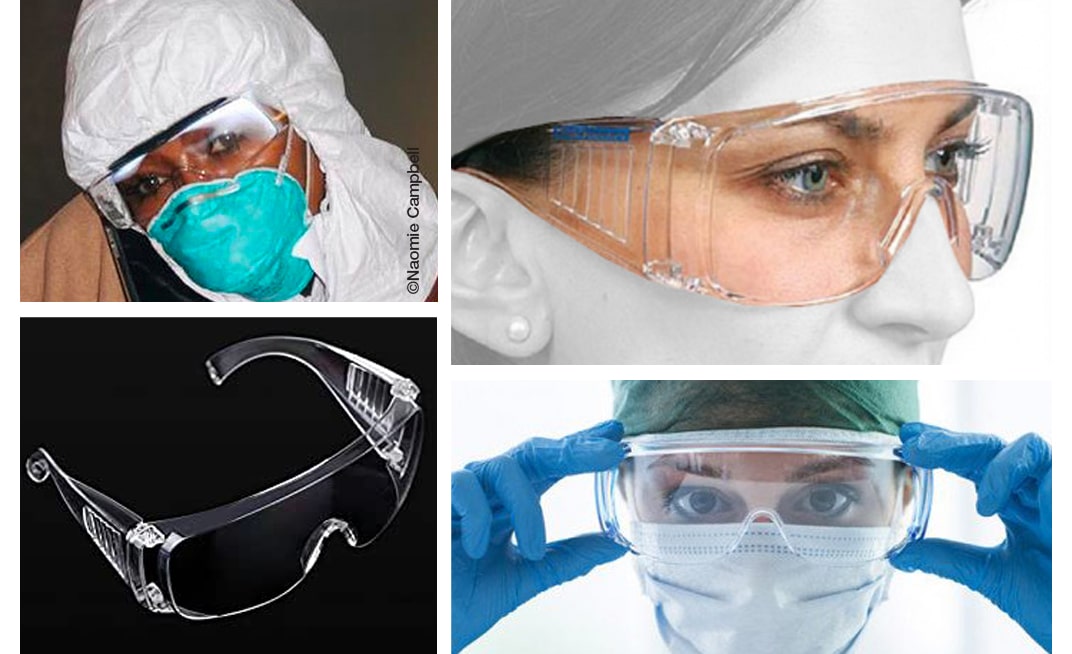 Focus on opticians
Don't forget that washing your hands (at least once an hour) or, if you have no access to soap and water, alcohol-based hand sanitizer is one of the 'barrier actions' recommended by the World Health Organization (WHO); as well as sneezing into your elbow, using disposable tissues, airing your home and avoiding contact with others. People should also be avoiding touching their eyes, nose and mouth with their hands.
In France, the government has closed all non-essential businesses and recommended that the population only leaves the house for medical appointments, to shop for essentials and or for urgent professional reasons. Since midnight on Saturday, March 14 until at least April 15, only food stores, pharmacies, banks, petrol stations, newsagents and tobacconists will be open, and many other countries are following suit. As we go to press, the government has not yet provided guidance on whether or not opticians and eyewear shops can remain open during the period of restriction, but a minimum service open for emergency use (broken or lost glasses) is currently under discussion.
Écrit par Violaine Schutz