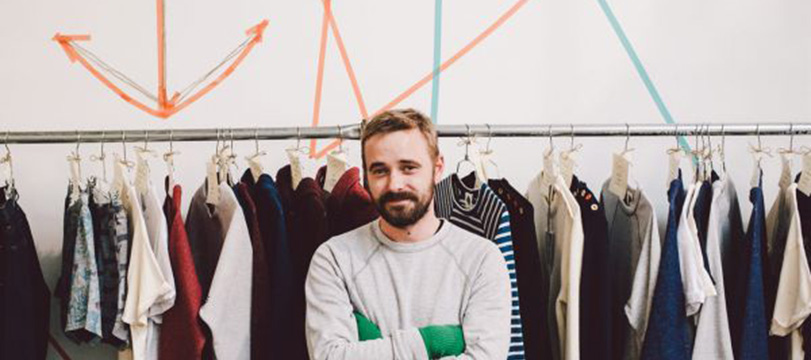 Focus
Waiting for The Sun
Julien Tual – Creative Director
We swapped messages with Julien, creative director of Waiting For The Sun, to talk about how his brand came about, his inspirations and the positive values behind a company rooted in a joke.
Interview

Hello Julien, its' Marina from EYESEEMAG! While we're waiting for the sun to come back out, we thought it would be fun to chat about your brand, Waiting For The Sun. Can you tell us a little about how the project came about?

Waiting For The Sun, is first and foremost a story of friendship. I was living with Antoine and on the way back from a vacation, we started talking about making glasses out of wood, at an accessible price. It all started with a joke.

But you knew a little about opticals?

Antoine is an engineer and I was in fashion, so we had a little technical knowledge and a few design ideas.

Then the joke became reality?

Exactly! The joke went on for a while, we got back to our apartment that night and a made a prototype of our idea. Prototype followed prototype, and we finally launched our first collection for real, in 2009.

What are your respective roles today?

As director of design, I create the collections and also work on our communication. Antoine is director of production, he manages the relationships with our production units in France and Asia. Sébastien, a trained optician, has also joined us, bringing his more technical expertise.

Where do you find the inspiration for your collections?

Like everyone, we're inspired by travel, by people we meet every day. But we are especially inspired by our friends and the people around us.
I'm thinking especially of Macon&Lesquoy, a brand that makes embroidered accessories. We did this brooch with them: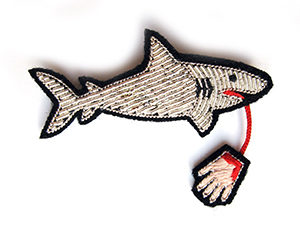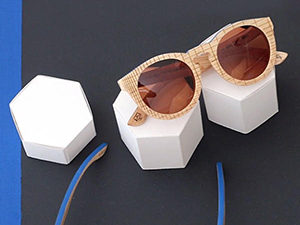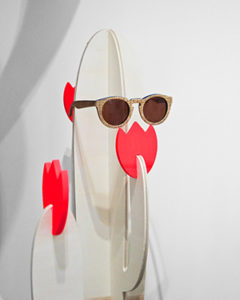 And then there's Maison MAISON, we sell their candles through our Paris store.

Tell me about the store, do you have any photos?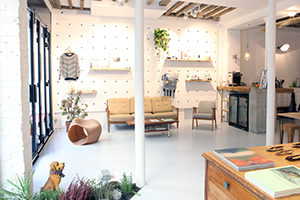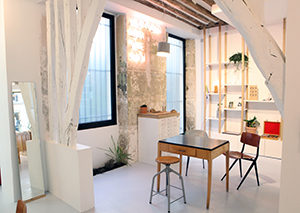 We wanted to make it a really nice space to be in, because it takes time to choose glasses and do all the paperwork.

Yes, much better if you're in a nice cozy space…

Exactly. People can come in with friends and colleagues who can chill on the sofa and have a look around. The idea was to have a good time here, it's more than a shop, it's a glasses concept store.

Which Waiting for the Sun product are you proudest of?

The Bois2 range. It's far and away what we're most proud of, firstly, because it's all made in France. And the glasses are made from sawdust that is washed and calibrated before being mixed with bio-sourced acetate.

Can we see what it looks like?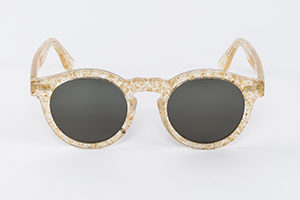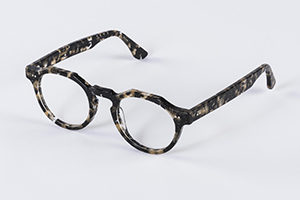 It's definitely super original!

Yes, it looks like wooden sequins. We also trademarked the bioplastic and are working hard on it. As a new material, we think we can take it out of opticals for use in industry toys – it's a remarkable material, 100% biodegradable, 100% recyclable with no endocrine disruptors or carcinogenic products.

What do you have coming up?

We're starting work on bespoke glasses and are soon going to open a second shop in Paris.

Your glasses are sold in hundreds of points of sale around the world. What would you like people to take away from Waiting For The Sun?

That we makeeco-responsible products and really create each piece individually. And that we're a very human company, the wellbeing of our employees is extremely important to us. We work together, our teams have become friends. The company was born of a joke, our values took over and now it's people who count, above all else.