Focus
Spotlight on Sébastien Bétend, Eco-Optician and Pioneer
As far as green opticians go, Sébastien Bétend cannot be overlooked. The pioneering eco-optician is credited with opening the first eco-designed store in France, combining optical eyewear and sustainable development, as well as creating the OpSB glasses collection, made in France from recyclable and biodegradable materials. Find out more about the man, who certainly isn't afraid of a challenge…
interview
Intent on deconstructing every stage in the manufacturing and marketing of spectacles, straight-talking Sébastien Bétend has fought for 10 years to make glasses a more virtuous product. More than just selling eco-friendly glasses, his approach is more global, embracing sustainable development, his favorite topic. Every one of his projects is therefore designed with social, environmental and economic sustainability in mind. The thought of eco-responsibility being used as an advertising gimmick irritates him. Sébastien Bétend is for consistent and authentic action, not greenwashing. He is a fierce proponent of French production, for example: "There are five million unemployed people in France and over nine million living below the poverty line, most of whom work, which is unacceptable. It is therefore essential to boost employment in France. Prioritizing French production also helps limit our carbon footprint. Don't forget, 30% of global pollution comes from transport…".
Surprisingly, the conscious eco-optician was not always destined to end up in the optical industry. In fact, he was 29 when he took a skills assessment at the job center that suggested the role of optician might suit him. After obtaining his French national diploma of higher education for dispensing opticians, diplomas in optometry and contact lenses, and Bachelor's degree in optics, all through work-based training, he spent eight years working in five different stores. However, his strong convictions eventually prompted him to launch his own unique venture in the form of L'OPTIQUE by Sébastien Bétend.
The first eco-designed store in France to combine optical eyewear and sustainable development
While the issue of eco-responsible frames is becoming increasingly pertinent in the field of eyecare,  it is still unusual for brands to give much consideration to the environmental impact of their stores. Sébastien Bétend actually decided to start with that… Designed and created in collaboration with an architect from Lyon, his store features only eco-friendly and local materials, selected on the basis of their carbon footprint. For the fittings, he also favored French production, including the furniture, tiling, speakers, cleaning products, vacuum cleaner… even the pens. The optical grinder, too, is made in France and equipped with a recycling system to avoid wasting water. Even the toilets have been designed with an emphasis on reducing water consumption, the basin being located above the tank in order to collect water for the next flush!
After 27 months of relentless work, he opened his store on April 27, 2012. L'OPTIQUE by Sébastien Bétend became the first store in France to combine optical eyewear and sustainable development. The pioneering project has been much-praised for its innovative look and coherence. His business is the only one in Greater Lyon in 20 years to have been visited and recognized by the Agence Locale de l'Énergie et du Climat (ALEC) for its eco-design and thermal insulation. In 2012, his store was given the "Lyon Ville Équitable et Durable" label and also won an award for Sustainable Development as part of the Lyon Ville de l'Entrepreneuriat competition, as well as an award for Commercial Innovation.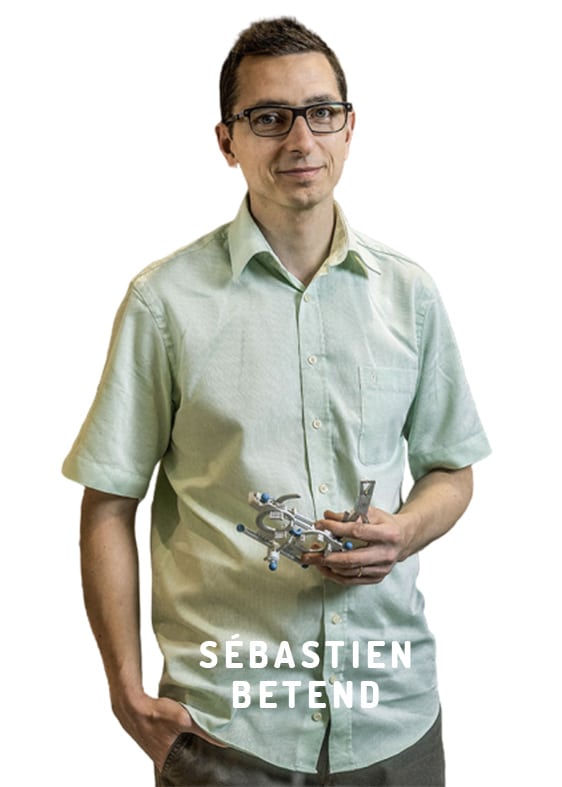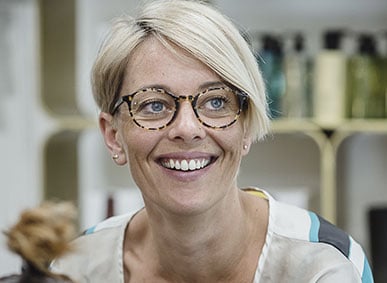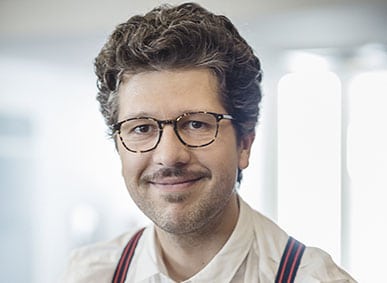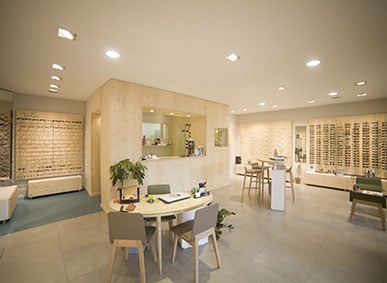 Not just Made in France, glasses (actually) made in France
When Sébastien Bétend set up on his own, he didn't want to compromise on what mattered to him. He decided only to sell glasses that fit with his values, while trying to offer a sufficiently wide range of materials, colors, styles and brands for customers to choose from. When it came to selecting eco-responsible frames, the criteria for Made in France didn't seem stringent enough to him: "At the time, you could claim to be 'Made in France' if 45% of the added value came from France. So, you could have glasses that said Made in France, but whose frame fronts and arms had been manufactured at low cost in Asia, as long as the assembly and/or staining steps were carried out in France. They weren't made in France, so much as labelled Made in France… ". The Origine France Garantie (OFG) label might be much more thorough and reliable as an indicator, but it remains expensive to the point that few French manufacturers of eyewear can obtain it. "I wondered what I could do to make sure that the glasses I sold were manufactured in France. So, I decided to draw up my own written charter", he explains. To sell their spectacles through Sébastien Bétend, manufacturers had to sign a certificate confirming that the main components of the frames (fronts and arms) were made in France and that the design, staining (for wooden and/or metal glasses), assembly and finishing were carried out in France. These documents can be accessed in store for any customers who want to see them. As for sunglasses, the charter has been extended to Europe. "At the time, the sunglasses being made in France were mostly top of the range and I wanted prices to remain affordable", clarifies Sébastien Bétend. "Finding genuine French manufacturers that met my requirements was very time consuming, we're talking hundreds of hours", he says. In the end, the optician managed to assemble over 1,000 different optical frames, starting from €69, inc. VAT. For the lenses, he also chose to work with a French glassmaker, who makes single vision and progressive lenses in France.
OpSB, eco-friendly and ethical glasses made in France
Keen to go take things further, Sébastien Bétend decided to create his own collection in 2014, named OpSB (short for Optique by Sébastien Bétend). The eco-friendly frames are made from bio-acetate, an entirely recyclable material and 80% biodegradable in 5 years when buried. They are made in France – the fronts, arms and metal framework on the insides of the arms, from design to assembly and finishing, just like the cases and point of sale display – less than 200km from his store (except for the POS) to promote French savoir-faire and short supply chains. In terms of price, the optician remains committed to affordability, offering OpSB glasses starting from €169, inc. VAT (public price). The latest collection will be released in April 2020, with some sheet materials 97.7% biodegradable in 90 days when buried.
From coaching to guiding opticians towards improved sustainability
In March 2019, the eco-optician decided to sell his store on, so he could develop coaching for other opticians wanting to embrace sustainable development and French production. He has been offering this kind of support, aimed at opticians in the process of setting up, or wanting to transform their store to boost sales of eco-friendly products and those made in France, and/or modify their practices in light of their impact on people and the planet, since 2013.
It has also given Sébastien Bétend the opportunity to share the expertise acquired through his project, which proved a real learning curve. Originating from the Haute-Savoie, he decided not to set up in the center of Lyon, but in Bron, with no customer network or database, taking over an old jewelry store that had been robbed four times. When it launched, his store had five competitors within a kilometer. His decision to shun the major brands, the 2 for 1 promotions and closed networks of mutuelleswas also risky, as was his decision to create an innovative and pioneering concept. Fortunately, the gamble paid off, and he could leave the store with an impressive 2,400 customers to cater for from 15 departments, and Switzerland.
For more information: www.sebastienbetend.fr
Witten by Eleanor Fullalove