High - tech
Autofocus eyewear by Laclarée
With current solutions for presbyopia revealing room for improvement, autofocus glasses are emerging as the most exciting alternative in the pipeline. Despite there being worldwide research underway into developing them, any concrete launch date still remains largely uncertain. However, the French company founded by physicist Bruno Berge, Laclarée, plans to bring out autofocus glasses as early as 2022. Read on to find out more on the prolific inventor and the technology behind glasses that silently self-adjust in an instant.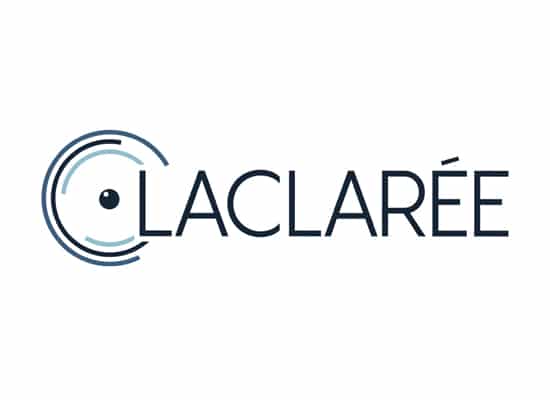 Bruno Berge: liquid lens invention key to autofocus glasses
On finishing his PhD in physics at the University of Grenoble in the late 1980s, Bruno Berge spent two years doing further research at the University of Chicago. Returning to Grenoble afterwards, he began studying liquid interfaces – specifically, the behaviour of immiscible liquids – at the French National Centre for Scientific Research (CNRS). He was also keenly interested in 'electrowetting', developed by Gabriel Lippman, the Franco-Luxembourgish physicist who received the Nobel Prize in Physics in 1908 for inventing colour photography. In its simplest form, the electrowetting phenomenon centres on changes in shapes and properties produced by applying a voltage to a liquid on a conductive surface.
It was Dr. Berge's fascination with this phenomenon that led him to develop the prototype liquid lens with a focal length determined by the intensity of the electric charge applied. The spectacular performance of this prototype motivated him to establish Varioptic in 2002, a company offering a revolutionary alternative to traditional lenses; energy efficient liquid lenses that perform much like classic lenses, but are up to 85% smaller and 50 times longer lasting because they are designed without mechanical parts! Used in industrial cameras, scanners, ID readers and other medical devices, the same technology seems destined for even wider application in a world where the miniaturisation of objects – portable or otherwise – presents a significant technological challenge.

The Laclarée eyeglasses
Autofocus glasses on track for 2022
Building on the expertise acquired by inventing and developing optical lenses, as well as through Varioptic, Dr. Berge launched a start-up by the name of Laclarée in Lyon in 2016. He set his sights on designing autofocus glasses on the basis that "10% of the population never adjust to progressive lenses". Not only is his invention compatible with all corrective lenses, but the technology on which it is based is protected by two patents.
So, how do these glasses actually work? First of all, a LIDAR laser (Light Detection and Ranging, the same laser used in 3D mapping and driverless cars) sensor embedded in the bridge of the glasses is used to accurately determine the distance from the object being viewed. Once this has been calculated, the prescription is electrically adjusted using the low voltage system built into the temples to add or remove two fluids hidden inside that have different refractive indices. These fluids are separated by a thin, deformable and transparent membrane integrated between two classic organic lenses. The amount of fluid added on either side of the membrane causes geometric deformation; this changes the curve of the lens and allows the focal length to be adjusted, resulting in optical clarity for the wearer, regardless of the distance from which an object is being viewed. Developed in collaboration with the Lyon Institute of Nanotechnology, the system does not require any mechanical components (pumps, motors, etc.) so does not make any noise or lead to any premature wear, adding no more than 1g to 3g in weight.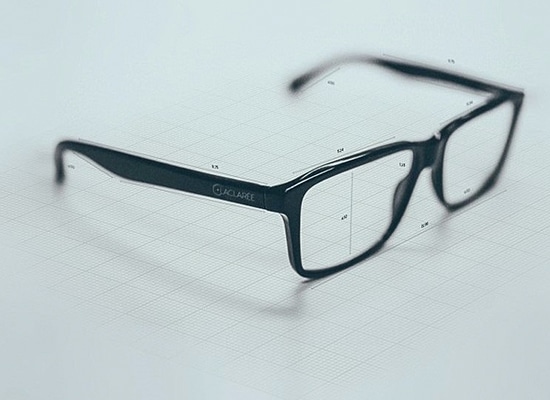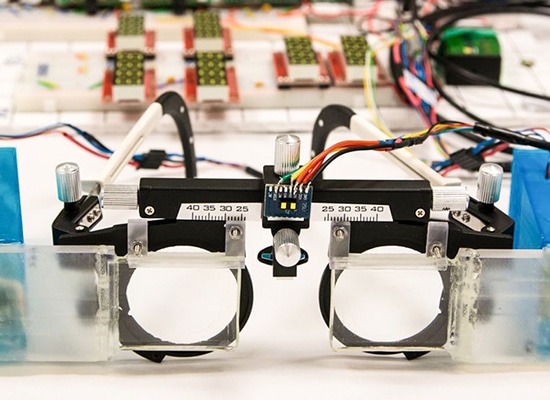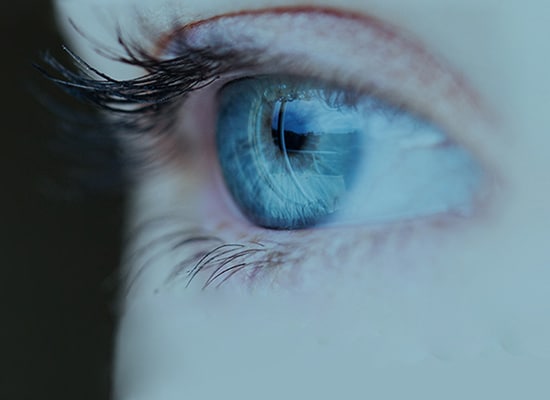 The response time of the prototype developed by Laclarée currently stands at roughly two seconds, which Dr. Berge intends to reduce to one second "to mimic the natural reaction time of pre-presbyopes more accurately". Another challenge that needs to be addressed prior to launch and will surely require funding in the near future is miniaturisation. As was the case for the team of researchers from Stanford University working on autofocus glasses, the prototype was too heavy, clunky and unattractive to be practical for everyday wear. Having been awarded the French Tech Seed label, the next step for the Lyon based start-up will involve CE marking, clinical studies and making autofocus glasses reimbursable, given that "doing so will save money, as the prescription can be adjusted however necessary". Laclarée initially plans to launch some 20 styles for men and women, priced around the €800 to €1,200 mark.