Trends
The Coolest 2020 Summer Collabs Around
Summertime calls for one of the best purchases of the year: your new sunglasses. Make sure you don't put a style foot wrong with one of this season's collabs – or should that be 'coolabs'? – between sure-fire brands like Jimmy Fairly, Mykita, Barton Perreira & Fear Of God and Fendi, to win fashion points on the newly re-opened beaches this year.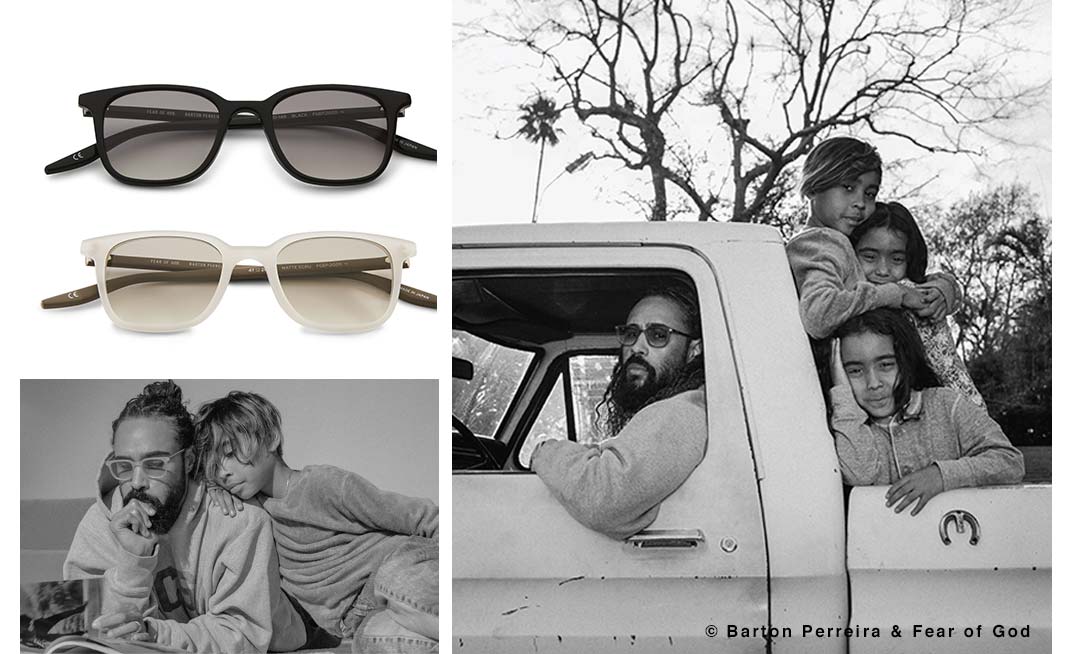 Barton Perreira and Fear Of God: high expertise with a dose of streetwear cachet
Set up by Bill Barton and Patty Perreira, both ex-Oliver Peoples, in 2007, Barton Perreira has carved out a name for its timeless sunglasses. As a luxury house, it relies on traditional Japanese expertise for production and certainly hasn't been sitting on its laurels recently in design terms. After creating sunglasses for the upcoming James Bond instalment No Time to Die, this season, the brand called upon Jerry Lorenzo, design mastermind behind the streetwear label Fear Of God, for a collaboration that's right on-trend. Lorenzo, who has been wearing Bartons for years, sat down with Perreira to design a square acetate style available in five colors; khaki, champagne, linen ecru and black. Named with the initials of both brands, the FGBP.2020 capsule is at once classic, chic and contemporary. And also resolutely unisex.
To see the collection ici
Rouje and Jimmy Fairly: femininity meets hype
Jimmy Fairly aime les influenceuses et le prouve encore une fois en embauchant, pour une collaboration estivale, Jeanne Damas. La Française aux faux airs de Jane Birkin qui truste les podiums des défilés des Fashion Weeks s'associe, avec la marque qu'elle a fondé, Rouje, à la jeune entreprise hexagonale dont le succès n'est plus à prouver. Résultat ? Six modèles de lunettes de soleil, élégants, un brin rétro et féminins (même si ils plairont aussi aux hommes). On y retrouve en effet ce qui a fait le succès de la marque de vêtements et make-up Rouje : le côté vintage parisien qui nous replonge dans les années 50, 60, 70 et 80 selon les formes. Il devrait donc y en avoir pour tous les goûts avec les papillons à l'impression écaille, les lunettes mouche et les montures "œil de chat".
Jimmy Fairly continues his love affair with influencers, with a summer capsule designed in collaboration with Jeanne Damas. The French fashion influencer known for her Jane Birkin style is also behind Rouje, a young label that has seen sky-high success recently. The resulting six sunglasses styles are elegant, a little retro and feminine, although they have also been seen to appeal to men. All the ingredients of success for Rouje are in there, complete with vintage Paris style that takes us back to the Fifties, Sixties, Seventies or Eighties depending on the shape, and with wing-outs, tortoiseshell, bug-eyes and cat-eyes, there is something for every taste.
To see Jimmy Fairly & Rouje collab here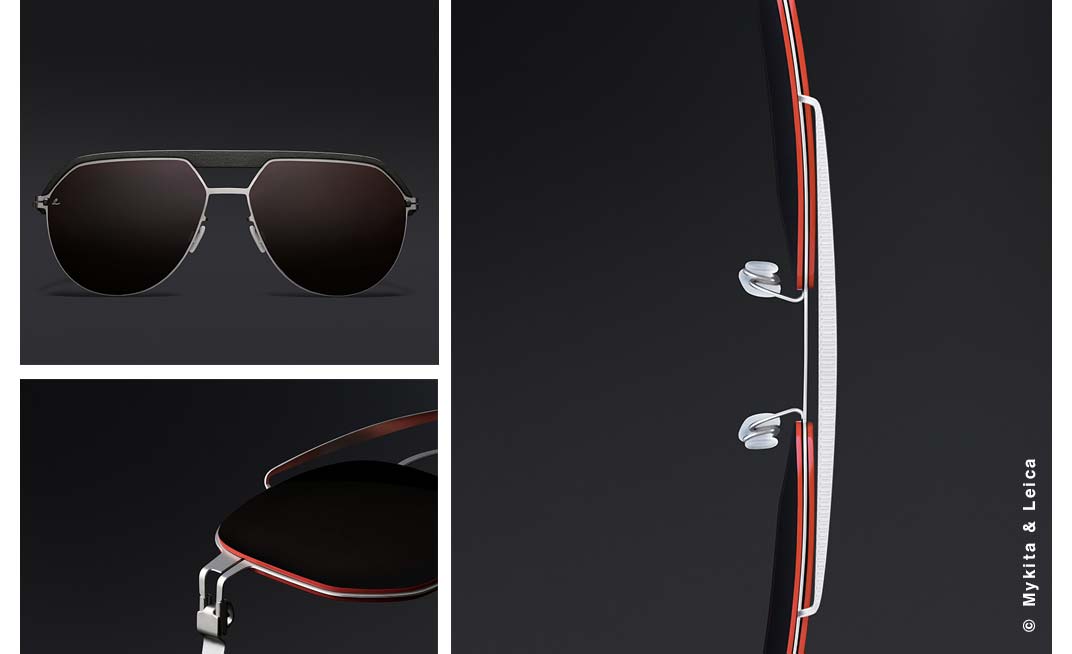 Mykita and Leica: super stylish German tech innovation
Two heavyweights in the vision industry have come together on a sunglasses capsule available since June. Camera brand Leica Camera AG and Mykita, fast becoming a household name, have created a glasses collection rooted in German expertise and innovation, featuring a stainless steel line and another based on a hybrid of stainless steel and a 3D-printed material created especially for Mykita called Mylon. Finally, the lenses are designed to resist almost everything, so you can wear them at the beach and then take them up the mountain without worrying about damage.
To see Mykita & Leica collab follow this link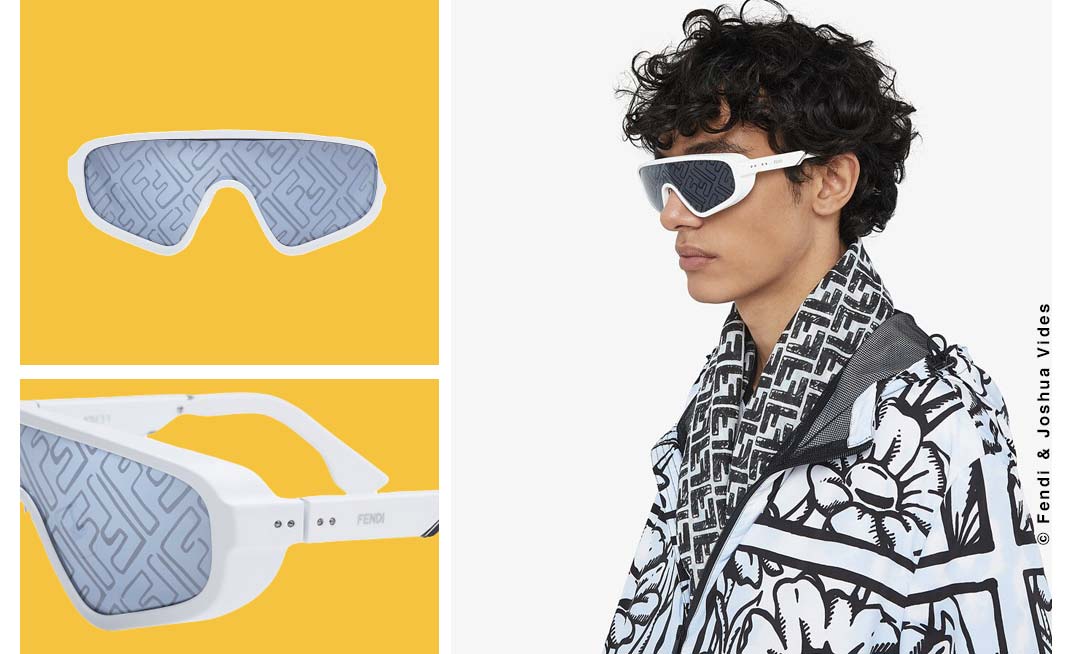 Fendi and Joshua Vides: the arty side of luxury
Très présent sur Instagram, l'artiste américain Joshua Vides a marqué cette saison de nombreuses pièces de la nouvelle collection de la maison italienne Fendi de ses imprimés géométriques. Sous le nom de California Sky, la ligne propose des vêtements mais aussi de nombreux accessoires (sac, chaussures, bob) parés de dessins en noir et blanc inspirés du graffiti. L'une des pièces les plus impressionnantes ? Une paire de lunettes aux montures blanches où l'imprimé du logo FF recouvre les verres eux-mêmes. A réserver aux plus audacieux.
Découvrez la collab Fendi & Joshua ici 
US artist and Instagram star Joshua Vides has created several pieces featuring his trademark geometric prints this season, for the Italian house Fendi. The California Sky line also includes clothes and accessories like bags, shoes and hats that carry black and white graffiti-inspired prints. Perhaps the most impressive piece is a pair of white frames with the FF Fendi logo printed on the lenses themselves; only those aiming for a style statement need apply.
To see Fendi & Joshua collab follow the link 
Ecrit par Violaine Schutz