Tendances
Glasses in the news right now
Among the conversation pieces this season: cult frames reworked in pure gold, smart glasses, sporty styles for the city and bedazzled designs.

Ray-Ban's solid gold frames and smart glasses
Ray-Ban's Aviator shades are design classics and seem to stand the test of time without ageing. Now, the brand has decided to make them even more iconic. Originally designed for the US Air Force in the 30s, the new limited edition Aviator Solid Gold sunglasses feature 18-carat yellow gold frames. For that reason, the 84 individually numbered pieces will set you back an eye-watering €2,800 each. In other Ray-Ban related news, the brand has teamed up with Facebook to launch smart glasses called Ray-Ban Stories, similar to SnapChat Spectacles.

Bedazzled glasses
Glasses chains may still be in fashion, only now there are charms to consider as well – like pendants that hang from your frames. They also remind us of the phone jewelry trend around at the moment. Among the wide range of options to choose from are pearls, gold chain, small diamonds and hearts, as seen at Gucci. But if you would rather have precious detailing embedded on the arms, there are glasses out there for you too. Marc Jacobs, for example, has created frames inlaid with colorful crystals.

Sporty styles in the city
Oakley-type designs certainly have their moments and they need not be limited to skiing or cycling. Labels like Bottega Veneta, Prada, Jacquemus, Celine, Burberry and Balenciaga can all help you get the sporty look. In fact, their often minimalist and futuristic designs will go with any outfit. That said, you might want to avoid the head-to-toe look created when you team them with an oversize sweatshirt and joggers or leggings though. Unless you want to look like you've just come from the gym!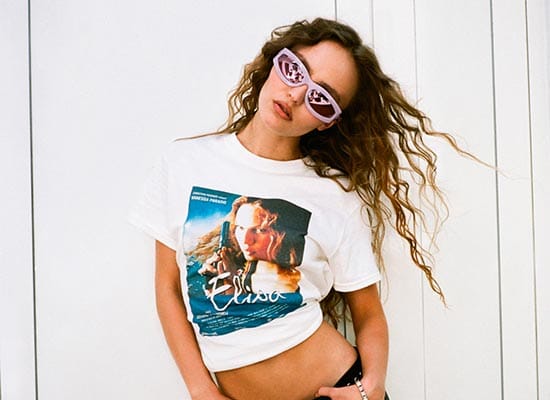 Glasses with star quality
You can always rely on the rich and famous to give you an idea of what is 'in', starting with the purple glasses Lily-Rose Depp wore in her sexy shoot for Interview magazine. We've also noticed actress Cynthia Erivo wearing the maddest glasses on the red carpet recently. Her choice of turquoise Gucci frames for the Venice International Film Festival was inspired, putting the perfect finishing touch to her Janet Jackson T-shirt. Actor Timothée Chalamet was also in attendance, looking very rock & roll in his signature shades

Iris Apfel's glasses in pics of H&M collab
Iris Apfel must have one of the most impressive collections of glasses in the world. The centenarian business woman, interior designer and fashion icon from New York is being honored with her very own Iris Apfel x H&M collection next year. Photos from the campaign are already doing the rounds and we love the oversize glasses she is wearing in them. However, sketches shared by the brand also show her in outfits accessorized with glasses shaped like the number 100. Fingers crossed they make it into the collection, which goes on sale in the spring.
Written by Eleanor Fullalove